Surprise your long-distance best friend with a special gift this holiday. The holiday season is the perfect time to let your far-way friend know she is in your thoughts. True friendship continues to grow even over the longest distance. We have come to the end of the year. It's the perfect time to send over a Christmas gift for your long-distance best friend. Warm her heart, bring her joy with these thoughtful gifts.
Here are 18 of our favorite long-distance friendship gifts to make your long-distance BFF smile when she is opening her prezzie from afar.
Read on for Best Gifts for Long Distance Friend.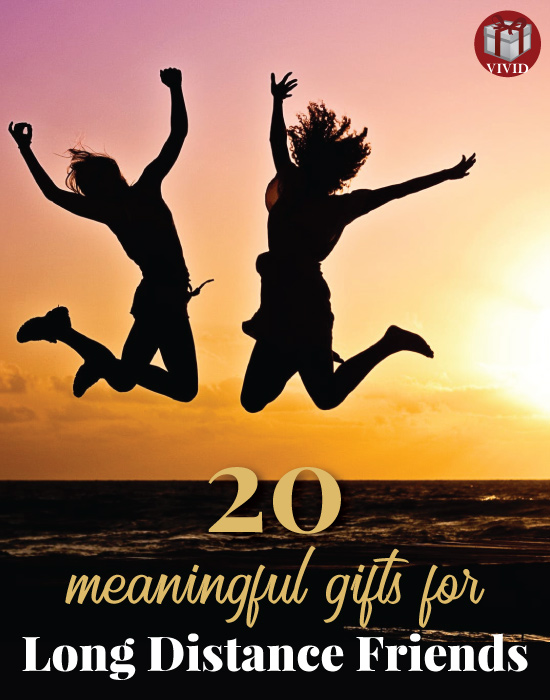 Christmas Gifts for Long Distance Best Friend
1. Long Distance Friendship Necklace
A meaningful friendship gift for your far away friend. This dainty necklace lets her know how much you appreciate your friendship. These shiny stars symbolize a strong friendship. Just like the stars in the sky. You don't always see them, but you know your BFF is always there for you.
2. Rainbow Mat
A gift to make your long distance friend happy. Brighten up her day with this colorful mat. Remind your BFF that somewhere over the rainbow, you are always there to cheer her up.
3. Long Distance Friendship Keychain
When you go together like pieces of a puzzle. One for her and one for yourself because side by side or miles apart, best friends always stick together in heart.
4. TONYMOLY I'm Green Tea Hydro Burst Morning Mask
Give emergency assistance in those mornings when your girlfriend wakes up to dull, tired skin. This refreshing morning mask is infused with natural green tea extract to replenish your skin. Apply a generous amount, leave it on for 15 minutes, and rinse off with water to discover brighten, hydrated skin.
A meaningful friendship gift that keeps on giving for a month. This jar is filled with 31 messages that are motivating and uplifting. Express your love, share your feeling, and send good vibes to your best friend who is living far away.
6. Our Adventure Fund Shadow Box
What's more exciting than getting the girls getaway? This beautiful wooden box will encourage her to save up for your next girlfriends trip. **Can't wait**
You sure miss the old time when you can have brunch together. This Christmas, treat your far-away friend with a delicious breakfast filled with love. She can now enjoy a hot waffle whenever she wants with this compact waffle maker.
8. You'll Always Be My Best Friend Tumbler
Make your long distance best friend LOL. This chic tumbler reassures her of your friendship, because she knows too much. Haha.
9. Betsey Johnson Multi Lucite Heart Drop Earrings
These earrings make a wonderful Christmas gift for best friends. Features a bow and a heart charm with colorful crystal embellishment. They sure look all shiny and cute!
10. A True Friend Scented Soy Candle
A funny Christmas gift you can get for your long-distance bestie. The scent of this candle will make her room cozier and the message will make her laugh.
She will thank you for this lovely straw shoulder bag when the weather gets warmer. It is lightweight, roomy, and looking so feminine. This bag goes well with any sundress and it is perfect for a picnic date or beach vacation.
12. F*ck Off Morse Code Friendship Bracelets
Get a cool AF gift for your best friends this holiday. This stylish morse code bracelet comes in a set of two. One for your girlfriend, and one for yourself. Wear it to release some daily stress off.
(You might be interested in these Cute Matching Friendship Bracelets.)
13. Organza Over-Sized Hair Scrunchies
You share every little moment even when you live miles away and you sure can't miss sharing pretty finds like these super cute scrunchies with tiny pompom inside.
14. Strong Girl Bag
A useful tote for your eco-conscious friends. This fabric tote is washable, reusable, and foldable. Keep it in your bag and don't bother to use a plastic bag again.
A sweater with two leopards on the arms because this piece is definitely eye-catching and it will keep her warm this winter.
16. Vintage Camera Airpods Case
When your girlfriend is a music-loving girl who can't live without her Airpods. She definitely needs a good case to protect her AirPods. Surprise her with this green camera silicone case. It is tough and durable. A totally awesome VSCO gift for whoever that enjoy a bit of retro touch in their life.
17. Life Motivation Daisy Floral Face Mask
Near, far, wherever you are. You need a mask whenever you leave your house. And yes, face mask is the hottest accessory for the year, and you want to up your mask-wearing game with something pretty like this floral mask.
And, we have come to the last item on our list of best Christmas gifts for a long-distance best friend. Here's a whimsical cactus mug to make your friend thinks of you when they sip their favorite coffee. This mug is made of ceramic with a 3D pink flower on the handle and attractive gold accents all around.
That concludes our list of 18 best Christmas gifts for long distance friends.
More Gift Ideas for Long Distance Friends:
More Long Distance Relationship Gift Ideas:
More Holiday Gift Ideas for Best Friends: