We have curated a list of meaningful long-distance friendship gifts for your far away best friend.
Though we may be far apart, our friendship never fades away. Some of us have a BFF living in another city, when it comes to your best friend's birthday or the holidays, you want to send over an awesome gift and let her know she is in your thoughts. Whether you have moved away from the hometown you grew up together or parted as college ends, you still keep your best friend close at heart wherever you are. If you are thinking of what to get for your long-distance best friend, here we have brought together a list of 20 great long-distance best friend gifts.
These gift ideas incorporate the special long-distance element and they are meaningful to send to friends who are staying far away. Read on to find out our favorite long-distance gifts that you can send in the mail to cheer up your bestie.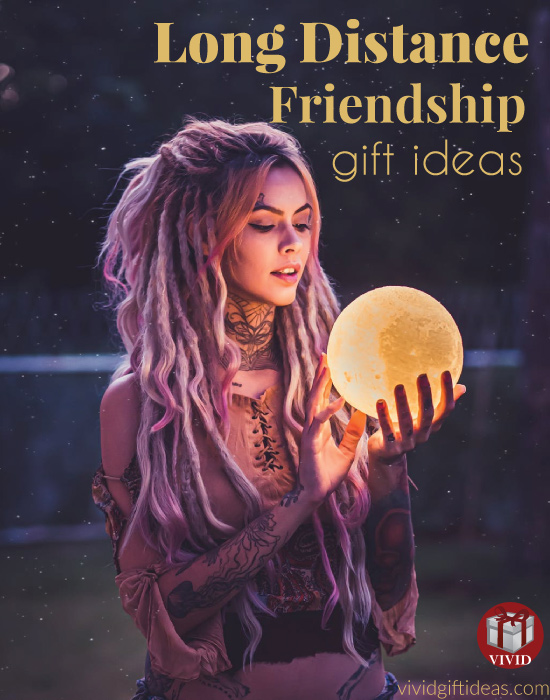 Best Gifts for Long Distance Friends
1. Pinky Promise Friendship Bracelets
A set of two matching bracelets for best friends who stay far away from each other. Features sweet sunflower charm and an adjustable rope. Sunflower symbolizes loyalty and unconditional love. It is the perfect gift to express how much you adore your friend.
2. You Make Me Smile Long Distance Friendship Mug 
Sunflowers are also known for being the "happy" flower. A sunflower gift can bring joy to someone's life. This beautiful sunflower mug makes a meaningful gift for your long distance friend. It has a bunch of sunflowers scattered around and also a sentimental quote that reads "There are so many miles between us but somehow you can still make me smile."
3. Think of Me Spoon Long Distance Gift
We know how much you miss your friend who lives far away. If she is a tea drinker, get her this unique little tea spoon. Make sure she thinks of you every time she enjoys her tea. It is a whimsical gift your long-distance best friend will treasure.
4. Long Distance True Friendship Keychain
Because true friendship knows no distance. Surprise your bestie in another city from time to time with a small gift. If you are looking for something lightweight and not bulky to mail over, this keychain is a fantastic choice.
5. Live in the Meowment Cat Pattern Cloth Face Mask
Many places across the region are affected by COVID. This global pandemic is threatening millions of lives. Let's stay safe together so that we can meet each other again when the pandemic is over. A cute face mask like this is a thoughtful gift for your friend during this pandemic time. It can protect her from the virus and also level up her mask fashion game.
6. Miles Apart Friends Wine Glass
You miss having your girls night out together. Let her know she can still Facetime/ video call you and the fun time will always continue, no matter the distance.
7. TONYMOLY Lullaby Sleeping Mask
Help your girlfriend to relax, have a good night's sleep, and wake up to soft, glowing skin. This mask is infused with lavender extract along with other calming ingredients such as chamomile, aloe, and calendula extracts. It helps to soothe all skin irritations, so you can wake up feeling fresh and hydrated.
8. Himalayan Pink Heart Night Light
Give her this ❤️ lamp because you love your bestie so much. It is made from natural Himalayan salt crystals hand mined in Pakistan. This pink salt lamp is an excellent Zen room decor to bring warm, peaceful energy to the atmosphere.
9. Fujifilm Instax Mini 11 Instant Camera
If your best friend is moving away to a new place, this mini camera will be her perfect companion whenever she goes to explore some new places. It is small in size, powerful, and easy to use. Just point, shoot, and instantly print out rich color photos.
Best Long Distance Friendship Gift Ideas
10. Primitives by Kathy Good Friends are Like Stars Trinket Tray
Send love from afar. Let her know she is always in your thoughts and you will always be there whenever she needs some emotional support.
11. Loomiloo Durable Small Backpack
This stylish mini backpack is totally on-trend. It looks cool on students, teens, and also adults. It will be useful for carrying your phone, wallet, and other backpack essentials wherever you go.
Something cute to decorate her new room. This light-up message board allows you to arrange short quotes and motivational sayings for daily inspiration. It comes with more than 200 letters, symbols, numbers, and emojis to give your room an awesome touch.
13. Long Distance Friendship Moon Necklace
A simple and elegant necklace to let your long-distance BFF know she will always be in your heart, no matter how long the distance between you. The sparkling moon and star symbolize your long-lasting friendship, just like the everlasting star and moon.
14. Graphique "Girl Boss" Fashion Pen
A sleek and professional-looking pen for your girlfriend who landed a new job. Motivate her to always go for it and take charge of her new life.
15. BeKind Good Vibes Natural Soy Wax Candles Set
Something to make her room smells lovely if she is moving into a new apartment. A box of six aromatherapy candles to lift up her mood. Six exquisite blends of floral, botanical, and herbal ingredients to elevate the ambiance of her room.
16. Ivyu Silk Scrunchies Hair Ties
Good things are meant to be shared. When you discovered how good these silk scrunchies are, you don't wanna miss sharing them with your bestie even though she is miles away.
Fly a heart balloon to cheer up your long-distance friend. Send your love and thoughts across the ocean. Whether she is a bunny lover or not, she will definitely love this canvas tote.
18. HyggeFabrik Friend Gift Blanket
Something cozy your long distance friend will appreciate. This fluffy blanket will warm her body and also her heart. It is soft and cozy, printed with friendship sayings to make your friend feel loved.
19. Par Avion Tea Sparkling Rosé Blend Tea
No brunch together, no picnic on the weekends but you can still send her a delicious tea. Steep into flavorful black tea with slight floral sweetness and sparkling edible glitter. A great gift for friends who love tea.
20. True Friends at a Distance Are Never Apart Home Decor 
Distance makes your friendship stronger. Send this wooden box to your far away BFF. It looks good on the shelf or table. It is also great for hanging on the wall. A sentimental long-distance friendship gift that your BFF will love.
That concludes our list of 20 best gifts for a long-distance friend. Thanks for reading.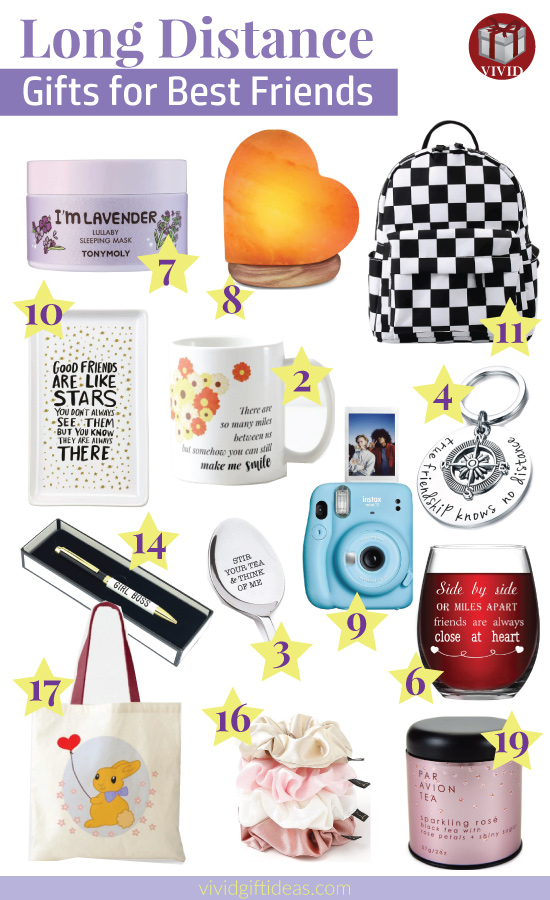 More Gift Guides for Best Friends:
More Long Distance Relationship Gift Ideas: