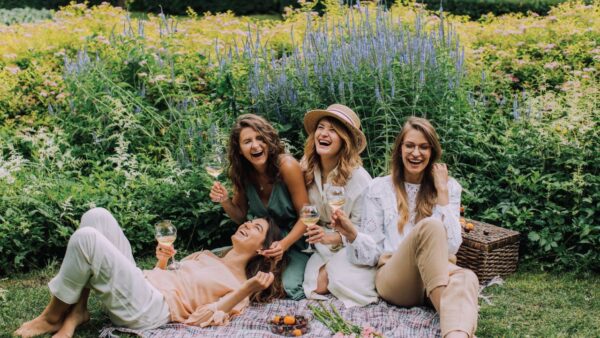 Gift Ideas for Female Best Friends
1. Rose Gold Philosopher Mesh Watch
Watch is a long-lasting gift just like the friendship you have with your BFF. Surprise her with a nice watch on special occasions like her birthday or Christmas. We love Nordgreen rose gold watches for the ladies, especially the Infinity Mesh Rose Gold Watch.
The design is simple yet elegant, and the color is so stunning. It's a sophisticated timepiece perfect for every type of girl.
2. Friendship Themed Figurine
A heartfelt gift for a best friend — figurine that depicts the love and bond between best friends. It is finely crafted and painted beautifully.
3. An Artwork with Friendship Sentiment
A one of a kind gift added with personal touch will melt your BFF's heart. And, we recommend ordering a portrait painting created by the artists from Paint Your Life. These highly skilled artists will transform an ordinary photo into a beautiful artwork with your preferred background selection.
4. A Small Customized Gift
You don't have to spend big on gifts for your bestie. Sometimes a small gift brings the biggest smile. And, no BFF would say no to unique custom lapel pins printed or engraved with her favorite pictures and words. Get a bunch of these pins for her to rock them on wherever she goes. Imagine how proud your BBF will feel when wearing these exquisite lapel pins you created just for her.
5. A Friendship Necklace
This necklace is designed for the best friends in life. Features a pair of interlocking rings that symbolize the connection and friendship between two girls. It is simple and meaningful. Your BFF is going to love it!
6. A Meaningful Wood Sign
A charming box sign that makes a great gift for best friends. This decorative sign is made of high-quality wood. It is painted black and white, in a distressed style.
7. A Keychain
A small sentimental gift for best friend — a stainless steel keychain with friendship message pendant. It is beautifully engraved with "You are my person. You will always be my person".
Cute Best Friend Day Gift Ideas
8. Best Friends T-shirt Set
Twinning with your besties is definitely fun. Get a set of
matching friendship bracelets
or matching tees for Best Friend Day. Wear it together with your bestie to show your love for each other.
9. A Mug with Cute Statement
Let her know she is your best girlfriend with this mug. It reads "You're my favorite bitch to bitch about other bitches with".
10. A Sassy Wine Glass
The perfect glass to enjoy a relaxing evening with your gals.
11. Adult Coloring Book
Take out this coloring book to color away stresses. It is filled with hilarious illustrations and curse words. A coloring book designed especially for adults that is sweary AF!
(If your girlfriend loves swearing, you can't miss getting these funny
swear word gifts
to her).
12. A Card Holder
She will love this slim card holder with glittery holographic design. It has 5 card slots, 1 cash slot, and 1 clear ID window to keep your credit cards, ID, cash and more.
13. Friendship Idiom Bangle
Kate Spade bangle for the best friend ever. It looks simple, chic and stylish. Features friendship-themed engravings that reads "Partners in crime," "peas in a pod," "sidekicks," "birds of a feather," "two of a kind" and "perfect pairs." It makes one of the best gifts for best friend.
14. Flower
Send a flower to your BFF on the National Best Friend Day. Artificial flower arrangement is great as it blooms beautifully for a really long period of time.
14b. Another option is to send fresh flowers to your bestie even she is far away. International florists will help you with that.
Small and Inexpensive Gifts for Best Friend
15. School/ Office Supplies
If you are looking for something cheap, a cute stationery makes a good small gift for friend. She will love these
flamingo
 pens. They look adorable, glide smooth, and write well.
16. A Tote Bag
Because your girl best friend is so awesome she deserves to get this colorful bag.
17. Socks
You can also get a pair of fun socks for your best friend.
18. Lip Balm
Lip balm is another good choice. This weightless, wax-free lip balm by EOS will become her new favorite. It is packed with five nourishing oils in the jewel-inspired sphere.
19. A Notebook
Dozens of kitties to accompany your BFF when she writes. Features a cat pattern soft leather cover and 128 sheets of colorful cartoon printing pages.
This notebook is also available in pink, white and pastel blue.
20. Portable Charger
Best friends support each other. Back her up when she is in need. Provides her with extra power when her electronic device is running low on battery. This power bank has a huge capacity of 26800mAh, dual USB output and a built-in LED Flashlight.
21. A Fine Tea
Treat her with a delicious cup of tea. This Sonoma rose iced tea is a fantastic non-alcoholic alternative to wine. It is a sophisticated tea made from fine Pinot Noir and Sauvignon Blanc wine grape skins, instead of tea leaves. Infused with strawberries and apples, it is a delightful, flavorful drink perfect for pairing with cheese. paella, seafood and other dishes.
22. Makeup
A darling little blush that gives a lovely doll-like impression. The shade is gorgeous and it is highly pigmented. This cream blush also blends well. It is perfect for girls of any ages.
23. Nail Polish
This Best Friend Day, you can also get a set of pretty nail polishes for your bestie. Plan a sleepover, have a good chat, play nail art, and celebrate the special day dedicated to the best friends only.
That concludes our list of Best Friend Day gifts for female best friends. Thanks for reading.
Get more gift ideas for best friends on Pinterest!