Store-bought friendship bracelets are underrated. Yes, you can absolutely DIY your own bracelets, but at the of the day, it's the thoughts that count. If you are looking to buy some cool bracelets to wear with your friends, you'll find what you're looking for in this article.
These matching bracelets for friends below are also the perfect gifts for National Best Friend Day and Friendship Day. Yes, in case you weren't aware, there are specific days dedicated to friends and friendship. And that's great because now you have one more excuse to get your friends some gifts. Other occasions these matching accessories are perfect for: birthday, Christmas, and just-because.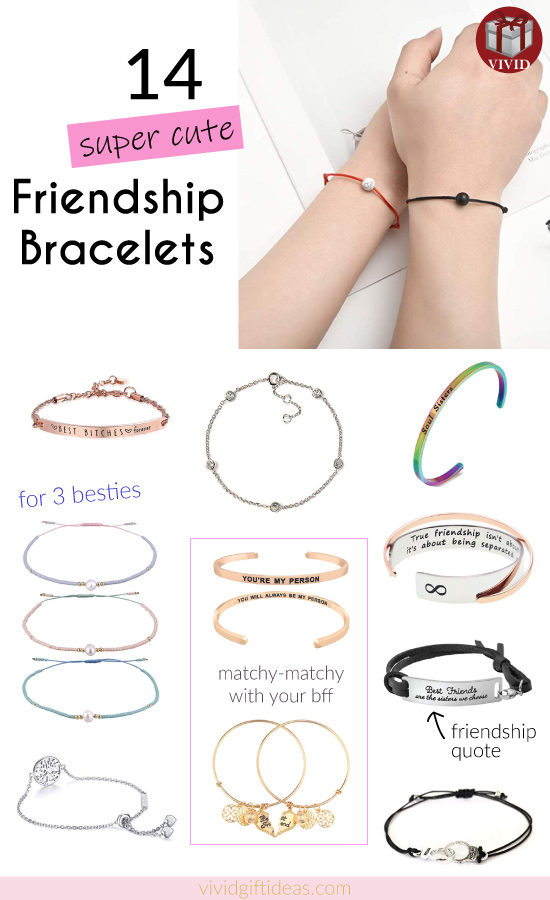 Best Friends Bracelets: Friendship Symbol You Can Find on Amazon
1. Sentimental Best Friend Bracelets
Sentimental bracelets only the true best friend deserves. The bracelets' minimalist design features a honeybee and honeycomb pattern. Thoughtful words are printed on the bracelet's keepsake card to explain the design. The honeybee design means that the recipient plays an irreplaceable role (as a queen bee) in the giver's life. There are three variants available: gold, rose gold, and silver.
2. Personalized Friendship Cuff Bands
Get a pair of cuff bands that is uniquely yours. Personalize your very own cuff bands with meaningful words that resonate with your friendship. Put funny phrases, your initials, or even memes on your customized wrist band. Alternatively, stick with the original phrase shown in the manufacture's photo — soul sisters; The phrase is ideal for the girl or woman who is your best friend. The bands carry a unique, colorful metallic hue — if you like unicorn color you'll definitely LOVE these bands.
3. Bead Friendship Bracelets for Three Friends
Pearl Beads Friendship Bracelets
Matching bead bracelets for three close friends — the trio, the three Musketeers. These bead bracelets are perfect for casual, everyday wear. They are also non-intrusive when worn as part of a more formal outfit. The center of this aesthetic bracelet is an eye-pleasing pearl. More than 10 designs available.
4. Double Hearts Best Friend Bracelet
Let your best friend know how much she means to you. As her birthday gift or her going-away-to-college gift, get her this wrist bracelet with double-hearted design. The sterling silver hearts and chain feature a simple and minimalist. Its down-to-earth design makes it perfect to wear to school and work. The floral keepsake card that the bracelet comes affixed on adds meaning and sentiment to the jewelry piece. On the floral card is a friendship quote (a saying about good friend / best friend) that says "A good friend knows all your stories. A best friend helps you write them". By the way, if you're intrigued by the floral pattern, you'll probably love these cute floral school supplies too.
5. Friendship Quote Bangles
For some people, wearing identical bracelets is the opposite of cool. This pair of bracelets gets you out of that dilemma. The bracelet pair consists of one thicker, wider bracelet with friendship quote on the inner side and a slimmer rose gold bracelet that spots a minimalist design. These bangles are great sentimental best friend gifts.
6. Matching Friendship Quote Bangle Bracelets
An aesthetically-pleasing pair of bangles perfect for male and female friends. They are great bracelets for couples and mom-daughter too. These friendship bangles feature a double-quote design. What are the two quotes? The words "You're my person" is engraved on the outside, while the inner engravement says "You will always be my person." Choose from rose gold, gold, and silver.
7. Stone & String Friendship Bracelet Pair
Natural Stone Friendship Bracelets
Two beautiful bracelets – one for you and one for your friend. These little tokens of friendship have a rustic appearance with a little bit of Zen and Eastern influence. The band is made of simple but durable string. The centerpiece is a sphere carved from natural stone. There are a number of combinations for you to choose from. All of the combos feature bracelets of different but well-matched color schemes. The backing card contains meaningful words that add some mystique and meaning to the pair. These affordable bracelets are also excellent sentimental gifts for long-distance relationship lovers.
8. Compass Bracelet
Inspirational Compass Bracelet
Henry David Thoreau said, "Go confidently in the direction of your dreams." And this small compass bracelet helps remind your friend of the direction of her life and ambition; it can also serve as a reminder for not forgetting where she came from no matter where she is in life. This inspirational compass bracelet is a great graduation gift for friends. Keep your pal inspired.
9. Best Friends Charm Bracelets
Delicate dangle charm bracelets with half hearts and filigree disk. The two half hearts fit together like a jigsaw puzzle. The heart reads "best friend" when the two halves become as one. These bracelets are recommended for girls and women.
10. Best Bitches Forever Bracelets with Option to Personalize
Sassy bracelets for two best friends. Choose from a multitude of sassy or inspirational quotes to be engraved on your matched bracelets. Alternatively, customize the piece with your own sassy phrase or meaningful words. If you like this kind of funny products, check out this favorite bitch friendship mug.
11. Eternity Tree Forever Friends Bracelets
Friendship For Eternity Bracelets
Thoughtful sterling-silver bracelets that symbolize everlasting relationships — friendship, mother-daughter relationship, romance, etc. This particular design we're sharing here is the tree of eternity. Helped by the words on the keepsake card, the trees represent the strong bond between two friends that will stand the test of time.
12. Funny Bracelets for Partners in Crime
If the vibe between you and your girlfriend is more of a fun and easy-going one, consider labeling her as your partner in crime with the help of this bracelet pair. The pair features a string band and a mini handcuff. Admittedly, the handcuff design is probably bad omen for real criminals. Anyway, the humorous keepsake card says "We are always together. We are one of a kind, three words describe us: Partners in Crime".
13. Leather Friendship Bracelet
Stainless-Steel & Leather Bracelet
Perfect for the friend who prefers bracelets with a masculine design. This bracelet has an adjustable black leather band. Its stainless steel plate is engraved with meaningful saying about friendship. There are dozens of quotes and phrases for you to choose from. Many of them are quotes about friends, there are also some motivational phrases to keep you inspired about life. This particular design we're showing here says "Best Friends are the sisters we chose."
14. Cubic Zirconia Bracelets for Friends
One of the most presentable friendship gifts on this list. This cubic zirconia (diamond-like crystal) bracelet is a real eye candy! Although it looks expensive, it is actually quite affordable. Which makes it an excellent luxurious accessory that you can afford to wear every day. The bracelet comes affixed on a simple keepsake card with wise words about friendship. "A good friend knows all your best stories, a best friend has lived them with you." The item comes in a simple gift box wrapped in ribbon.
Which is your favorite bracelet?
Did you manage to find something you like from this list above? Your friend is lucky to have you as his/her best friend!
Follow our gifts for friends board on Pinterest.
Other Friendship Topics
See all friendship articles.