Give your best friend the best present ever this Christmas. Impress her, up your BFF score with these cute picks. Here are 18 awesome holiday gifts for girlfriends.
Scroll down to discover now!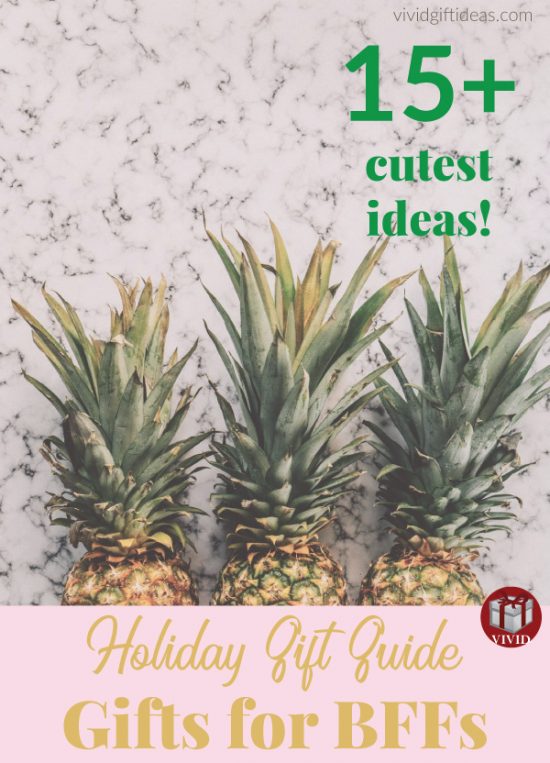 Holiday Gifts for Girl Best Friends
1. You Are My Best Friend Box Sign
A sentimental Christmas gift for your BFF. Show her your love, tell her how much she means to you with this decorative wooden box sign.
2. Compass Friendship Necklace
Be sure to get a special Christmas present for your female best friend. This necklace is so simple and meaningful she will totally adore. Features a two toned design with a compass pendant that represents a strong friendship. This necklace will become her new favorite.
3. Good Vibes Sentiment Earbuds
For your gal pals to listen to good music and enjoy the good vibes.
4. Happiness Blooms Daisy Tote Bag
Gift your favorite girlfriend with beautiful daisy bag to make her happy this holiday.
After the holiday, a brand new year is coming up. Give her a hand in planning, scheduling, and working towards her new year resolution.
6. Canvas Avenue Cat Wooden Earrings
Whether she is a cat person or not, this pair of adorable cat earrings will surely make her smile. It is made to order just for the purr-fect friend of yours. These kitties are beautifully handcrafted using timber plywood and handpainted in a cheery shade of mint.
We also love the seashell earrings and rainbow earrings from Canvas Avenue.
7. Feline Good Rainbow Cat Mug
Another Christmas gift approved by girlfriends. This rainbow of cats will definitely make her feeling good.
8. Inspirational Pens for Women
Chic pens for the favorite ladies in your life. We really love the quotes.
😍😍We go crazy over pompoms because we think girls look extra cute with it.
Money, money, money. Who doesn't love money bag? This purse is definitely an attention grabber.
11. Hurraw! Assorted Lip Balm Pack
Lip balm makes one of the best classic holiday gifts for gal pals. She will appreciate these organic lip balms with fun flavors.
12. PopSockets
A useful and inexpensive tech gift for girls. Popsockets makes holding the phone easier. Attach it to your phone to expand the grip, use it as a stand when watching videos or make it as a convenient storage for the headphone cords.
Heater and the cold wind make our skin super dry in the winter. For Christmas, why not get this stylish cactus humidifier for your bestie? It is USB powered and small in size.
This humidifier is suitable for home, office or car.
Sending a flock of flamingos to brighten up her room. And, don't miss out on these flamingo gifts if your BFF is a flamingo lover.
15. Sassy Doormat
Something cheeky for her entryway if you're looking for a funny Christmas gift your girl friend will really love.
If you are looking for something cheap and functional. A pair of good quality gloves is an excellent choice. These little cat paws will keep your BFF warm and cozy this winter. It has a fingerless design, and also super soft and stretchable.
17. Cute Sleepwear
Let me sleep, in style, of course. This jammies is perfect for your fashion-conscious girlfriends.
Another cool Christmas gift perfect for gal pals. Be a boss lady. Take control of things that you write and write like a boss.
(Related article: 15 Inexpensive Gifts for Women Bosses)
That concludes our list of cute Christmas gifts for best friends. Thanks for reading and have a happy Christmas!
Check out our Pinterest for more unique gifts for friends.
More Christmas Gifts for Best Friends: