In this list, you will find 30 best gifts for grandparents who already have everything. Surprise your grandparents with some thoughtful gifts that they will really love. Your grandparents probably told you they already own everything they need. And, they want nothing for any special occasion like Christmas, Grandparents Day, or even their birthdays. You can still find something special that they will actually use.
Browse through our gift guide below to discover meaningful and useful stuff loved by many grandfathers and grandmothers. From home appliances, accessories for elderly people, books, kitchenware, to food and more. These gifts will definitely bring them much joy and laughter this year.
Disclosure: This post contains products that I personally like and may contain affiliate links. I get commissions for purchases made through links in this post, at no cost to you.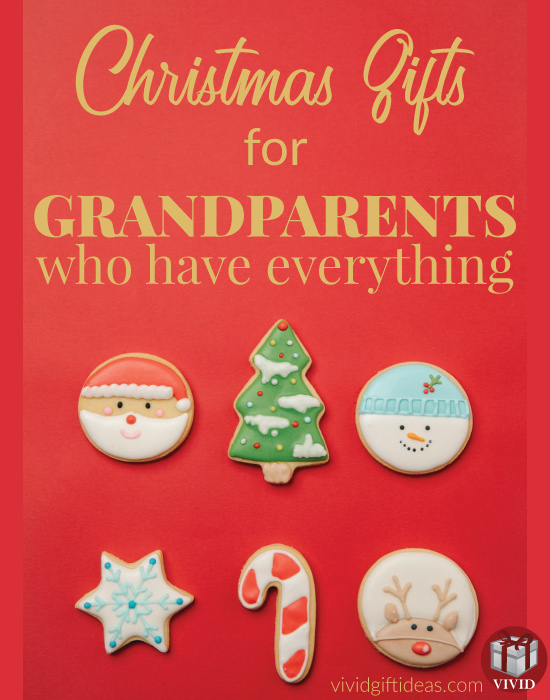 Christmas Gift Ideas For Grandparents Who Already Have Everything
When you think it's tricky to get a good Christmas gift for your grandparents who seem to own everything. Think again. Do they own a set of matching rocking chairs that look this cool?
Why not get them these charming vintage-look rocking chairs this holiday? They are made from sturdy steel construction with weather resistant powder coated finish. With these chairs, they can lounge comfortably together, the stylish way!
2. Grand Bear Plaid Clog Slipper
You can't go wrong with a cozy gift to pamper your grandparents. This pair of plushy slippers will warm your grandparent's feet and they look really cute on your grand bear.
3. Anthon Berg Liqueur Chocolate
Family time and good food are what grandparents really want for Christmas. When your grandparents already have everything, treat them with something delicious. This box of premium liquor-filled chocolates is an excellent choice. It contains 64 pieces of dark chocolates filled with assortment of liquor like whiskey, tequila, cocktail, vodka, and cognac.
Your grandpa who has everything definitely need a mug that make him feel proud as the best grand-farter ever. Oops… I meant the best grandfather ever.
5. Seeing Silence: The Beauty of the World's Most Quiet Places
When your grandparents already own everything, books make a good gift for them. We highly recommend this book that remind us of the magic of being "truly away". Follow award-winning photographer Pete McBride to a visual tour of global quietude. Take on a once-in-a-lifetime escape to find places of peace and quiet.
6. Himalayan Pink Salt Ultrasonic Vaporizer
Give the gift of relaxation this holiday. Make their room feels more Zen and peaceful. This therapeutic device combines aromatherapy diffuser, air purifier, and ambient lighting into one. When the light is on, the natural pink Himalayan crystals ionize the surrounding air and the essential oils will fill their room with soothing scent through the ultrasonic vibrations.
7. Grandparents Quote Engraved Wood Photo Frame
A meaningful gift for grandparents from grandchildren. Instead of looking at the photos on their phones, print out a real photo that they can touch and hold it close.
If your grandma loves cooking, she surely has a lot of recipes to share with her kids and grandkids. This book allows her to create her own cookbook to pass down to the family for generations.
Featuring beautiful design with durable construction. This book has large pages to hold 175 recipes and seven sections with tabs for easy reference.
9. Grandma & Granddaughter Love Necklace
A sentimental gift for grandma from granddaughter. Tell grandma that you love her with this lovely necklace. The sparkly heart charm symbolizes the special bond between a grandmother and her granddaughter. The two hearts are close to each other, just like the intimate relationship you have with your granny.
This small space heater provides efficient heating for home and office. It is light but powerful so you can carry it to any room to heat up the space faster.
This mini heater has auto shut-off feature to prevent overheat. And, it will turn off automatically if the device accidentally tips over. This is a cool gadget even people who have everything will appreciate.
11. Grandpa Juice Whiskey Glass
Get this cool whiskey glass for your old man and he will think of you every time he uses it. You can also get a aged whiskey to make make him happier.
12. Rainbow Door Mat
What's more cheerful than getting a rainbow gift sent to your home? Brighten up your grandparents' day, make them feel the positive vibe every time they step in or out from the house.
If your grandpa still uses a computer, this typewriter style keyboard will remind him of the days where he had to work using those typewriters that make loud click-clack sound. This is a wireless mechanical keyboard with modern technology. It has advanced Bluetooth connection technology that can adapt to multiple devices.
We also love its beautiful wood grain and how they covered all the key cap with metal plating ring.
14. Artsy Face Reading Glasses Holder Stand
This is a must-have for elderly people. They tend to misplace their eyeglasses and forget where they are. With this holder, their glasses have a proper to sit when it is not in used.
15. HoMedics Shiatsu Bliss Footbath Massager
If you are wondering what is a good gift for elderly grandparents. You can't go wrong with this footbath massager. Give them a spa-like treatment at home. They can add water or without to enjoy deep-kneading massage. The strong bubbles and heat boost technology quickly warm the water to comfort tired feet and relieve stress.
16. How Grandmas Swear Coloring Book
Fun holiday gift for grandma from adults — the perfect coloring book for grandmother to color away her stress. This book contains 20 stunning mandala patterns filled with totally hilarious and clean swear word!
17. Grandpa Knows Everything Tumbler
One of the best gifts for grandpa from kids — this tumbler will make your papa LOL. It's an amazing cup with quirky message to get everyone to have a good laugh this holiday.
Something cheap and practical your grandparents will actually use. This beanie hat with built-in LED light will be helpful to them during colder months. They can go out for a walk with clear vision at night, keep their hands free to work on their garden, and clear the snow in the early morning when it's dark outside.
19. Bluetooth Suitcase Vinyl Record Player
This suitcase turntable adds retro vibes to any room. It combines attractive vintage look with modern technologies like Bluetooth, aux, and the ability to connect your headphones for private listening.
20. Hopeless Ramen-Tic Soup Bowl and Chopsticks Set
This is a cute bowl for grandparent who loves eating ramen. It is a deep bowl that can hold a lot of noodles.
21. Amethyst Face & Body Massage Therapy Set
Natural stone facial roller and ice roller are popular self-care gift for women. The ice roller gives you a refreshing spa treatment for the whole body while amethyst roller gives you an invigorating massage for the hard-to-reach areas.
Rolling them over your skin can reduce puffiness and pores. They can also promote blood circulation and stimulate lymphatic drainage for a clearer and glowing appearance.
22. Vera Bradley Travel Duffle Bag
Another good gift for grandma perfect for every occasion, whether it's Christmas, grandma's birthday, Mother's Day, or Grandparents Day. This weekender bag will be useful when grandma is traveling to see her grandchildren.
It features a gorgeous floral pattern loved by women. This bag is light and spacious. It has three interior pockets, two side pockets, and a trolley slip on the outside.
23. Dash Tasti-Crisp Electric Air Fryer
This is an awesome kitchen appliance that grandma will appreciate. It allows her to make crispy fried food the healthier way. It reduces oil consumption by 70% when she fries snacks, appetizers, meatballs, and even veggies.
Add whimsiness to their house with a cat on the moon shelf. It is crafted from wood and it is very functional for storing succulents, essential oils, crystal collections, and other small items.
When your grandpa is a man who has everything, he probably own a bath robe or two. Help him to replace his old robes with this stylish cotton-knit robe. It is made of nice material that doesn't feel too soft or heavy. It is a great spa-style robe perfect for elderly grandfather.
A practical gift for grandparents from adults. Let them enjoy grilling their favorite food anytime, no matter how cold it is outside or whether if it rains.
27. Shiatsu Kneading Massage Pillow
Another thoughtful gift for elderly men and women. This massage pillow will be helpful when your folks have body aches. This massage pillow has four kneading nodes and heating function. It offers deep massage to enhance blood circulation and relax the aching muscles.
These cute daisies and the inspirational quote make us happy. This is a pretty tote bag that your elderly mom will appreciate. It is made from washable fabric and can be used as a grocery bag, book bag, and more.
29. Curious Cats Magnetic To Do List Notepads
Who doesn't love some cute notes sticking on their fridge to remind them of what to do and what to buy?
30. Iced Tea Maker
If your grandparents prefer cold tea over the hot ones, this maker will let them brew the perfect iced tea in just minutes. They can also fill it with ground coffee to make a refreshing iced coffee.
That concludes our list of Best Gifts for Grandparents Who Already Have Everything. Thanks for reading!
More Gift Guides for Grandparents:
More Gift Ideas for People Who Have Everything:
11 Gift Ideas For Her Who Has Everything | 20+ Unique Gift Ideas For Mom Who Has Everything | 30 Awesome Gifts For The Dad Who Already Has Everything | 15 Holiday Gift Ideas for Parents Who Have Everything | 9 Gift Ideas for Men who Have Everything