Browse our favorite gifts for grandpa from granddaughter and grandson. Let's not forget another dad in our life this Father's Day — our beloved grandpa. Show your grandfather how much you care by giving him a gift that he will love to use. Whether your grandad is a foodie, businessman, wine connoisseur, or a hiker, we have the perfect gifts to put a smile on his face. These ideas are thoughtful, funny, and cheap. You don't have to break a bank to become your grandpa's favorite grandchild. Just pick one from our list below to surprise him on Father's Day.
Read on for 16 best gifts you can get for your grandpa below.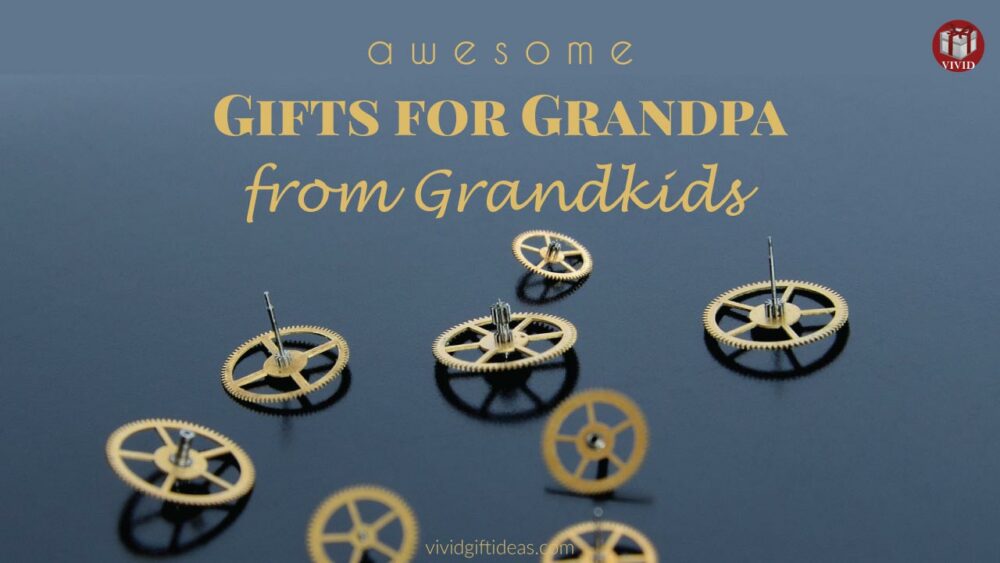 Gifts For Grandpa From Grandkids
For the amazing grandfathers who are really good at tinkering and repairing stuff. This cute keychain has little tools and charm to show how proud his grandchildren are for having a skillful grandpa. A small gift like this makes a wonderful gift for grandfather from kids.
2. Grandpa's Ice Cream Bowl Set
Grandfather and grandchildren have many fun ice cream memories. This Father's Day, treat your grandpa to his very own ice cream bowl and shovel spoon. It is a unique and quirky gift that your grandpa will definitely love.
For the "leaky" old man that constantly release hazardous gas around the house. This mug is perfect to make him laugh this Father's Day.
4. Fill in the Love Book for Grandpa
One of the best gifts that grandchildren can get for their grandpa that's cheap and meaningful. Create a personalized gift for your grandpa by filling your thoughts and love in this keepsake journal. This book has simple prompts to help you fill in your lines easily. Be real, write in your style, and make it as sweet or silly as you choose.
5. If You Can Read Novelty Socks 
For elderly dad who loves drinking whiskey at home. If somebody can bring him a glass of whiskey while he is watching TV, he will be very happy.
6. Funny Grandpa Sayings Box Sign
Grandpas love to bring their grandkids to whatever trips they are going and they will have all the exciting adventures you can never think of. Sometimes, grandpas even help them to get into the mischief his grandchildren haven't thought of yet.
7. Meditating Yoga Frog Statue
We can't get over this adorable frog statue. It a playful decoration every grandpa needs. This little frog guy looks so relaxed. Place it in any room to bring peace and harmony.
8. Godinger Whiskey Decanter Airplane Globe Set
If you can afford a little more, you can get this fancy decanter set. It is a whimsical piece perfect for his mancave. A hand-blown globe design decanter and two old fashioned whiskey glasses are fitted onto a wooden airplane. If you look closely, you can discover there is another aircraft in the globe decanter.
9. Wooden Nose Shaped Eyeglass Holder
One of the best gifts for grandpa under $10. This wooden holder looks fun on any desk. It has a nice weight to hold your reading glasses securely.
A beautiful pen that your grandpa will appreciate. It features a ballpoint tip, gunmetal body-color with rose gold accents. This pen glides on smoothly in black ink.
11. Hammer Screwdriver Drinking Glass Set
Because grandpa is a handyman who can fix anything. He deserves to drink his favorite liquor from these beautifully crafted glasses.
A sentimental gift for grandfather from grandchildren. This slim wallet is engraved with sweet sayings to express your love to grandpa.
13. Japanese Zen Garden for Desk
For grandpa who is always busy at work, he needs to relax a bit when things get crazy. We recommend this desktop sand garden kit. It is the best stress relief gift for men. This miniature garden kit allows him to arrange the garden accessories the way he likes it. It is a great Zen office decor to incorporate calm and peaceful vibes.
14. Woven Pattern Leather Storage Tray
Be the old man's little helper. Help him to declutter and stay organized. This valet tray is made of full grain leather with a gorgeous basketweave pattern. It is durable perfect for storing keys, watches, small everyday accessories, and other loose items.
15. Hanes Men's Memory Foam Clog Slipper
Every grandfather needs one of these comfy, non-slip slippers to wear inside or outside the house.
16. Nostalgia MyMini Personal Electric Griddle
Treat your grandad a warm meal for his adventures near and far. This mini griddle is perfect for cooking in a small kitchen, camper, and RV. It has a nonstick, dual-sided cooking surface for making a one-person meal quick and easy.
More Cool Gifts for Grandpa: