We have brought together a list of great gifts loved by older dads.
Father's Day is fast approaching and many of us are yet again at a loss to find an amazing gift for that seasoned guy of a certain age. Dads that have been celebrating Father's Day for a while certainly already have it all. So what do you get that special elderly man in your life who already has a rack full of ties, a cabinet full of mugs, and a closet full of "Greatest Dad T-shirts?"
Listed below are several fantastic gifts that will delight any dad this Father's Day, no matter whether you want to make it extra special by getting a personalize gift for dad or touch his heart even if your dad said he wants nothing. These options also make wonderful presents for dad's birthday, holidays, and retirement events.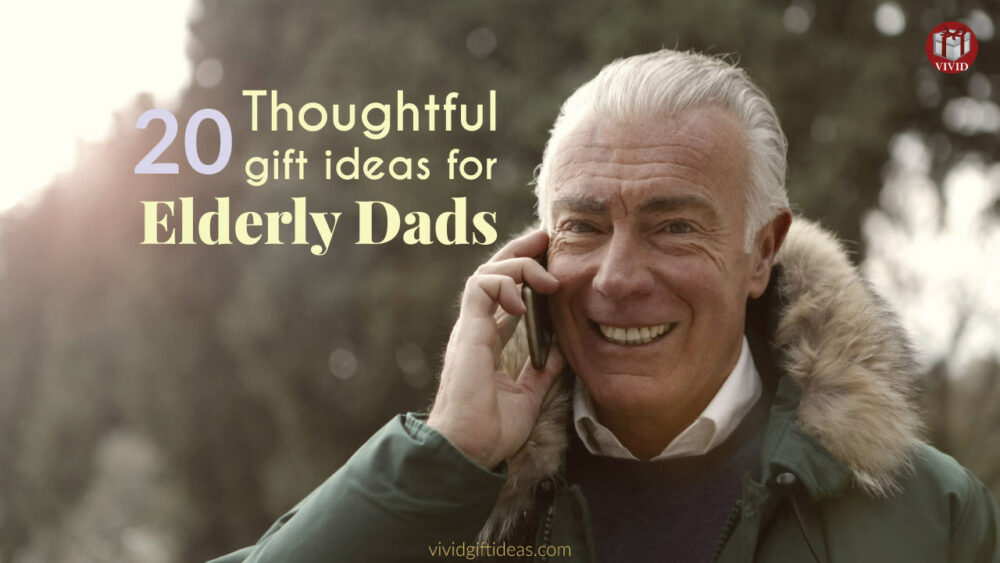 Best Gifts for Older Dad
1. Victrola Vintage Record Player
Take your old man down memory lane when you purchase this unique gift. Classic music lovers will love dusting off their old vinyls and playing them on this charming record player that features built-in speakers and Bluetooth technology. The Victrola is set in an attractive suitcase which not only makes it portable but also gives it a cool vintage vibe.
2. Engravable Luxury Docking Station
This a gift that your older dad will actually use. Some senior citizens are forgetful and they tend to misplace their stuff. This multi-functional docking station is sure to keep any man organized and ready to start the day. Dad will love having a spot to keep all his essentials together in one place.
This magnificent wood design features spaces for his cell phone, keys, watch, and wallet. Select from a beautifully engraved message or personalize with an inscription of your own.
3. Stories from Grandpa: A Fill-In Journal and Family Keepsake
For your dad to write down the legends he created over the years. This beautiful journal is a delightful gift that the whole family will enjoy and cherish for years to come. Fill-in-the blank prompts and charts allow grandpa to disclose and preserve his story for his children and grandchildren. Find out what his favorite things are, what life was like when he was a boy, and document his family tree.
This is a wonderful activity for family members of all ages to take part in. It is available in hardcover or paperback versions.
(Read also: 15 Best Gifts For Grandpa From Kids)
Display dad's favorite family photo in the beautifully crafted, wooden picture frame. Laser-engraved with the message, "Family – where life begins and love never ends," this frame can be wall mounted or displayed on a desk.
5. BOHS Wooden Sudoku Board Game
Another good gift for seniors. Dad can keep his mind sharp while playing his favorite game either by himself or with friends. This beautifully crafted, wooden Sudoku set comes with double-sided pieces and a book of 100 puzzles. It is designed for easy storage and portability.
All dads deserve to be pampered! This comfortable neck massager with heated settings will do just that! The fabulous 3D kneading motion is sure to provide relaxation and bring relief to dad's aches and pains.
Unique features include AC and car adapters for on-the-go use as well as an automatic safety shut off. We are sure this is one of the best gift your older parents will appreciate.
For the men who love to travel. Dad will love reliving past travels or planning new ones with this best-selling travel guide featuring 500 global destinations. This hardcover book features gorgeous photographs, detailed maps, and useful travel information.
8. Mug Warmer
If your dad is a lover of coffee, then this electric cup warmer is the perfect gift that he really wants. Keep dad's beverage at the perfect temperature in his favorite mug. This warmer features three heat settings as well as an automatic safety shut-off.
9. Family Birthday Reminder Calendar Board
This gorgeous wooden calendar board is the perfect gift to help elderly dad remember everyone's special day. Choose from several family-related messages and then customize with the names and birthdays of family and friends. This gift is not only functional, but it also makes a beautiful wall decoration for any room of the house.
The ideal gift for that special man that is getting up there in years. Dad will love sipping his favorite after-dinner beverage out of this well-crafted glass which is engraved with a special message just for seniors.
Age doesn't stop him from having fun. If you have a father who likes to make dad jokes, then this Father's Day, the joke it on him. This hilarious t-shirt is comfortable and definitely a conversation starter. Sweatshirts, hoodies, and other styles are also available to choose from.
(You funny old man might also enjoy these quirky Father's Day gifts.)
For the dad who loves watching TV. Keep all of his essential items within arm's reach while he enjoys watching his favorite show or relaxing with a good book on the sofa. This handy cup holder fits right over the couch arm. It is non-slip and non-spill and features a space to hold dad's remote, glasses, or cell phone.
A cool tech gift for the elderly men. Give dad's favorite device a unique, upgrade with this vintage keyboard. Advanced Bluetooth technology allows his phone, tablet, or laptop to smoothly connect to this retro-looking keyboard. The nostalgic look and upgraded technology of this product will sure to be a hit.
14. Polo Ralph Lauren Men's Sleep Pants
Present your old man with the gift of comfort. Present him with these stylish lounge pants by Polo Ralph Lauren. These soft, cotton sleep pants are perfect for enjoying quiet days around the house. With almost 10 different styles to choose from, you may want to grab more than one pair.
15. PORTAL Folding Camping Rocking Chair
Older dad will definitely enjoy sitting back and relaxing in this comfortable camping rocking chair. It is ideal for at-home use in the garden or on the deck or to take with him to the grandchildren's soccer games, camping trips, or family events. The high quality design makes set-up a breeze. The chair is available in three colors and comes with a travel bag for easy transport and storage.
16. What's So Funny About Getting Old
Because laughter heals. Give a light-hearted gift to keep your old man smiling. This book contains more than 120 pages of elderhumor. It captures the wry hilarity of elderly's real-life sitcoms. Read it and enjoy the good jokes about getting old!
17. RockDove Men's Sherpa Lined Memory Foam Clog Slipper
Another must-have for the elderly parents. Give dad a break to rest his weary feet. He will stay warm and comfy all year long when he sports these beautiful sherpa lined slippers. The clog style makes it easy for him to take the slippers on and off and the memory foam insert will conform to his foot shape for ultimate comfort and support. They are available in three colors and are machine washable.
18. Huloo Sleep Weighted Blanket
If you can't be there to give dad a hug in person, then this premium weighted blanket is the next best thing. Crafted with premium glass beads, this 15 pound throw will wrap his body in warmth and comfort while he sleeps or relaxes on the couch or porch.   
Dad is sure to know that you are looking out for him when you gift him this handy medicine organizer. This weekly pillbox features seven large, removable containers suitable for twice daily medication. It is lightweight and easy to take on-the go.
20. To Do List Magnetic Notepad
An affordable gift appreciated by older men. Help dad track of all his appointments and stay organized. The easy-to-read checklist features 60 pages of tear off sheets and conveniently attaches to the fridge so it is always in sight.
That concludes our list of best gifts for older dads. Thanks for reading.
More Gift Guides for Elderly Dads:
More Gift Ideas for Elderly Parents:
More Father's Day Gift Ideas: