This year's best gifts that guys really want for Christmas, even for the man who has literally everything.
Christmas time is the perfect time of year for gift-giving. Families gather around the tree and exchange meaningful gifts, enjoying each other's company and the wonder of the season.
But sometimes deciding what to buy for everyone on your Christmas shopping list can be stressful. This is especially true when you're trying to choose a gift for those men in your life who have everything.
Men can be difficult to shop for – and the ones who already have everything they need make it that much more difficult. Instead of picking out another necktie this year, check out our list of 25 holiday gifts for him who have everything!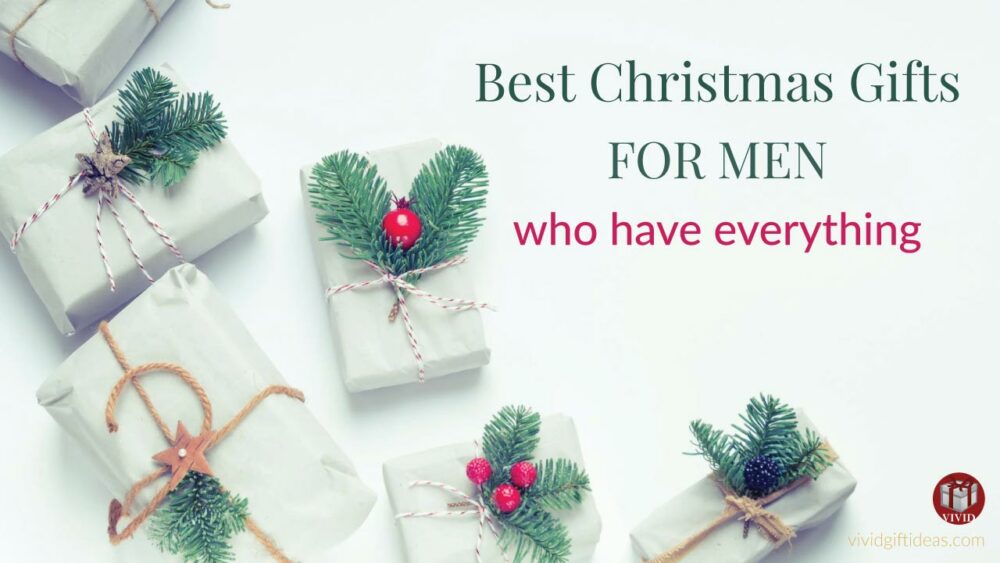 Best Gift Ideas for Men Who Have Everything (2022)
1. Mobilo Card 
Any modern working professional will love a gift of smarter networking. A smart business card like Mobilo is a must-have even for guys who already have everything. We love Mobilo because with just one card, it makes exchanging contact information much easier. By simply tapping the card, you can share contact info, gather leads, and connect with apps & CRM tools. What's more? You give a gift that helps the environment by reducing the use of paper business cards.
Black never goes out of style. This holiday, get a black gift to surprise the dude who has everything. Your man will never need to search for the remote control again when you gift him this cool bulldog storage caddy. Or he can use it as a desk accessory to store business cards, office supplies, or anything else he needs to keep within close reach! This canine companion comes in a manly polished black finish with a gold spiked collar and is guaranteed to guard his stuff against intruders.
3. Vintage Typewriter Multi-Device Keyboard
This vintage typewriter-styled keyboard makes a great Christmas gift loved by college students, busy businessman, and even elderly folks. It is Bluetooth compatible, making it optionally wired or wireless depending on the user's needs. It can also pair with multiple devices at the same time! The classic metal plus wood design would look great on any man's work desk, either at home or in the office. And the vintage style round keys make audible clicks like typing on a retro typewriter.
For the man who loves to start his day with a strong cup of coffee, there's no better gift than a custom coffee mug just for him. Pick the one that represents his zodiac sign to make this a personalized, extra special gift. The design features a stunning image of each zodiac sign and a list of their best traits so he can always remember what makes him so amazing. He can start his day with some inspiration, love, and coffee!
5. The Worst-Case Scenario Survival Handbook
Something practical and inexpensive for the man who has everything. This book offers common sense advice for any situation, like what to do during extreme weather. Also included is humorous but helpful advice for all of life's little accidents, like how to escape quicksand, how to wrestle an alligator, and how to fix that cell phone that you dropped in the toilet.
This updated edition includes advice for navigating the 20th century as well, like how to avoid drones and what to do if your autonomous car goes out of control.
A personalized gift is always a good choice for someone who has everything. We know getting men to wear jewelry is not always easy, but we guarantee he will love this manly leather bracelet. It's made from genuine leather and the antique bronze clasp is magnetic for extra comfort. Each bracelet is made to order, and you can customize it with a message from your heart to his – so he can always carry a piece of you along with him. Once he puts it on, he will never want to take it off.
7. Let's Shave Trimmer for Men
We all know a man who loves to take good care of their beard or mustache. But what about that gentleman that wants to take care of his manly parts too? How about gifting him this rechargeable ball, body, and groin hair trimmer? It's ergonomically designed for easy grip, comes with three different attachment combs, and has rounded blade edges to minimize skin irritation. Plus, the V-shaped head makes it easy to get to all those "hard-to-reach" places!
8. Arkrocket Bluetooth Retro Turntable
If the man in your life loves to spin his tunes, consider gifting him this retro turntable by Arkrocket. This vintage-styled turntable will transport him back to his golden years and allow him to enjoy all those classic records gathering dust in the corner. Or he can use it to stream his favorite music via Bluetooth. Plus, it comes with detachable legs, so he can use it as the centerpiece of his mancave or display it on any desk or table.
Here's another simple and useful gift loved by men. It keeps your man warm and safe – and light his way back to you with this beanie with a built-in flashlight. The safety headlamp is great for any time he needs to be outside, camping, hiking, working outdoors, in the garage, or walking man's best friend. It will keep his head warm and toasty and make sure he can see where he's headed at the same time!
10. Food Socks
Socks! The perfect Christmas gift or stocking stuffer for any man! These comfy socks come in a wide array of designs featuring one of every man's favorite things – food! They're 85% cotton, 10% polyester, and 5% spandex for the best of warmth and comfort.
You can surprise your old man even if he's the type of dad who wants nothing. Dads are known for being many things – providers, protectors, and role models. But another thing they're known for is flatulence! This funny shirt is the perfect gift for the father who lets loose with the farts. Remind him that he's the best father, and farter, ever and that you still love him – even when you have to pinch your nose closed!
12. Desk mat
Bring both style and comfort to his office space. If you need a gift for a man who spends a lot of time working hard at his desk, then he probably needs this natural cork and leather desk pad. It will keep his work surface protected and bring some comfort to his workday. It's dual-sided, with natural cork on the back and PU leather on the top, and he can use it as a writing surface, drawing mat, or mouse pad!
When you are looking for something special for your elderly dad who seems to own everything. How about getting this hand-crafted mug to help bring out his inner Viking? Every mug is 100% handcrafted and can be engraved with message of your choice. The outer mug is crafted from natural wood and there is a stainless-steel flask inside, so your Viking warrior can enjoy both hot and cold beverages in style.
Is there a man in your life who is both a feline lover and a wine connoisseur? Then we've got the perfect gift for him right here! The Allie Cat Corkscrew is designed to look like a stylish black cat getting in a little stretch, but she also doubles as a double-hinged corkscrew and bottle opener! Allie makes opening any wine bottle a breeze and her tail functions as a cutter to make removing the foil easy too, so he won't be left fumbling with the wine bottle at your next party!
15. The Modern Gentleman's Handbook
This book is the perfect gift for those true gentlemen out there, or even for teenage guys or those men who wish to learn how to become one. After all, it's like the book cover says: "Gentleman Are Not Born, They Are Made." This is the complete guide to style and success for the modern gentleman, delivered in a humorous, tongue-in-cheek way. All the answers he's been looking for are here, and after reading this book, you'll have a real gentleman on your arm for every event!
16. Gaiam Ultimate Balance Ball Chair
Since New Year's resolutions are right around the corner, why not gift him something that will help with that goal of getting back in shape and also keeps him comfortable at the office? It's like two gifts in one! The desk chair features ergonomic back support and a removable exercise ball designed to alleviate pain even when seated for long periods. Included is a desktop guide that illustrates stretching and strengthening exercises that will help boost his energy and reduce stress.
17. USB Smart Hexagon Wall Lights
You'll be the light of his life when he opens this gift for Christmas – for the man who loves to game or simply needs a way to illuminate his space, these Cololight hexagon-shaped lights are the perfect gift. Use the base to set them on a table, mount them on the wall, or rearrange the panels into your favorite shape. They feature 16 colors and over 70 dynamic effects. Plus, they are sound-responsive too. Simply give a command to make any space interesting and fun.
18. Mini Projector
Got a movie buff or gamer in the house? Then he'll love getting this mini projector for Christmas! It's fully loaded, high resolution, and high contrast. It works with your television, TV stick, PC, laptop, tablet, smartphone, gaming system, and more! Use it indoors, take it with you on your next camping trip, or enjoy a movie night in the backyard!
19. Sushi Making Kit
For the amateur chef in your life – check out this amazing sushi-making kit from Delamu! The sushi bazooka roller kit comes with a chef's knife, bamboo mats, bazooka roller, rice mold, paddle, and spreader, temaki sushi mats, chopsticks, sauce dishes, and a guidebook! Everything he needs to create delicious, yummy sushi right in the comfort of his kitchen comes included in this kit. Bonus – you get to eat it when he's done!
20. Matching Couples Sweatshirts
For husband and boyfriend who seems to have everything. This is one of those gifts you might want to give a few days before Christmas, so you can both be the hit of the "Ugly Sweater" holiday party! Show him your sense of humor and let him step out in style with his best "ho, ho, ho" on his arm! These sweatshirts are made from high quality, preshrunk cotton and polyester, so they will keep you both warm and cozy even during those snowy winter days.
21. Charging Station for Multiple Devices
Another men-approved idea. For those guys who are tech junkies, this multi-device charging station is the perfect fit. It has enough ports to easily store and charge five USB devices simultaneously, and one Qi charging pad to make it six! It comes with 6 mixed cables to accommodate a range of devices. Each port is designed to automatically recognize which device is plugged in and deliver the right amount of power to match the device's needs, so there's no need to worry about overheating.
22. UVBrite Explorer Self-Cleaning Water Bottle
Got a gym junkie in your life? Then he definitely needs this next gift on our list – a self-cleaning water bottle! This double-walled, stainless steel water bottle is like nothing you've ever seen before. Inside the cap is a quartz lens with a built-in LED that emits UV-C light that can destroy all microorganisms, mold, bacteria, pathogens, and viruses by up to 99.99! Activate the light whenever your water needs cleaning or set it to self-clean every six hours to ensure the water inside is always clean and safe!
He probably owns many different types of bags like backpack, work briefcase, duffel bag, and etc. Instead of getting another bag that carries a hefty price tag, why not pick a reusable fabric tote that's easily washable? Plus, this tote bag is foldable so he can keep it in his pocket, car, or another bag, and take it out to use whenever he needs.
Just because it's Christmas time doesn't mean there won't be the opportunity for a swim! If you need a gift for a man who loves to take a dip, then he will love these swim trunks from SILKWORLD. They come in a variety of fun and stylish patterns, plus they're made from quick dry fabric and water resistant for ultimate comfort!
25. Hamilton Beach Breakfast Sandwich Maker
Let's finish off the list with a tool that would make any man happy – not just at Christmas time, but all year long! A breakfast sandwich maker from Hamilton Beach is the perfect gift for any hungry man. You won't need to cook him breakfast anymore because he will want to cook it himself! In just four easy steps and five short minutes, he can be enjoying a custom breakfast sandwich. Maybe he'll even have enough time to make you one too!
More Holiday Gift Guides for Men:
More Gift Guides For People Who Have Everything:
Dad | Mom | Parents | Grandparents | Boyfriend | Friends