Getting a great gift for older moms made easy with our gift guide below. Surprise her this Mother's Day with a gift that mom really wants. Most people find it challenging when picking the right gift for elderly parents. Some seniors have unique taste, some parents own everything they need, and some are difficult to buy for.
To help you out on getting the perfect gift for your elderly mom, we have brought together a list of 23 thoughtful gift ideas suitable for senior women. These stuff are meaningful, practical, and budget-friendly. They are great for every mom, no matter whether your mom has already owned everything, or she is a hard-to-buy-for mom.
Read on to discover unique gifts for elderly mom that she will appreciate.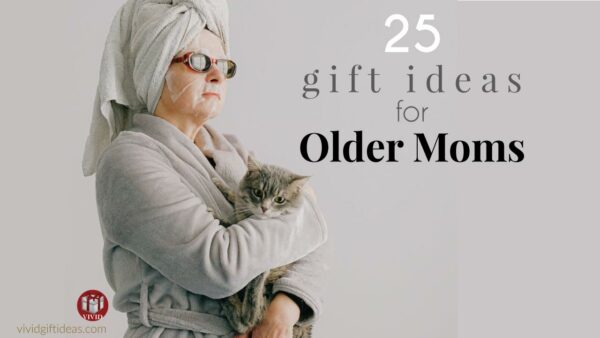 Best Gifts for Older Moms
Show that you care, put some extra thought into making the gift for your elderly mom extra special. Mom will appreciate a personalized painting of herself surrounded by people that she loves. You can pick a few photos and let Paint Your Life's artists compile these photos into one masterpiece.
At this age, many senior women need reading glasses. This cute flamingo glasses holder is a gift that your older mom will actually use. It is a sturdy holder made of high quality polyresin that looks great and function well. Place this flamingo near her bed to keep her glasses handy. No more misplacing and wondering where your glasses is.
Give your elderly mom a meaningful gift where she can leave her memories and legacies for her children and grandchildren. This guided journal is full of writing prompts that encourage her to put her stories to paper. Get to know more about your mom by motivating her to create a lasting keepsake for the family.
4. You Are A Badass Funny Embroidery Kit
When your mom is retired and has plenty of free time to kill. She will have fun making craft projects. This embroidery kit is one of the most popular gifts for women in this year. It comes with all the necessary tools, threads, and instructions.
5. Meaningful Jewelry for Mom
Make your mom happy with healing gemstone crystal jewelry, It's about caring for herself with something meaningful. Crystals promote physical, emotional, and spiritual healing. They are interacting with your body's energy field or chakra. So, when you wear healing crystal rings or bracelets, you have many benefits, including carrying something natural and special as well as keeping positive energy within yourself.
6. Mother Daughter Picture Frame
A beautiful picture frame with love message for mom. This will be your mom's favorite gift, especially if you are staying far apart and can't visit her as often as you wish.
(Read here for more sentimental gifts for mom from daughter.)
7. Mount Lai Amethyst Facial Roller
Pamper your mom this Mother's Day with a popular beauty gift loved by senior women. Rejuvenate the skin, boost blood circulation, and reduce wrinkles by using this facial roller made with amethyst stone. Amethyst is known to have cooling and soothing effect on the skin. Massage your face daily to relieve stress and promote radiant complexion.
8. Mom is My Sunshine Tote Bag
A cute bag with hidden message for your mom because she is your sunshine. This bag is lightweight and foldable. It is also washable and can be reuse again and again.
9. Mom You're The Berry Best Tea by The Republic of Tea
Treat her to a nice cup of tea this Mother's Day. Tell her she is the "berry best" with this delicious rooibos tea. This decaffeinated tea is infused with strawberry and vanilla. It tastes amazingly rich and flavorful.
For the mom who is serious about her tea. This gorgeous electric kettle makes a superb gift that she will actually use. Features a big capacity, fast boiling, and auto shut off function. It can make up to 10 cups of hot tea in no time.
11. I Love You Mom Pendant Necklace
Women of all ages love pretty jewelry. You don't have to spend big when choosing a nice jewelry for mom. With just $20 budget for Mother's Day, you can get this necklace with love sentiment to show how much you care. It features a sparkling heart-shaped crystal surrounded by two cascading rings. The smaller ring is engraved with "love you mom" and it's wrapped in the big ring, just like how a mother is always protecting her child.
12. Ajna Acupressure Mat and Pillow Set
A useful gift to boost mood and well-being of elderly parents. Older people often suffer from body aches and muscle soreness. Help them to manage this age-related problem better with a good massage. Simply lie on this acupressure mat to let your body heal naturally from the inside out. With more than 7000 acupressure spikes, this mat will activate your innate healing response, increase blood flow, stimulate the release of endorphins, and melt away your pain naturally.
13. Genuine Leather Gardening Gloves
Older parents have more time tending to their garden. If your mom loves spending time in her garden, this pair of flexible goat leather gloves will help protect her hands from thorn, dust, insects, and scratch.
14. Beautifully Organized: A Guide to Function and Style in Your Home
If your mom is into organizing and decorating her place. This book will give her practical ideas on how to create an organized, beautiful, and welcoming home.
15. Amazing Mom Mug
Because your mom is nothing short of amazing. Give her this mug to express your love and gratitude.
16. Grandma Recipe Cookbook Holder Stand
If your kids enjoy visiting their grandma, chances are they love being fed with good food made by her. Get this recipe holder to place in her kitchen. It is made of natural bamboo wood, engraved with sweet sayings about grandma.
(Read also: 12 Best Mother's Day Gifts For Grandma – That She'll Love)
17. Let's Get Slothed Wine Glass
Add some whimsiness to mom's kitchen. This wine glass will making drinking more fun.
18. THE PEARL SOURCE Freshwater Pearl Earrings
You can also give her a pair of pearl earrings this Mother's Day. We love how these lustrous freshwater pearls mounted on the rose gold plated sterling silver that resemble a lily. They look simple and elegant on older women.
19. Chakra Healing Crystals Set
A set of 8 raw crystals perfect for practicing mindfulness. These genuine stones are sourced from various parts of the world. Each of them come in unique shapes and sizes. They are good for balancing your chakras and help healing your mind, body, and spirit.
20. Goodthreads Women's Cardigan Sweater
For the mom who's always cold, she will appreciate this 100% cotton cardigan sweater. It lightweight, comfy, and good-looking. Perfect for layering over her favorite shirts and dresses.
Age doesn't stop her from being a busy mom. This wristlet wallet will be helpful when she is out running errands. It combines a small wallet, keyring, and bracelet to give you a hands-free experience. Ditch the bulky purse, simply carry your IDs, card, cash, and keys in your arm.
22. bliss The Youth As We Know It Anti-Aging Night Cream
Anti-aging skincare is a must-have for older moms. This night cream by Bliss gives skin a serious age-defying punch. It contains powerful active wrinkle fighting power to promote collagen, improve skin tone, and visibly reduce the appearance of fine lines.
Affordable tech gift appreciated by elderly women. Help her to grab her phone more securely with a Popsockets. It can also be used as a stand for hands-free viewing.
24. Victor Jurgen Back and Neck Massager
Another Mother's Day gift under $30 approved by elderly moms. This massager is equipped with four powerful massage balls that move in two directions. Adjust the speed and heat to enjoy a deep massage.
25. Botanic Hearth Tea Tree Liquid Hand Soap
Good hand soap is a must-have during this pandemic year. It is a practical gift mom can actually use. Get this therapeutic hand soap to keep your hands clean without drying them out.
That concludes our list of best Mother's Day gifts for older moms. Thanks for reading.
More Gift Ideas for Older Moms:
More Gift Ideas for Elderly Parents:
More Mother's Day Gift Ideas: