You will find unique gifts approved by grandmother in this list. Grandma showered us with a lot of love, warm advice, and baked goods. The special bond between a grandmother and her grandchildren needs to be celebrated on a special occasion. Grandma deserves the best present on Mother's Day, grandma's birthday, or Christmas day. Show how much you care by giving your gram a thoughtful gift. We have rounded up the best gifts grandma will love. From practical stuff, funny gifts, to something filled with sentiment. These gifts will definitely make your grandmother happy.
Read on to find out more on our list of best gifts for grandma that are perfect for any occasion.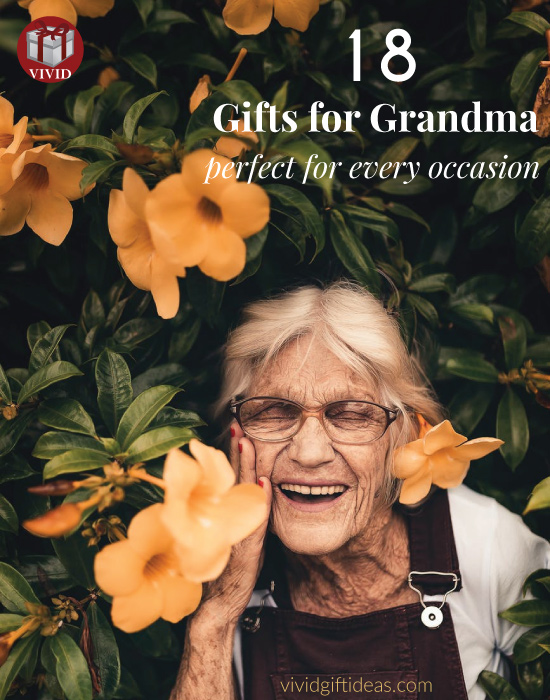 Best Gifts for Grandma Perfect For Mother's Day, Christmas, and Grandma's Birthday
Replace granny's old mug with this cute mug this holiday. Remind her that she is the best grandma ever every time she has her coffee. It will definitely make her happy.
One of the best gifts for grandma from kids. When your grandma cooks you the best meals, listen to you, and give you good advice. This wooden sign best describes who she is. "A grandmother is a little bit parent, a little bit teacher, and a little bit best friend"
3. What I Love About Grandma Journal
You can make a keepsake booklet for your grandmother. This journal's fill-in-the-blank style will help you to create a unique and heartfelt book easily. It will be a meaningful little gift to touch her heart and bring a smile to her face every time she reads it.
Express your love to your nana with this pretty pearl necklace. Features a lustrous white pearl dangle inside a sterling silver circle. It looks simple and elegant. This necklace comes in a gift-ready box with a beautiful message for grandma.
This is a cute candle for your glam-ma, a woman with too much glamour to be called grandma. This candle is infused with rebel rose scent. Note that it is not the ordinary grandma's rose, it is a fabulous rose mixed with subtle musky woods, sandalwood, sugary vanilla, citrus, and bottom notes of tonka bean.
6. Royal Albert Vintage Tea for One
For the tea-loving grandmother. This is a lovely tea set that she will adore. Classic rose pattern with a splash of beguiling pink, luxurious gold banding, and chic polka dots. It is classy and elegant. A wonderful tea set for your granny to enjoy tea like a queen.
7. The Mixology of Astrology: Cosmic Cocktail Recipes for Every Sign
A fun birthday gift for grandma. She will learn to make the perfect drink for any astrological sign. Full of easy recipes to mix delicious drinks. This coffee table book is a must-have for the astro lovers.
This beautiful bracelet is a great gift for grandma from grandchildren. It features a stylish braided band with a charming heart charm that reads "nana".
We are sure your grandma has some jewelry on her vanity. This bronze jewelry tree is a practical gift for grandma to organize her accessories. The birds and branches are crafted beautifully. This is a solid and functional piece that grandma will appreciate.
10. Love You GRANDMA Adult Coloring Book
A beautifully illustrated adult coloring book is one of the most popular gifts for women. This Mother's Day, give the gift of relaxation with this inspiring coloring book. It is filled with detailed illustrations with gorgeous quotes to celebrate the joy of being a grandparent.
11. Vera Bradley Weekender Bag
Pretty bag for granny to use when she travels. Blush Pink Weekender Bag by Vera Bradley. Featuring Vera Bradley's signature floral design in stunning pink colors. This bag is roomy and sturdy.
It is made from 100% cotton that is light and comfy to carry (and that's one more reason for granny to make a trip to visit her grandchildren).
This blue Aztec patterned electric kettle is a wonderful addition to your grandma's kitchen counter. It heats up fast to make boiling water for tea ways easier, or should we say cuter?
13. Paisley Embossed Rolling Pin
If she loves to bake, this rolling pin will make sure she rolls out her dough with fantastic paisley print. Bake beautiful cookies and pies with just a simple roll action. This is definitely a smart gift bound to bring joy to every baker in your life.
14. Full Bloom Capiz Lotus Candle Holder
Blooming lotus candle holder handcrafted in South East Asia. It is made from oyster with its opalescent shell that fills the room with shimmery glow, warmth, and coziness. The exotic and delicate look makes it a wonderful decoration for any home. 
15. Snoozies Knitters House Slippers
If she loves to knit, this fuzzy slippers will make her LOL. The eye-catching design that reads "knitters have balls" is definitely brilliant. This slipper is soft and plushy. It also has a non-skid sole to make your gram feel safe when walking on wood or tile floors.
16. Grandma Nutritional Facts Label Mug
Make your grandma's morning cup of coffee a little more fun with a mug that describes the awesomeness of a grandma. Your grandma is consist of 1000% unconditional love, 500% spoiling, 100% hardworking, and much more beneficial nutrients.
17. Avalon Organics CoQ10 Ultimate Firming Body Lotion
Skincare or body care with anti-aging properties is the practical stuff that grandma can use. This organic wrinkle-smoothing lotion makes a decent choice. It contains CoQ10 and rosehip to helps the production of elastin and collagen. This lotion helps to hydrate skin, tighten wrinkle and prevent visible signs of aging.
If your grandma is an avid collector of jewelry, getting a new piece of jewelry is a practical gift. Meet this gorgeous pair of earrings with the design of teardrops. It is made of sterling silver set with sparkly gemstones and unique opal as the centerpiece. It absolutely looks sophisticated and stunning.
That concludes our list of 18 Best Gifts for Grandma. Thanks for reading.
Follow us on Pinterest!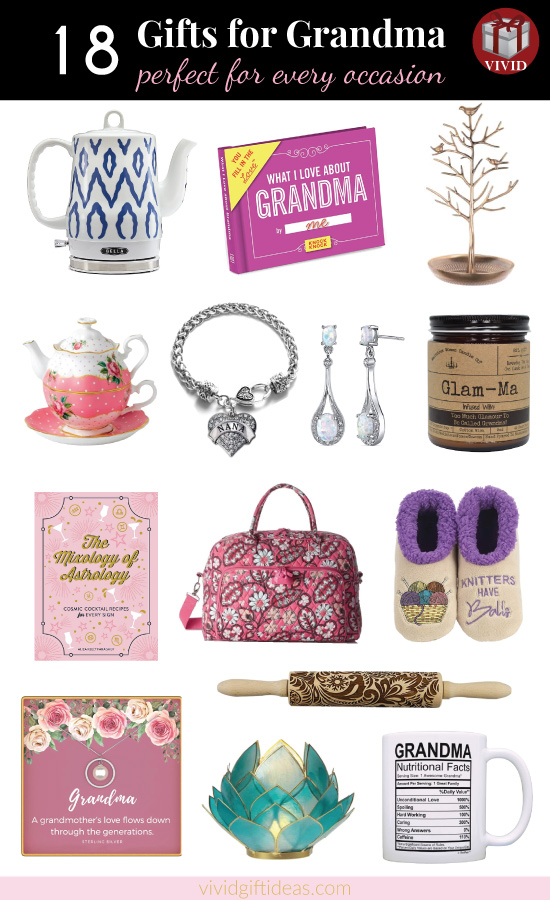 More Gift Ideas for Grandma: