Discover 30 Gifts for Dad who already seem to have everything. Perhaps Father's Day, Christmas, or his birthday is coming soon and you are asking yourself: "what present should I buy for dad… he already seems to have everything he needs?". Get your answer from our list of 30 awesome dad gifts below — dedicated to fathers from all around the world for we wouldn't be where we are without them.
Best Gifts For Dad Who Has Everything
[toc heading_levels="3″]
Sentimental Dad Gifts from Daughter and Son
Poem for Dad
Express your love to dad with this beautiful poem. This poem is nicely worded and meaningful. Written by poet Genie Graveline, it is enhanced with a lovely watercolor graphics. A sentimental present to touch dad's heart.
Dad Quote Keychain
If you are looking for a small gift, this beautiful keychain with dad quote makes a wonderful choice. It is handcrafted from real leather and finely engraved with a sentimental message. "DAD. Anyone can be a father, but it takes someone very special to be a dad."
Apparels and Accessories: Shirts, Watches, etc For Dad
Hølssen Briefcase Messenger Bag
Men love quality leather goods. This Father's Day, you can get this good-looking briefcase for dad. Made from genuine cow leather with solid brass hardware. Nice craftsmanship, well-stitched.
This bag has roomy compartments, one special compartment for electronics and multiple pockets for easy organization. For men to carry laptop, tablet and other business essentials with style.
Best Farter Ever T-Shirt
Funny tee to make dad laugh. Simple design with a hilarious statement. The perfect tee for the best farter ever, nope, I mean the best father ever.
(Looking for more funny gifts to make dad laugh? Read here for 15 Quirky Father's Day Gifts.)
Dad Drive Safely Auto Visor Clip
Visor clip to protect dad in his travels. The guardian angel is carrying these words "Dad, please drive safely". Finely handcrafted with lovely details. An inexpensive and meaningful item to get this Father's Day.
Batman Lounge Pants
An additional comfy pair of pajama pants are always welcomed, even for the dads who want nothing. These Batman pants are perfect for the superhero at your home.
100% cotton, cool checkered style and an elasticated waist featuring the Dark Knight's famous logo.
Kenneth Cole New York Classic Watch
Fine watches are always welcomed by men, even for men who already have everything. We recommend this elegant watch by Kenneth Cole. Features cool black dial, stainless steel case, and matching black leather strap. The black color is sleek and it is perfectly matched with leather straps making it looks neat.
A sophisticated timepiece that men will appreciate.
Simon Carter Darwin Collection Cufflinks
Inspired by the life and works of Charles Darwin, this pair of frogs will spring stylishly into any cufflink collection. Delicate design in malachite with shiny Swarovski crystals set on a polished silver-tone body. Tasteful pair for men of all ages.
Funny Father's Day Gift Ideas for Dad
Dad Nutritional Facts Label Mug
Dad already has all kinds of fancy mugs but what he still lacks is this cute mug with a nutritional label on it. The serving size is 1 awesome dad with its daily nutrition value of unconditional love, unrivaled skill, determination, pride, and more.
I Didn't Fart Funny T-Shirt
If you are looking for a fun and quirky gift for dad, this tee is an awesome choice. It says "I didn't fart, my ass blew you a kiss".
Genius At Work Tin Sign
For dad to hang proudly on the entrance to his men cave. Retro style tin sign with rusty effect.
Gifts for Tea / Coffee Loving Dads
Pipe Tea Infuser
Is your father a tea lover? Give him this whimsical pipe infuser instead of tea this Father's Day. Let him feels relaxed while enjoying tea like a classic gentleman.
This pipe sits right along the rim of a cup to slowly brew a perfect cup of tea.
Cuisinart Programmable Coffeemaker
For the father who enjoys hot coffee. This programmable coffeemaker is equipped with cutting-edge coffee technology to give you hotter coffee without sacrificing taste. Fully automatic with 24-hour programmability, self clean, 1-4 cup setting, auto-off, and optional ready alert tone.
Sleek design looks great in any kitchen or office. Enjoy delicious coffee with your desired brew strength option.
Fun Dad Gifts For Fathers Who Like Beer, Whiskey, and Other Alcoholic Drinks
Retro Keep Calm Cufflinks
If you prefer something fun, we recommend this pair. Simple and cool-looking. It says "keep calm and have a beer".
Whiskey Diamonds for Whiskey, Scotch, Bourbon Drinkers
A set of 9 beautiful black diamonds to chill drink fast without watering it down. Made of 100% basalt stone, cut into diamond shape for increased surface areas to keep your drinks cooler and longer. Suitable for scotch, whiskey, wine, beer and more.
Ring for Beer Hand Bell
At your service, sir. Ring the bell when you are feeling stressed out and we will hand you a beer. It is kind of fun. Daddy will definitely appreciate your kind gesture.
Unique Lab Shot Glass
This set of four unique Lab Shots will definitely become a big hit in the next drinking session. It is for your father to unleash the mad scientist within himself and serve his friends with impressive drinks. This set includes three mini beaker and an Erlenmeyer flask. Mixology 101 starts here!
Alcohol Gold Foil Wall Art
Eye-catching wall decor for his men cave. The striking gold foil reads "Alcohol Because No Great Story Ever Began with a Salad".
Entertaining Books for Dad to Read
The Art of Manliness: Classic Skills and Manners for the Modern Man
A useful guide for the modern man. Informative and hilarious. This book is filled with a collection of the most useful advice every man needs to know to live life to its full potential.
Contains a wealth of information that ranges from survival skills to social skills to advice on how to improve your character. Whether you are braving the wilds with your friends, courting your girlfriend or raising a family, inside you'll find practical information and inspiration for every area of life.
Topics written include: how to dress, how to give a dynamic speech, how to fight like a man, how to throw an excellent party, how to live a well-balanced life and more.
The Better Man Project
This is a great book for any man who wants to live longer and, just as importantly, better. Written by Bill Phillips, editor-in-chief of Men's Health magazine. This book is packed with thousands of useful tips and action items to upgrade your diet, fitness, health, relationships, career, and more.
The Better Man Project isn't just a reference guide to life. It's a great read too, with every health and fitness tip served with a side of Men's Health's trademark authority and humor. Learn the techniques to change your lifestyle and become stronger, healthier and happier. No matter your age, your wife or girlfriend will probably be 20 to 25 percent more into you.
Grooming Gifts for Manly Dads
Washable Cordless Hair Clipper Set
Dad already has every type of grooming tools for different needs. What he really needs is that one hair clipper that has super battery life to take care of every grooming need. This multi-purpose grooming kit is fantastic. It has intelligent control system, LED digital display, different cutting lengths and power levels.
It is waterproof, cordless, and powerful. Allow users to trim, shave, cut, detail effortlessly. The all-in-one shaver that provides dad with maximum versatility for the exact style he wants.
Monster & Son Beard Shaping Tool
Excellent gift for the beard lovers under $10. This beard shaping tool kit is all you need for your everyday beard grooming. The comb-template has perfect lines and symmetry for men's neckline, cheek line, jaw line, goatee mustache. The corners of this template are specially designed to make more clean and sharp edges on your beard.
Made of premium semi-transparent plastic. Guide men to shave cleaner lines and for a more stylish look.
Creative Home Decor For Dad
Marvel Thor Hammer 3D Light
Do you ever feel that your dad is super strong, like a superhero who can lift thousands of weight on his shoulder? Well, maybe he is a real superhero with magical power who can take good care of the whole family. This Thor hammer light is perfect for him. It is easy to install, comes with the 3D crack sticker to give the appearance that Thor has smashed through your wall.
This LED light looks amazing on or off. A unique room decor for guys.
Magnetic Hourglass
For dads who have everything, you can get this elegant hourglass to decorate his workspace. It is filled with ferrous sand, combined with hidden magnet.
One minute countdown. Form stunning stalagmites as the seconds pass by.
VW Volkswagen Camper Van Toiletry Bag
Mini version of the iconic VW Camper Van coming to pick up his toiletries. Fully lined, waterproof. Store your personal care and toiletries in the cutest way ever.
Practical Birthday Gifts for Retired Dads
Marshall Major II On-Ear Headphones – Tech Gift
Powerful and rock-solid headphones by Marshall. Superior sound, refined look, ergonomic design. It has super soft ear cushions, fully collapsible construction for easy storage, detachable cord with mic and remote.
Marshall Major II for dad to experience a whole new level of listening.
Parachute Nylon Hammock
Another awesome Fathers Day gift for dad who has everything. This versatile hammock can be set up anywhere with ease. It is light, spacious and strong. You can bring it for camping, backpacking, music festival, or just backyard lounging.
Comfy and soft, triple interlocking stitching, nautical ropes and 2 heavy-duty steel carabiners included.
Good food makes people happy, even for the man who already has everything. If he enjoys good beer, you can subscribe to Beer of the Month Club by Amazing Clubs. It is an awesome gift that keeps on giving. Every month, 12 full-sized bottles of unique craft beers from boutique breweries across the country will be delivered to his doorstep. Every shipment features four varieties of beers from two different breweries. These award-winning beers selected by Amazing Clubs' beer experts will definitely surprise your beer lover for the months to come.
Ruggie Alarm Clock
Is your father a heavy sleeper? Does he always has a hard time waking up? Here comes his savior – Ruggie the rug with an extremely loud alarm clock. It helps people to defeat snooze, get up easier, feel motivated, and form a new habit of becoming an early bird.
No more sleeping through your alarms, you need to get up, step on the rug and let it senses your pressure to stop the loud alarm. Users can upload personal motivational MP3 to play after the alarm stop. Start a beautiful morning stepping on the soft memory foam rug feeling inspired.
BBQ Meat Claws
Grilling tool is a practical and useful Father's Day present. This heavy duty meat claw is amazing. It is super strong and works like Wolverine. Shred, lift and grab hot meat from the grill with ease.
Digital Tape Measure
Measuring made easy the digital way when dad got this digital tape measure. Features large display for easy reading and three memory functions. Simply tap a button to record the measurements.
This tape also can converts measurements quickly and calculate midpoints. It is a fantastic tool to help dad saves time when working.
Last but not least, Amazon's gift card for those of you who want to play safe and don't want to risk buying stuff that dad doesn't like. You can download the below free printable, print it out, and stick the card on it.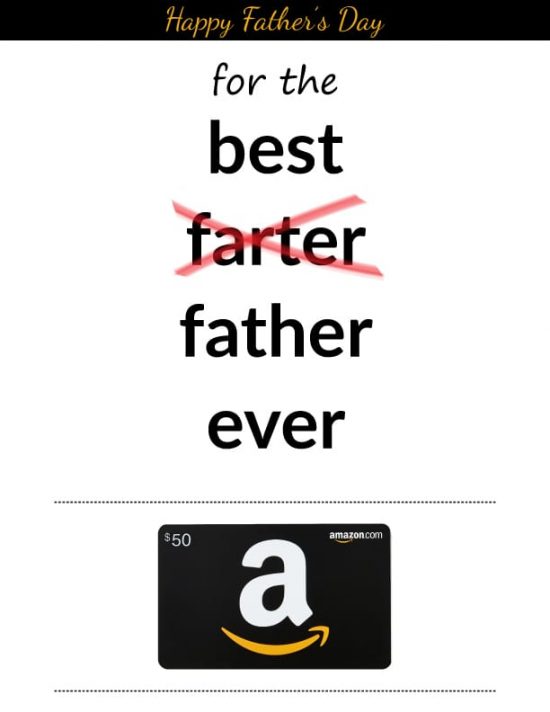 Or you can get this gift card which comes in a pretty tin box.
Your favorite Dad Gift?
What is your favorite gift from the list of unique gifts for dad above?
More Gifts for Dad
Follow our Gift Ideas for Dad board on Pinterest!