Here are this year's best gifts for the favorite women in your life. Give a unique and thoughtful gift that she will be really excited about. This list got you covered whether you are looking for a trendy gift to surprise your best friends, shopping for your mom, wife, grown daughters, or sister. From pretty jewelry, beauty products, tech gadgets, useful home stuff, and more. We've got something right for every lady on your list.
Read on for this year's best Christmas gifts for her.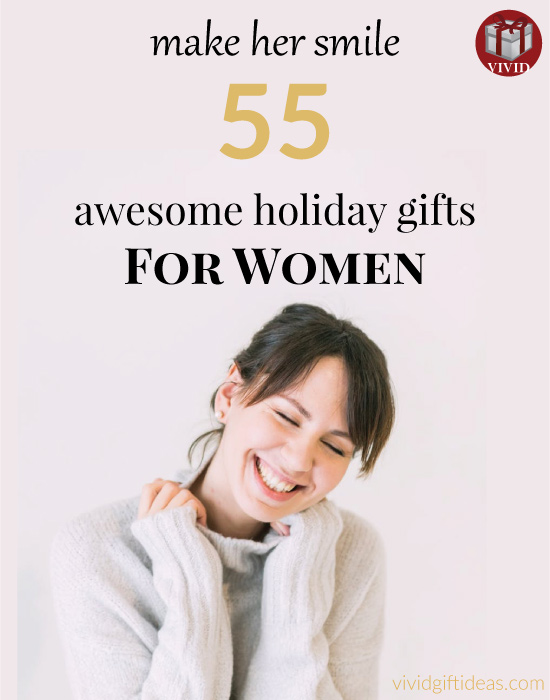 Best Christmas Gifts for Women 2022
1. PUMA Women's Carina Sneaker
We all know that white sneaker is basic. It is a must-have for our closet. An additional pair is always welcome especially when it comes to a super cute one like this. Classic look with a dash of multichromatic hue. Can you resist?
A lovely heart-shaped dish for her dressing table — also serves as a reminder to being thankful.
3. Kodak PRINTOMATIC Digital Instant Print Camera
Better than the phone camera: An instant film camera is way more fun to use. It is compact, powerful, and easy to use. Just point, shoot and print high-quality photos wherever you go.
4. Bad Ass Morse Code Bracelet 
A simple and meaningful bracelet for your BFF because she is a badass.
Because swear a little will make things get better. Whether she is a woman who loves to swear or not, she will appreciate this earthy candle.
For her to have fun lounging in this plushy elf robe. It is the best robe to keep her warm and cozy this holiday season.
Mom will love this big-capacity tote bag. Features Vera Bradley's pansy flower pattern in charming purple color. This bag is lightweight, durable, and water-repellent. Rain or shine, this bag will be your mom's new favorite bag.
8. Cocod'or Preserved Real Flower Diffuser
Make her room smells amazing with this fragrance diffuser. It refreshes the air and looks elegant in any room.
If she is into the vintage trend, she will love to have this mechanical keyboard on her desk. Inspired by the vintage typewriter, these keys are designed to be tactile and making a click-clack sound when you type. It also has seven different backlit settings and able to connect with 3 devices simultaneously.
10. Revlon One-Step Hair Dryer & Volumizer Hot Air Brush
No more bad hair day if you have this handy hair tool in hand. It dries and delivers salon blowouts with ease. She will thank you for saving her time on fixing messy hair.
This is an affordable beauty tool to de-puff, tighten your skin, and improve blood circulation.
This clutch has simple lines and an attractive marble pattern. It is a trendy purse that your sister will appreciate.
(Read on for fancy marble accessories)
13. Stera Jewelry 14K Pearl Earrings
Your wife will love this pair of gorgeous pearl earrings — it looks chic with any casual or dressy outfit.
14. Living with Pattern: Color, Texture, and Print at Home
This coffee table book is ideal for ladies who love decorating their living space. It is a home design book filled with beautiful photography and design concept on how to use pattern to decorate your home.
15. Homedics Shiatsu Vibration Massage Pillow 
Enjoy a deep massage and ultimate relaxation anytime, anywhere. This massager delivers a circular kneading massage with heat to further relax your muscles, stimulate blood flow, and relieve sore muscles. It is lightweight and versatile. You can even bring it to the office and get a good back massage at work.
16. Pusheen "Mermaid" AirPods Case
This cute AirPods case is perfect for cat lovers or mermaid lovers.
17. Clear Rose Gold Storage Jar Set
These beautiful jars will help her to organize her vanity area better.
If she likes assembling things, she will love this advanced LEGO set. It is a miniature model ship decoration that looks sophisticated.
For your friend who can't live without music, even when she is having a shower. This waterproof portable speaker will blast out loud and crisp music for her to sing along.
20. Wireless charging pad
21. Monogram mug
22. Electric toothbrush
23. Necklace with a beautiful message
24. Makeup palette
27. Indoor bonsai tree
28. Instant Pot
29. Perfume
30. Sunglasses
31. Watch
32. Cookbook
33. Insulated travel bottle
34. Silk pajama set
35. Yoga mat
36. Journal
37. Face cream
38. Garden tool set
39. Herb garden kit
40. Coffee machine
41. Lip balm
42. Sweater
43. Mini backpack
44. Dyson Supersonic Hair Dryer
45. Duffel bag
46. Running shoe
47. Trench coat
48. Leggings
49. Desk organizer
50. Headphones
51. Boots
52. Roller skates
54. Wine glass with cute sayings
55. Leather jewelry box
More Holiday Gift Guides for Women:
Check out our Pinterest for more unique Christmas gift ideas!