The right gift can make a huge positive difference in one's new house experience. In this gift guide, I'll be sharing with you more than 25 traditional housewarming gifts that are great for a modern household.
As most traditions are, these traditional ideas carry thoughtful messages underneath their humble appearance. I have added some simple quotes that will help shed some light on the wishes that are carried by each of them.
Traditional Housewarming Gift Ideas and Meaningful Quotes
[toc heading_levels="3″]
These ideas are thematic and are categorized according to their themes. All of them have one thing in common — they are great presents that can make the recipient's home a better place to live. Whether the recipients are men, women, or couples — they will appreciate your thoughtfulness.
1. Bread
"May those in your home never know hunger."
New Grains Gluten-Free Sourdough Bread
Delicious San Francisco-style sourdough bread. Straight out of New Grains Bakery's oven. Crispy crust and crumb with soft & fluffy texture. Eat it plain, with butter, or dip in a bowl of clam chowder — this lemony sourdough bread tastes amazing. Gluten free, so most people can take it.
Adjustable Bread Keeper by Progressive International
Keep bread and other baked goods fresh longer. This bread keeper by Progressive International is fully adjustable. Expand it to accommodate bread or baked goods up to 11 inches long. Conversely, shorten it to save space. Adjust its air vents to allow the desired amount of air flow. For convenient slicing, a cutting board is included with the bread keeper.
Artisan Bread in Five Minutes a Day: The Discovery That Revolutionizes Home Baking
"Give a man a fish and you feed him for a day; teach a man to fish and you feed him for a lifetime"
Discover the secret to making artisan bread in just five minutes a day. In this revolutionary book, authors Jeff Hertzberg & Zoë François repel the stereotypical image of artisan bread that is labor-intensive and uses top-notch ingredients. The authors promise no kneading, no starter, no proofing yeast and no need for a bread machine during the daily preparation.
Oster CKSTBRTW20 2-Pound Expressbake Breadmaker
Fill the air with the aroma of freshly-baked bread. Get the taste of a fresh 2-pound loaf in less than an hour with this electric bread maker from Oster. Alternatively, preset the baking time with its programmable 13-hour baking to get the freshest bread anytime you want. This bread maker comes with 8 bread settings and is capable of keeping bread warm.
2. Broom
"May your house always be clean."
OXO Good Grips Upright Sweep Set
The perfect tool for a quick cleanup. OXO Good Grips Upright Sweep Set has many advantages over a traditional broom. Made of aluminum — it is light and durable. The dustpan with rubber lip ensures optimal contact with the floor. For added comfort, while sweeping, the broom pole is angled and features a soft, oval-shaped handle. The dustpan swivels upright and the broom and dustpan handle snap together for more efficient storage.
Dirt Devil Dynamite Plus Bagless Upright Vacuum with Tools
The broom's modern counterpart — vacuum cleaner. Just plug in, turn it on and start making dust disappear from your floor & carpet. This vacuum cleaner by Dirt Devil is strong with its suction power but light in weight. Its bagless design means that cleaning out the collected debris won't be a messy process. Adjust the length of its handle to accommodate the height of different users.
3. Candles
"May you always have light through the darkest times."
Woodwick Candle Fireside
A nice present that never goes out of style. The candle is also a great gift for other occasions such as birthday gift for a friend or as an office gift. Woodwick's Fireside Candle features a natural wooden wick which burns with the soothing sound of a crackling fire. Its fragrance balances the natural scents of amber, vetiver, and musk to perfectly capture the essence of a cozy evening by a warm fire.
Everlasting Glow LED Ivory Pillar Candles – Remote Control
Turn candles on and off with a remote control. Powered by battery, these beautiful flameless candles brightens the atmosphere without any risk. Place it anywhere: living room, bed room, even next to the window without any worries. Have a romantic evening with the help of these LED candles and turn it off remotely from the comfort of your bed or sofa at the end of the night. 

Gifts & Decor Tabletop Zen Garden Candle Holder
This Zen Garden Candle Holder by Gifts & Decor is one of the bestsellers from our Christmas gift guides last year. An exquisite-looking decor with a surprisingly affordable price tag. It goes really well in the living room or on a tabletop. It is said to bring inner peace by the Zen principle.
4. Coins
"May prosperity be with you."
Emerson Digital Coin Bank
Finally a proper coin bank to keep the loose change. Emerson's digital coin bank is capable of tracking the amount of change in it. The digital LCD on its lid shows how much money is inside. It accepts all US circulated coins including pennies, nickels, dimes, quarters, half dollars, and silver dollars. Make savings fun again with this coin bank.
Ancient Coin Cast Iron Tea Set Gold
Use it for a tea session or as a decorative item. This tea set is inspired by ancient oriental coins. Made of cast iron with enamel coating to prevent rusting. The unique texture of the coating adds to its intended ancient oriental design.
5. Honey
"May your life be sweet and smooth."
Wedderspoon Raw Manuka Honey Active 16+
100% raw Manuka honey. Raw honey contains natural bee enzymes, antioxidants, vitamins and minerals. Wedderspoon's honey is unpasteurized, antibiotic free, and not genetically-modified. Wedderspoon sources some of the world's finest, raw, organic, mono flora honey from the pristine pastures and rugged mountains of New Zealand south island. A housewarming gift that brings many health benefits.
Wedderspoon Organic Manuka Honey Lozenges with Ginger and Echinacea
Made of Manuka honey — an exclusive New Zealand produce. Wedderspoon's lozenges with ginger & echinacea taste great and help soothe sore throat and ease coughing. Its unique ginger & echinacea taste distinguishes itself from the minty lozenges commonly found in a market.
6. Knives
"May your home be safe; and kitchen well-equipped"
Ginsu Essential Series 5-Piece Stainless Steel Knife
The 5-piece Essential Series by Ginsu is a great present. Highly practical. The set includes: 3-inch paring knife, 7-inch santoku knife, 8-inch slicing knife, 8-inch chef's knife, stainless steel sharpener, and hardwood block. Enough to satisfy most household's kitchen need.
Victorinox Swiss Army Classic SD Pocket Knife
Manufactured by Victorinox, this is the original Swiss Army knife. It has six useful tools which include small blade, nail file with screwdriver tip, scissors, toothpick, and tweezers. It comes with a handy key ring so you can attach it where it is convenient. It carries is a lifetime warranty against defects in workmanship and materials. There are other colors available.
7. Olive Oil
"May you be blessed with health and well-being."
Lucini Extra Virgin Olive Oil, Premium Select
Produced in the culinary tradition of Tuscany. Lucini's extra-virgin olive oil is made with olives that are estate-grown in central Italy 300 to 500 meters above sea level. The olives are handpicked at the right time and pressed within 24 hours of harvest to best capture the freshness and taste of the olives. The flavor is green and rich, with a distinct peppery finish. Great for cooking or drizzling.
Great olive oil couples with beautiful, elegant glass bottle makes Lucini Extra Virgin Olive Oil an impressive present.
Spicy Infusions Quartetto: Rosemary, Basil, Lemon & Ginger
Infused olive oil is the present that you should go for if the recipient likes a little bit more taste with their olive oil. This Spicy Infusions set by Baja Precious comes with 4 bottles of olive oil infused with all-natural ginger, rosemary, lemon, and basil, respectively.
Also available: Habanero, Chipotle, Ancho & Jalapeno Infused Olive Oil
8. Plants
"May your home be always lively.
Hinterland Air Plant
The perfect decorative plant for home or office. The presence of a Hinterland Air Plant instantly brightens up its surrounding, making the atmosphere more livelier. The plant requires minimum care.
AeroGarden 3-Pod Indoor Garden
AeroGarden is a revolutionary kitchen appliance that allows you grow plants indoor with ease. Things you can grow with an AeroGarden: herbs, flowers, lettuce, peppers, veggies and more.
While there are other models with greater capacity, we recommend the AeroGarden 3-Pod because of its affordability.
9. Rice
"May the love in your home multiply."
Nishiki Premium Rice
Some people call it the gold standard of rice. Many sushi experts consider Nishiki premium rice to be their first choice when it comes to sushi rice.
Make sushi with it or pair it with other food — it works great both ways. Great for everyday consumption.
Aroma Digital Rice Cooker and Food Steamer
Rice cooking made easy with Aroma's Digital rice cooker. This multi-function rice cooker can also be used to steam meat & vegetables while the rice is being cooked below. Programmable delay timer provides greater flexibility in meal planning.
Sushezi Sushi Made Easy
Make professional sushi roll with the help of a Sushezi Sushi Made Easy. It is easy to use and you can make roll after roll in a fast & efficient manner.
10. Salt
"May there always be flavor and spice in your life."
The Gourmet Sea Salt Sampler
16 distinctive sea salts from all around the world in one box. Each of these sea salts is unique in color and taste. Individually bottled with a clear label. A great gift for those who like to cook. It also makes a beautiful display item for the kitchen.
Village Naturals Bath Shoppe Lavender & Chamomile Body Salt 
Nothing beats a hot bath after a long day. And bath salt helps to complete that experience. Thoroughly relax your mind and relieve your sore muscles with Village Naturals Bath Shoppe Lavender & Chamomile Body Salt. Made with a special blend of dead sea salts, vitamins, and minerals. Its formula is said to detoxify skin and improve blood circulation.
11. Wine
"May you always have joy in your life."
ONEHOPE California White and Sparkling Mixed Pack
ONEHOPE California White and Sparkling Mixed Pack is great for gifting. 3 bottles of beautifully-packaged delicious wine: chardonnay, sauvignon blanc, and brut sparkling wine. ONEHOPE donates half its profits to non-profits, so you're helping other people with the purchase of every bottle of ONEHOPE wine.
Oster Rechargeable and Cordless Wine Opener with Chiller
Oster 4208 is stylish wine opener & a wine chiller with a sleek modernistic design. Remove corks with the touch of a button with its electric wine opener. It's cordless design means that there won't be any messy wire to take care of. Keep wine cold for hours.
12. Wood
"May your home have stability, harmony, and peace."
Mi Casa Figurine by Willow Tree
Hand-carved by artist Susan Lordi from her studio in Kansas City, Missouri. A Willow Tree figurine is a beautiful decorative piece that speak in quiet ways to heal, comfort, protect and inspire. It arrives in a box ready for gift giving with an enclosed card.
Crown Mark Pierce Chair Side Table
A useful addition to a new house. Crown Mark's pierce side table is space-efficient. Easy-to-assemble: set it up within minutes. It comes in two colors: black and espresso.
Artisan Leaf Vase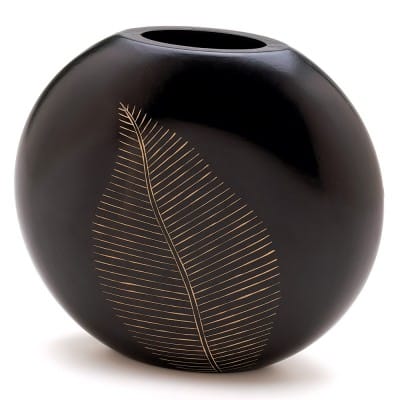 Beautiful wooden vase with an artistically carved leaf pattern. Simple and striking. It goes well with any settings.
As we see from the recommendations above, traditional housewarming gifts are meant to satisfy the basic needs of a new home, to make the living environment more comfortable. We have also provided their modern counterparts with the hopes to bring the comfort and efficiency of home living to the next level.