Surprise your wife with a special gift this Christmas. Browse through our gift guide to get some inspo on what's the best gifts you can give to your beloved wife. We have brought together more than twenty unique gifts that women really love. No matter what type of woman she is, whether she has everything she needs, or whether she is in her 20s, 30s, 40s, 50s, or beyond, we've got the right idea to make her smile.
From practical stuff that she can actually use to some luxury items, and from something romantic to some naughty stuff to make things hot, these gifts are perfect for every occasion from Christmas, birthday, to Valentine's Day.
Read on to discover our special gift guide for wife.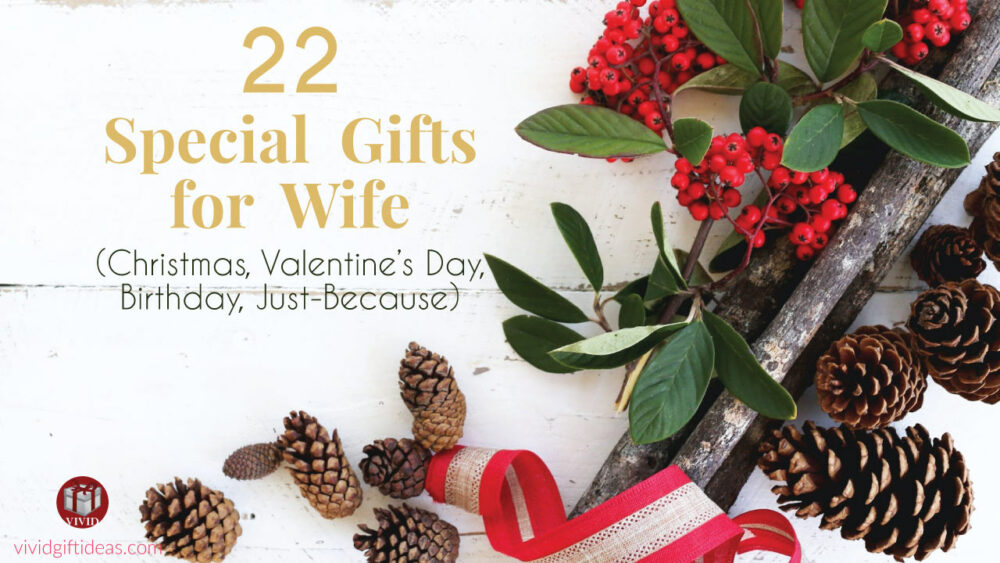 Best Gifts for Wife
Whether it is for Christmas, Valentine's Day, your wife's birthday, or just-because you love her, these stuff are what she'll actually love.
For Wife in Her 20s
When you love her to the moon and back. Be sure to get a romantic present to your wife. This 3D moon lamp engraved with sentimental message is perfect for expressing love to wifey. Tap it to change the brightness to fill your room with dreamlike ambiance.
2. Love Birds Vintage China Necklace
If you are looking for something unusual for your wife, you can't go wrong by gifting her a necklace with unique design. This beautiful necklace is handcrafted using vintage blue willow china plate. The pendant features a pair of love birds that represent a sweet couple like you.
Up your relationship game, why not get an intimate gift for her? This card game allows couples to have deep conversations, learn from each other, share and laugh together.
4. Best Wife of The Year Newspaper Front Mug
When your spouse put in much efforts into the relationship she just won the best wife award. The encouraging words of this mug will make her feel appreciated for sure.
5. Fujifilm Instax Mini 11 Instant Camera
A tech gadget loved by girls of all ages even when she's in her 20s. This instant camera is way more fun to use than your phone camera. Just point and shoot, then it will print out rich-colored photos instantly.
6. Slip Silk Beauty Sleepover Gift Set
An affordable luxury gift for women. What's better than having a good night's sleep and waking up to soft skin & tangle-free hair?
7. Kendra Scott Ari Heart Stud Earrings
When you love your wifey so much you want to give her double the love on special occasion. These pink heart earrings are definitely a perfect prezzie to express your feelings.
For Wife in Her 30s
Retro kitchen appliances are actually cool. Help her to upgrade her kitchen with a retro coffee machine. If she loves everything pink, this pink drip coffee machine by Smeg will definitely win her heart.
It's a good idea to give personalized gift to your wife. We love this pretty clutch bag made from fine faux saffiano leather. It looks great with daily outfits and also dressy attires. You can add her name or a love message to make it extra special.
10. Wireless Keyboard and Mouse Combo
For the busy office workers and female bosses. This keyboard and mouse set will add some cheerful vibes to her desk. It features typewriter-inspired keys that are oval in shape. It is also is equipped with stable wireless connection and smart battery saving feature.
This keyboard is also available in green, purple, and grey.
11. Dyson Airwrap Styler Complete Kit
One of the most popular luxury gift for wife. This hair styling kit by Dyson is so useful it helps you to save time and money to achieve salon results at home. Quick drying, low noise, easy to use. It's definitely a must-have for women who want fabulous hair.
12. Personalized Gag Soy Candle
When you are constantly "leaky" and she has to put up with it. Get this scented candle to cover your trace. Add your name to make this inappropriate gift (or should we say appropriate because it freshen the room a bit) to make her laugh.
It's important to practice self-care as it is beneficial to your mental and physical health. Give the important woman in your life the gift for self-care. This book is filled with actionable advice to reframe your thoughts, put self-love into practice and help women to appreciate themselves for who they truly are .
14. Couples Harmony
A fun gift for wife from husband. Whether you are new into the marriage or have been with each other for many years, this interactive game is sure to bring exciting sparks to your relationship. It is designed to help couples engage in meaningful activities together and develop a stronger bond.
For Wife in Her 40s
Bags that are both roomy and functional is a must-have for women in their 40s. This is a chic purse that your lady is going to love. It is spacious and convenient to use. It comes with pockets and compartments in different sizes. Plus, the floral print looks really cute. This purse makes a good 40th birthday gift for her.
16. Daily Planner
She could use a cute planner to write everything down and keep things organized. This notebook is undated and it has space for daily to do's, appointments, notes, health tracking, and meal plan.
This comfy bathrobe is what your wife really wants. It is made of 100% cotton that feels incredibly soft and smooth on the skin. It's also roomy enough to give you the perfect combo of warmth and lived-in comfort.
18. The Couple's Activity Book
What's more romantic than having to share laughter, engage in physical reconnection, and create wonderful moments together? With this book, be inspired to have carefree experience to build loving bond with your significant other.
19. Gaiam Essentials Balance Ball & Base Kit
Best for women who need to sit long hours at work. Replace her regular office chair with this exercise ball chair. It is easy to set up and bring many health benefits. It's claimed to improve posture, relieve back pain, increase core strength, and also increase calorie burn.
Give your wife a personalized birthday gift in the form of a cute mug with her birth flower. It is meaningful, inexpensive, and she can use it to have her favorite beverage every morning.
(Holly is the birth flower of December. For women who have birthdays in December ➡️Read this article: 20 Unique December Birthday Gift Ideas For Her)
For Wife Over 50
21. Mountrax Foot Massager Machine
If you ask us what's a good Christmas gift to get for older women, we won't hesitate to tell you to get a good massager. As we age our body lose some of their strength and we tend to get aching muscles. A good massager with deep kneading power and heat will help us to relieve pain and muscle soreness.
22. The New York Times Crosswords for a Long Weekend
For people who love to solve crossword puzzles. This book is filled with 200 easy to hard puzzles for hours of head-scratching fun. It's perfect for your other half who finally has some free time to enjoy after retirement.
23. ELEMIS Pro-Collagen Marine Oil
For women who are into beauty products. Women over the age of 50 have mature skin. Their skincare routine should change as they age. We recommend using anti-aging face oil. A lightweight face oil like ELEMIS Pro-Collagen Marine Oil is easy for the skin to absorb. It is made with a potent trio of marine actives to revitalize the skin. Its skin-plumping properties help reduce the appearance of fine lines and wrinkles.
24. Slushie Machine
Have fun making your own frozen drinks at home. Combine ice, water, and fruit for a refreshing finely shaved drinks.
25. Multipurpose Desk Organizer
If she likes to keep her space neat, this bear-shaped holder made of solid wood is perfect for her. It is sturdy to hold stationery and small items. Plus, it can be doubled as reading glasses holder.
More Gift Ideas for Wife:
Birthday | Valentines Day | Mother's Day | Anniversaries| Pregnant Wife
More Gift Guides for Women: