Why do we look for the best gifts for mom who insists she doesn't want anything? Well, because she is your mom! She has been there for you since day one so your mom definitely deserves the best. This holiday, get your mom something special that she would really love. Although mom said she wants nothing, we can still surprise her. We have rounded up more than 30 thoughtful gifts for mom who wants nothing. Whether she is into beauty products, baking & cooking, a working mom, or a mom who claims she already has everything, these pressies will make her happy. These great ideas are suitable for Christmas, mom's birthday, Mother's Day, and any day you want to warm your mommy's heart.
Read on to discover our favorite gifts for mom who doesn't want anything.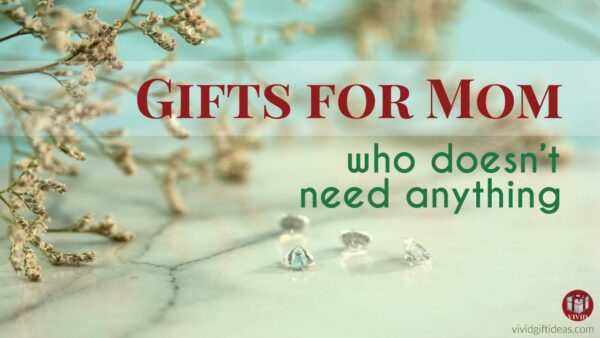 Best Gifts For Mom Who Wants Nothing
1. Nordgreen Unika Rainbow Black Dial Watch
You won't go wrong by getting a watch for mom who wants nothing. Just like jewelry, an additional piece of watch is always welcome. We recommend these watches for women by Nordgreen. The minimalist design, slim profile, and chic color looks great on women of all ages. And, with every purchase, you are gifting to charities through their giving back program.
2. Willow Tree Love You Figurine
When your mom says she doesn't want anything, she doesn't mean it literally. She still wants your companionship and attention. What's the better way of showing her that you care than saying I love you? And this beautiful figurine is the perfect way to express your love to her this Christmas.
3. Personalized Portrait by Paint Your Life
A hand-painted family portrait is what mom secretly wants even though she said she doesn't want anything. Impress her with a painting that includes all the family members. We know it's hard to find a photo that includes all family members, but you can collect several photos and let the artists from Paint Your Life handle the rest.
Any mom can appreciate a pampering session every now and then. Treat her to a spa getaway. With SpaBreaks Gift Card, she can chill out at any spa that's convenient, whether it's in a nearby town or a glorious holiday around Europe. She can choose from a range of spa treaments from specialist massages, beauty treatments, sauna, jacuzzi, to a full-on luxury spa.
If you have a mom who wants nothing, this glasses holder will be something practical that she will actually use. It is a stylish piece to place on her desk or nightstand. No more misplacing your reading glasses. Now, your glasses can have a proper home to rest when it is not in use.
6. Mother-Daughter Relationship Quote Keychain
A meaningful gift for your mom who's far apart. Although you can't travel home to see your mom this holiday, you can still steal her heart by expressing how much you love her. If you are going to celebrate socially distanced Christmas, post over these gifts for mom during quarantine to make her smile.
7. A Prayer for My Mother Poem Picture Frame
Even the mom who wants nothing would love looking at the pictures of her children. Insert a memorable photo into this rustic wooden picture frame to make it a personalized gift for mom.
The perfect gift for mom who is a working professional. This notebook has a chic fabric cover and lined pages inside for her to write down work tasks, goals, and notes.
9. Mockins Rose Salt Crystal Lamp 
Give her a 🌹 this Christmas. Make her room extra cozy with this Himalayan salt lamp.
(Related readings: Here's an article on how to make your office more peaceful with Zen decorating ideas.)
10. Snowflake Pendant Necklace
Something sparkling and glistening is perfect for the holiday season. A classic snowflake necklace is a wonderful addition to mom's collection.
Because your queen deserves to sleep comfortably with a luxurious silk mask.
For mom to capture the special moments in life. This popular instant camera is mini, powerful, and fun to use. It is very easy to operate even for the non-tech savvy person.
Now, your mom can enjoy her coffee hot while she slowly works on her projects.
14. Nine West Crystal Accented Croco-Grain Strap Watch
This is a fabulous Christmas gift for mom that costs less than $30. The gorgeous watch face features an interesting silver-tone to lilac ombre color with rose gold markers. It comes with matching lilac straps.
15. Ubotie Colorful Keyboard Mouse Combos
Your mom is probably spending more time working from home this year. Brighten up her day, make her "office hour" less boring with this multi-colored keyboard and mouse set. The design is inspired by the old typewriter and its round keys are really fun to type on.
16. Life Motivation Daisy Face Mask
A protective face mask is one of the most popular holiday gifts of the year. You can up her mask-wearing game by getting some lovely face masks.
17. Rainbow Earrings
Rainbow gifts will make mom happy. Because something bright and colorful is jolly AF.
When you are selecting gifts for the mom who doesn't want anything, always remember to pick something that she will actually use. If she loves coffee, you can get her this cute coffee maker. It makes coffee quick and easy to clean.
If she is not a coffee drinker, you can add a pop of color to her house with these retro home appliances.
19. Amazing Mom Trinket Tray Holder
A meaningful gift for mom from kids. If you are helping your kids to get a present for their mom. We recommend this cute trinket holder. It is such a sweet way to say thanks to mommy.
20. Quan Jewelry Mother Daughter Bird Pendant Necklace
This is undoubtedly a good gift for mom from daughter. The bird charms depict the beauty of motherhood. It shows how a mother always looks after her little ones.
21. Signare Tapestry Woodland Animals Crossbody Bag
Gift the woman who has everything with a new purse. The whimsical design of this bag caught our attention. The rabbits, squirrels, and flowers look adorable. Whether she is a bunny lover or not, this bag will become her new favorite.
22. Philipp Murillo 4 in 1 Vibrating Jade Roller 
'Tis the season of giving. What's the better gift to give for the beauty-obsessed woman other than youth and beauty? Perhaps, it's this beauty tool that can massage away her fine lines and give her a natural facelift.
23. Ajna Acupressure Mat for Massage
A fantastic stress relief gift for that important woman in your life. This mat is designed with over 5000 ergonomically engineered spikes to activate your body's innate healing response. It works like a therapeutic massage to alleviate back pain, relax sore muscles, and calm your mind.
22. Knock Knock What I Love About Mom Fill in the Love Book
Write your thoughts, fill in your love, and make this a unique keepsake book that mom will treasure for years.
24. BURKLETT Luxurious Hooded Bath Robe
She might already own a few bathrobes. But why wear a dull, plain robe when you can have a plushy robe full of stars?
25. Swig Life Triple Insulated Travel Mug
Pretty flowers cheer us up. We bet she'd appreciate this floral insulated mug.
26. MOSISO Pink Marble Laptop Shoulder Bag
For mom to go to work in style. This slim bag is perfect to protect her laptop and other business essentials.
(Marble pattern stuff is cool and trendy, you don't wanna miss out on these stylish marble stationery supplies.)
27. Katie Loxton Wonderful Mom Sentiment Candle
Fill her room with an uplifting scent of pomelo and lychee. This fancy candle by Katie Loxton will make your mom happy.
Impress your cat-loving mom with these cat paw mitts. They will surely make her time in the kitchen extra fun.
29. Lilly Pulitzer Keychain Mini Wallet
How can we forget the fun, small present for mom's Christmas stocking? This mini wallet keeps all your IDs, cards, cash, keys, and other essentials handy. Say goodbye to the bulky wallet and no more carrying around unnecessary extras.
30. Funny To-Do Pad
When your mom is so busy she needs a little laughter.
Give her a hand in making breakfast. This compact egg cooker lets you cook your eggs quickly to your preferred firmness.
32. Sea Turtles Family Tote Bag
Whether she is an eco-conscious consumer or a person who loves turtles, she will appreciate this fabric tote. It is roomy and versatile. It can be folded and kept in your bag in case you need a storage bag.
33. Chefmade Marble Rolling Pin
For the mom who loves to bake, this 100% natural marble rolling pin is a worthy addition to her kitchen.
34. 3Pill Organizer 
A useful gift for older moms. She will need to take her medicines and supplements on time. And, this fashionable pill organizer will remind her to do so.
35. Adult Mermaid Tail Blanket
Don't take it seriously when mom says she doesn't want anything for Christmas. When she discovers how warm and fun covering herself with this mermaid blanket, she won't lend it to you.
And, that concludes our list of best holiday gifts for mom who doesn't want anything.
More Holiday Gifts For Mom Who Wants Nothing: