Surprise your wife with an extra romantic present that she really wants this Valentine's Day. It is the perfect time to let your wife how much she means to you by getting her a meaningful gift. Not sure what to get for your wife this Valentines Day? Here's a list of 20 romantic gifts for wife.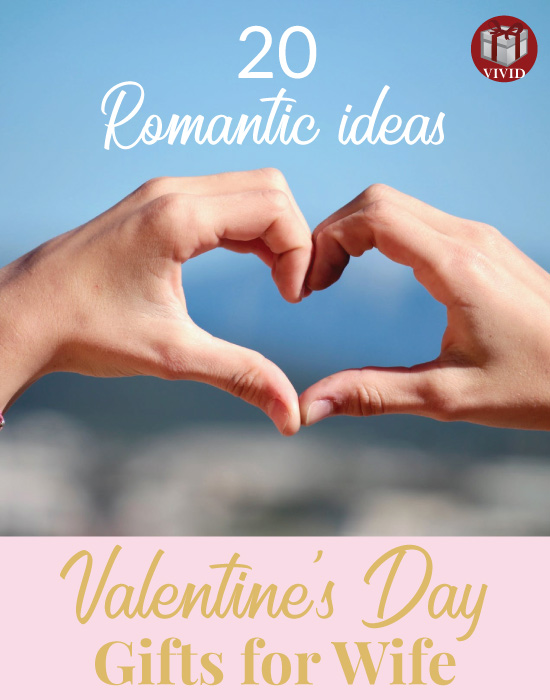 Romantic Valentine's Day Gifts For Wife
A beautiful figurine that depicts the close bond between a husband and wife. It is carefully hand-carved and hand-painted to display the artistic details from every angle. This is a romantic gift to express your love to your wife this Valentine's Day.
Fill your bedroom with warmth and love. This Valentine's Day, give your wife a romantic gift in the form of a beautiful moon lamp engraved with sentimental message to touch her heart.
3. Statement Earrings For The Fashionistas
Be sure to get a unique gift for your wife on Valentine's Day. She will appreciate these gorgeous SWAROVSKI Sparkling Dance Earrings featuring an alluring floral design with dancing pink stones. The lovely pink stones will constantly move to give these earrings an extra sparkling effect.
4. A Classic Newspaper Mug for the Best Wife Ever
Another cute and romantic gift that your wife will approve. This best wife mug will become her new favorite mug. The newspaper front design is unique and the headline is awesome.
5. Romantic Gift to Celebrate Valentine's Day
Give the gift that keeps on giving. DATES Idea Box for Couples contains more than 100 cards with fun date ideas and conversation starter questions to make your time together even more special.
A small and sweet Valentine's Day gift to make your wife happy. This keychain is engraved with a heartfelt message from husband to wife.
7. For the Wine-Loving Wife
This Drunk Wives Matter Wine Glass will make her LOL.
8. Valentine's Day Gift For Long-Distance Wife
When you are in a long distance relationship with your wife. Send your love from afar to cheer her up on this special day in February. To My Wife Throw Blanket makes one of the best gifts for long distance wife.
9. Facial Cleansing Tool For The Beauty Lovers
Women love men who are sensitive. So be sensitive to your wife this Valentine's Day by getting her a multifunctional facial cleaning brush. With UMICKOO face brush, your wife can get professional-level facial treatments at home. The waterproof facial scrubber helps you to deep clean your skin with two-speed control and five different facial brush heads.
10. Gourmet Chocolate Gift Set for Her
Delicious heart-shaped chocolates and truffles neatly packed in a gorgeous red fabric box with satin hash. Do not get your wife this gift if you don't want to make your wife happy this Valentine's Day.
Godiva's Small Keepsake Heart contains 14 limited-edition heart-shaped chocolates and limited-edition Valentine's Day truffles: Milk praliné, dark chocolate ganache, and white praliné; Milk Chocolate Mousse, Dark Chocolate Soufflé, and White Chocolate Passion Fruit.
11. Gorgeous Necklace For Wife Who Loves Jewelry
Another great gift for a wife who has a good artistic sense. The unique Seeka Tree of Love Necklace symbolizes love and growth. It is made with stainless steel, Austrian crystals, and other materials, every Tree of Love necklace is hand painted.
A chic watch by Michael Kors. Features a clean, modern pink mother-of-pearl dial with Roman numerals. This gold-tone watch tells time with style.
Popular since 2006, Betsey Johnson perfume by Betsey Johnson is designed for the woman who delights in her femininity. This perfume offers the fragrances of tangerine, praline, pear, red apple, and grapefruit blended with musk, freesia, and blackcurrant, resulting in a truly delectable feminine scent.
14. A Necklace to Show How Much Your Wife Means To You
Tell her how important she is to you. EFYTAL Compass Necklace delivers the love message just right.
15. A Romantic Surprise for Your Wife
Make hot bath water for her. Let her have a relaxing floral bath using the ultra-lush Love Potion Bath Bomb. Enjoy the roses smell, soak away the tiredness, and the best is yet to come.
After this extra large 10-ounce bath bomb fizzed out, tadah, she will discover a sparkly ring inside.
16. Give Her A Good Massage on Valentine's Day
Choose an aromatic oil that pleases her senses, give her a deep full body massage and have a romantic getaway on the bed.
17. A Good Kimono Robe – Make Spending Time at Home Cozier
A floral pattern kimono robe to wrap her up in comfort.
18. Something Naughty For Your Wife
These cookie couples are caught in hot action. Use your creativity to bake out a naughty batch of cookies.
(See here for more naughty gift ideas)
19. A Romantic Getaway on Valentine's Day
A gift to spice thing up and bring out the "power of love". Use the feather brush, dip into the honey dust, then lightly stroke across her body. Followed by sultry kisses and enjoy the exciting things to come.
20. Something to Create More Romantic Nights Together
A compact stimulating tool for couples who want to have more pleasurable moments in the bedroom. Waterproof and powerful. It is well-designed to deeply stimulate every spot you can imagine.
And that is it: 20 romantic Valentines Day gift ideas for wife. Have a happy Valentine's Day!
Follow our Pinterest to see more awesome Valentine's Day gifts.