Coffee mugs are excellent gifts no matter what the occasion and who the recipient is. Plain coffee mugs are practical but boring. If you are looking to buy some cute mugs online (through Amazon, for example), here's a list of 30 adorable coffee mugs coffee drinkers will love. They are perfect for other beverages such as tea too! So don't feel left out, tea lovers. Oh, and there's more, in part two of this article you will also find funny coffee mugs that have funny statements on them. Check out these cool mug gifts now.
Other cool mug selection to check out: cat mugs for cat lovers, inspirational coffee mugs, inspirational mugs for teachers.
Cute Mugs: Coffee and Tea
Here is a selection of some of the cutest coffee mugs found online, such as on Amazon and Etsy.
1. Peach Shaped Mug
Bring a pop of color to your kitchen with this brightly-colored peach-shaped mug. It is round and cute. Perfect for people who love fruit.
2. Mermaid Tail Mug
For the aspiring mermaid. This pretty purple mug will be your happy mug. Check out our mermaid gift ideas post for more mermaid merchandise.
3. Personalized Floral Monogram Coffee Mug
Distinguish your mug from others, get yourself a special mug printed with your initial. We love the monogram with the beautiful floral design.
4. One Gigantic Coffee Mug
If regular mug won't do, why not pick a large size mug. I mean a super big 64 ounces capacity mug. It will make sure the drinker has no problem of staying awake.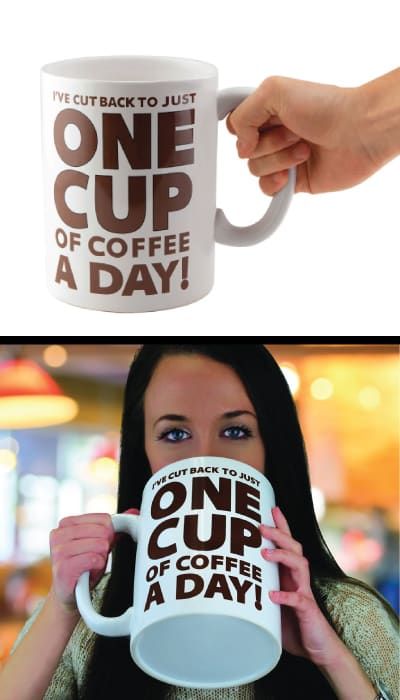 5. Bamber Wood Mug
Bring a touch of nature to your space. Enjoy sipping your coffee while appreciating the beautiful wood grains.
6. Stay Sassy AF Mug
No fancy design. Just a simple and clear statement to remind girls to stay sassy.
7. Suite One Studio Mimira Mug
For someone who likes thing with a little sparkle. This coffee mug is inspired by watercolor paintings with a flourish of genuine gold.
8. Life of The Party Mug
We love the red polka dots pattern. It is chic and playful. By Kate Spade New York.
9. Pineapple Campfire Mug
It is big and nice. Perfect for the pineapple lovers.
10. Go Away Funny Coffee Mug
Funny mug with three measurements to show your current mood.
11. Funny Buddha Quote Coffee Mug
Follow the guidance of Buddha, let that sh*t go, and be a wise happy man.
12. Best Mug For Your Best Friend
Get this for your BFF because she is your favorite bitch.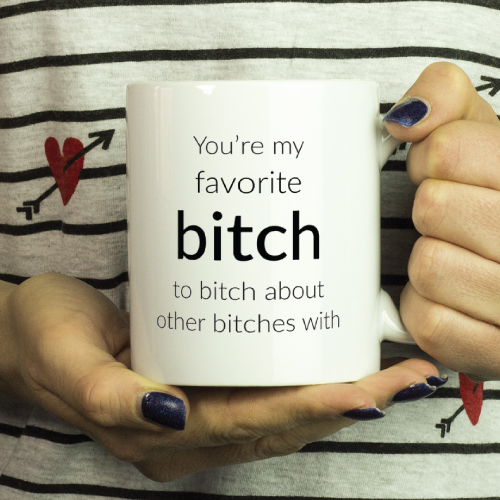 13. Dick Cactus Coffee Mug
The jerks and assholes deserve this.
14. Unicorn Coffee Mug
Wake up to a magical day.
15. Lucky Cat Shaped Mug
Provides you with good luck every morning.
16. Pusheen Catpusheeno Mug
We love everything about this mug; the pastel color, the polka dots, and the adorable cat pretending to be a muffin in this oversized 18 oz mug.
17. I Do What I Want Bunny Mug
This badass bunny is showing some attitude.
18. 3D Deer Mug
Perfect for holiday mug swap at the office, school, and church.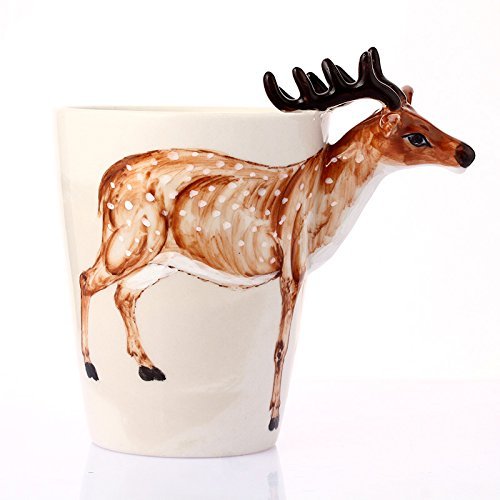 19. Slow Brew Sloth Mug Set
Fun mug set for the tea lovers. Be like a sloth who knows how to live. Kick back, take a long, slow sip of perfectly brewed tea.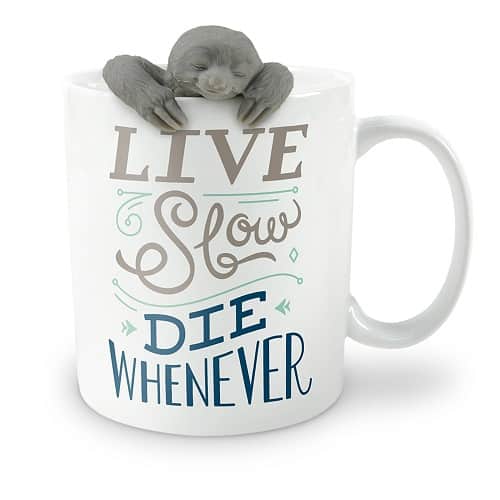 20. Kutani Yaki Gold Flower Mug – Artistic Japanese Stoneware
The uneven shape, the gorgeous brushwork, the rich overglazed colors, and the gold flowers make this mug looks simply stunning.
21. Shanghai Infuser Porcelain Teacup Mug
The traditional Chinese style artwork and vibrant colors are truly eye-catching.
22.  Japanese Fine Art Ceramic Mug
Features famous Japanese painting "The Great Wave off Kanagawa" by Katsushika Hokusai.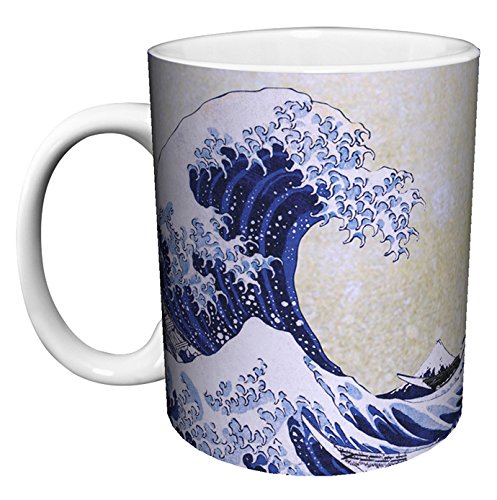 23. Chinese Lotus Porcelain Tea Mug
This elegant black mug set with gold lotus artwork is definitely a good choice.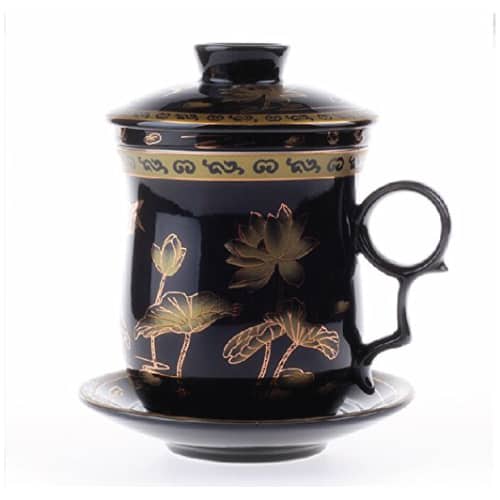 24. Amazing Woman Mug And Coaster
Great mug with an uplifting message for women. It reads "Many women have done excellently, but you surpass them all".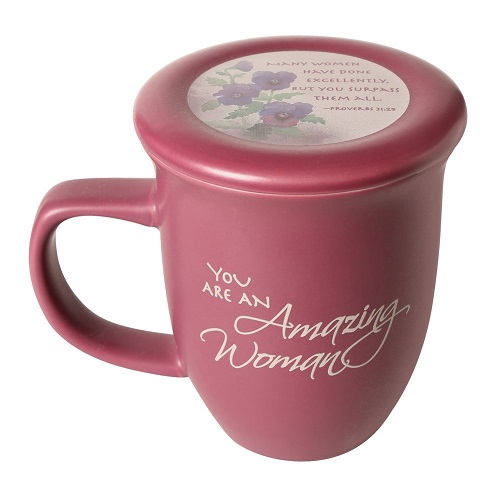 25. Sweetly Stated Mug – Rise and Shine
A cute mug to make you smile every morning.
26. Cath Kidston China Range Stackable Mugs
Mix and match the bold and colorful mugs by Cath Kidston.
27. Be Awesome Today Coffee Mug
Minimalist mug with an inspirational quote. This coffee mug gives you positive energy.
28. Kate Spade SIMPLY SPARK MUG
Because glitter is my favorite color.
29. Summer Bloom Double Walled Mug
Welcome the spring, bring in a garden of flowers to your kitchen.
30. Hello Gorgeous Coffee Mug
Start your day off with gold because it is fancy and chic.
That's it! Those are the product recommended for cute mugs / cups you can get for yourself or anyone on your shopping list.
Follow our gift ideas board on Pinterest!
Find Your Perfect Mugs