A list of unique personalized mom gifts perfect for celebrating Mother's Day, mom's birthday, anniversaries, and Christmas.
Impress your mom this holiday with a personalized gift. Put in some extra effort when it comes to picking a gift for this important woman in your life. Turn to customizable gifts to show that you genuinely care by making her gift too special to ignore. Instead of spending a lot of money on something luxurious why not give a gift with an added personal touch that means a lot?
If you are looking for something sentimental and meaningful to make her smile, customizing a gift just for mom is a fail-proof idea. It won't cost you an abundance of time to add a dash of personal flair to the gift. There are many gift items with customization available in the market. To celebrate Mother's Day, mom's birthday, or Christmas, let us help you choose the finest by narrowing down to only fifteen best gifts for mom with personalization.
A gift created specifically for mom is a unique way to express your love to her. Read on to discover our favorite personalized mom gifts below.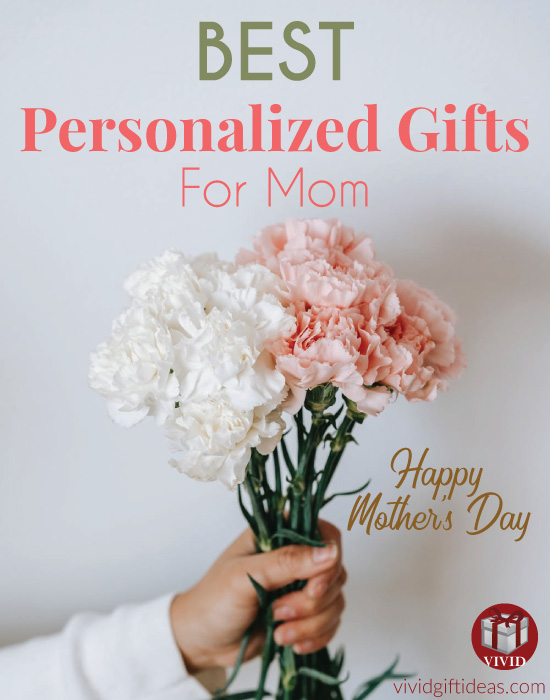 Best Personalized Gifts for Mom
Make mom feel special unwrapping a thoughtful gift created just for her.
If your mom is serious about her cooking, don't mess with her stuff in the kitchen. She may be very picky with her cooking utensils, but you can always help her to replace her old apron. This Mother's Day, give mom a personalized gift in the form of a pretty apron with her name on it. The cute poppy floral design will add some whimsies to her kitchen and the leather name tag will make your favorite home chef appear more professional.
To make this gift a better gift, get a matching Primavera child apron for your home chef duo to have more fun in the kitchen.
2. Mother's Day Lemon Drop Box
Mother is the true queen of every home. Finding the perfect gift for her has never been easier with Lemon Drop Gifts. Every Lemon Drop Gift is special and unique because it includes your personal photo gift note. Create your own Custom Mother's Day Gift Box by selecting up to five gift items from a range of premium gifts that your mom is sure to love!
And to celebrate Mother's Day, Lemon Drop Gifts offers a special Mother's Day Lemon Drop Box that consists of three graceful gifts perfect for all the wonderful mothers in your life. The Lemon Drop Box is a simple but personal way to celebrate mom this Mother's Day!
3. Fanery Sue Personalized Sunflower Locket Necklace
For decades, locket is one of the most popular personalized gifts for women. There's no need to spend crazy money on a luxe jewelry when you can get this sunflower locket for less than $30.
To make it a sweet little prezzie worth keeping in the years to come, you can have it engraved with a personal message. Also, don't forget to have it printed with your mom's favorite picture on the inside.
4. Em & Friends About Mom Fill in the Love Book
Handmade cards and hand-written letters are good Mother's Day gifts with personalization. They are simple gifts loved by every mom. Up your gift-giving game this year by writing a whole book just for your mom. Follow the prompts, pour in your love, mix it with emotions to make this book extra touchy.
Whether you are an adult or kids looking for a meaningful gift to make mom smile, you won't go wrong with this little book.
4. Sunflower Initial Letter Keychain
You don't have to spend a fortune to customize a gift for mom. If you are thinking of taking the personalized route the affordable way, why not get a keychain with your mom's initial?
This initial keychain definitely makes organizing keys or accessorizing bag way more fun. And, we love everything about it. The sunflower design, initial charm and tassel are so cute. And, most importantly, the cheap price tag caught our attention (it is under $10!).
5. (Related article: Top 15 Mother's Day Gift Ideas Under $30)
6. Birth Month Flower Tote Bag
If you are struggling to find a gift, this pretty tote bag showcasing birth flower makes a thoughtful gift that mom will actually use. It is made of washable fabric and features a beautiful botanical artwork of each birth month flower and the its symbolism.
7. Love Between a Mother and Daughter Picture Frame
One of the best gifts for mom from daughter.  A mother's treasure is her daughter. Words are not enough to express the unconditional love that exists between a mother and a daughter. The beautiful moments that they created and the experiences that they share are priceless.
This Mother's Day, gift mom with something truly special. You can't go wrong with a memorable photo gift. It provides mom with a sweet visual reminder of the precious times you spent together.
8. Family Birthstones Necklace
A gorgeous necklace for the queen of your heart so that she can carry her loved ones close to her heart.
Wrap mom with the warmth of family and she will have sweet dreams even on the coldest night. This is a cozy gift added with a delicate touch that every mom will appreciate. Fill it with memorable family pictures to make this blanket extra warm.
10. Personalized Cutting Board
Something that she can actually use is a great gift for mom who doesn't want anything. A wood cutting board is functional and all, but a premium cutting board engraved deeply with family name takes things to the next level.
11. Handmade Genuine Leather Card Holder
Colorful stuff will brighten up a space and rainbow-themed items have that happy vibe to brighten your mood. Why not get this multi-colored zip card wallet for mom? You can even add her initial to make it more meaningful.
12. Mother's Day Gift Puzzle Sign
Mothers play many different roles in everyone's lives and undeniably she is a crucial part of a family. Mom plays an important role to hold our family together. Appreciate her hard works, get this puzzle decorative art to show that you care this May. 
9. Family Birthday Calendar with Tags
This is an especially thoughtful gift for elderly moms. Family and friends are hidden treasures. They are the biggest blessings in our life. It's important to celebrate and share the happiness with them on special days. You also don't want to miss their birthdays and anniversaries. Help your mother to customize a family birthday calendar so that she will never forget an important day again.
(Related article: 12 Best Mother's Day Gifts For Grandma)
Let mom enjoy her morning coffee with this mug and feel the stellar power it brings.
15. Mom, I Wrote a Book about You
Last but not least, a personalized Mother's Day gift that mom will treasure for years. This book is filled with fun and easy prompts to help you create a heartfelt keepsake book. Share your feelings, fill in your favorite moments, and tell mom how much she means to you.
That concludes our list of 15 best personalized gifts for mom. Thanks for reading.
More Unique Mother's Day Gift Ideas:
Thoughtful Gifts for Every Type of Mom: