Make the elderly people happy this Easter with a fun gift that they really want. Remember, Easter is not just for kids. It's time to celebrate the new season, new beginnings and enjoy with your loved ones. Adults can totally get some fun on this occasion. Show that you care, cheer up the seniors in your life with an Easter basket filled with thoughtful stuff. Whether it's for your elderly dads, older moms, grandparents, or other elderly family members, these Easter basket gifts for elderly are perfect for expressing your love to them this holiday.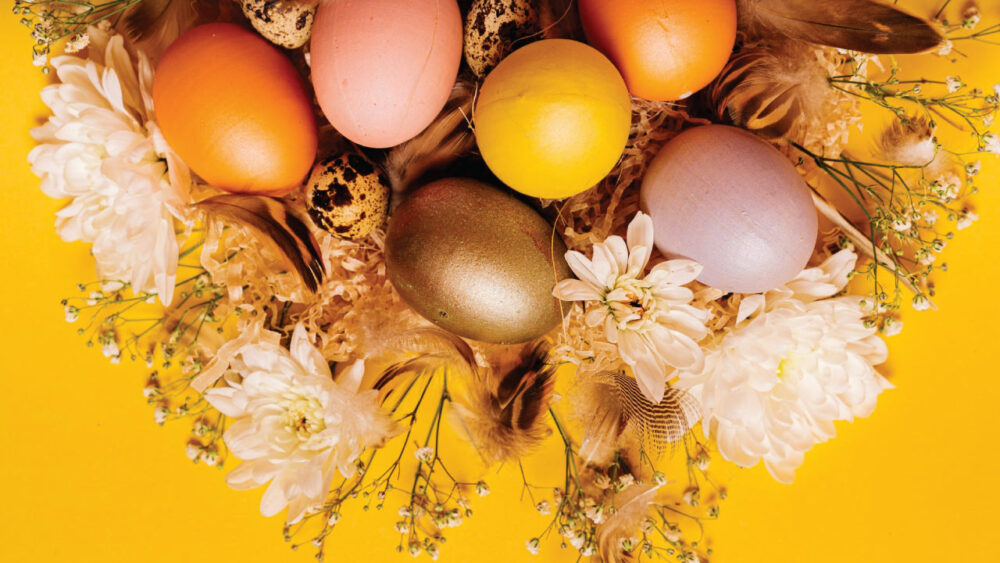 Best Easter Gifts for Elderly
These are the best gifts we can give to our seniors this Easter.
Easter Gifts for Elderly Women
If you are looking for something sentimental for grandma this Easter, don't miss out on this necklace. This is a heart-shaped pendant necklace featuring a big bunny and her child. Engraved with a love message, this necklace makes a lovely Easter gift for grandma from granddaughter. 
2. Silentsea Flower Motif Embroidery Kit Set
For the old ladies who have got some time to kill after retirement. Get her this set of garden scenery embroidery artwork to add a pop of color to her room this spring. If she loves crafting, she can exercise her creativity with it. This kit includes everything she needs to complete the artwork and it comes with instruction manual that's simple enough for beginners to follow.
3. Copper Spade Garden Tool Set
And, here's another fun stuff to put in the Easter basket for seniors who love gardening. Help make her spring garden dream comes true with this trio of gardening tools. Made of sturdy aluminum die-cast with charming floral design, these tools make gardening more fun.
When you are looking for a good Easter gift to surprise the elderly, this book will make her happy. This is a delightful book that organize flower types by color, with an emphasis on seasonality and creative color schemes. Features 400 flowers at their peak, readers will enjoy page after page of flower photos arranged by color.
5. Happiness Blooms Daisy Tote Bag
For your grandma or mom who doesn't want anything. She'll never have too much of tote bags. As the weather is getting warmer, it's nice to get something floral to match the season. And, this beautiful sunflower tote bag will surely brighten up her mood.
When it comes to Easter gifting for adults and older people, you won't go wrong with items inspired by spring. These gorgeous earrings are made using real flowers. Each one of them are unique as they have small differences in shape and color.
7. Rabbit Figurine Enamel Hinged Jewelry Box
Let this bunny hop onto her dresser this holiday. It is hand-painted with colorful enamel and finished with shiny rhinestones. It is so cute that she won't keep it away even when spring ends.
8. Vera Bradley Women's Cotton Wristlet
You can also put this in the senior Easter basket. Do you know sunflowers are well-known for being a happy flower? Make the elderly women smile with a chic wristlet that features sunflower design. It is made with multiple card slips, interior pockets, and exterior pocket to fit her cards, cash, keys, and lipstick.
It's wise to give a personalized Easter gift to the elderly. Show that you care, choose a mug that's customized with her birth month flower to make her feel extra special.
10. Laura Ashley Soft Terry Scuff Slipper
Welcome the new season with a new pair of slippers. This slipper not just available in pretty spring shades like green, pink, peach, blue, and purple, it's also made with cushioned insole to offer deluxe comfort to your feet all day.
Easter Gifts for Elderly Men
And, here are some fun stuff to put in an Easter basket for the elderly men.
11. Bunny Bookend
You can't go wrong gifting this adorable bunny gift to a friend, family member, or people aged 50+. This pair of bunny bookends has heavy weight and they are stable enough to hold heavy books.
12. Old Lives Matter Beer Glass
Another fun stuff to gift your elderly man this Easter. Whether it's for your elderly father, grandpa, or older uncle, this beer glass is great for celebrating the old man.
If you know your old man loves BBQ so much. With all the grilling he will be doing this grilling season, he will need a new apron. And, this cool statement apron will definitely make him laugh.
14. Books for Seniors
These are two good books to fill in the gift basket for senior citizens.
14a. Spring Word Search Puzzles
15. COMFIER Waterproof Cordless Massager
Something thoughtful that older adults can actually use. As people grow older, they will experience muscle soreness and body aches more frequently. It's a good idea to add a mini massager to the Easter basket for elderly. Give them soothing massage to increase blood circulation and relieve muscle tightness.
16. Good Luck Sock Men's Easter Socks
A pair of cute socks in Easter theme? Yes, please. It is cheap and functional to put in an Easter basket for older people.
Be sure to get a special present for elderly this Easter. These reading glasses holder adds whimsy to your desk and no more misplacing your glasses when you rest.
18. adidas Men's Victory 4 Bucket Hat
Sunny days ahead. Adidas bucket hat with UPF 50 sun protection will you away from harmful sunrays. Also, the engineered perforations and moisture-wicking sweatband will keep the air flowing for maximum comfort.
One of the best gifts for dad who already has everything or any man who loves to tinker with things. He will love having this multifunctional pen set that comes with nine handy functions including ruler, screwdriver, stylus, flashlight, level, and etc.
Hippity hoppity Easter is on its way. We believe bunny makes the best gift for everyone even the eldest member in your family.
This concludes our list of this year's most popular Easter gift ideas for elderly people. Thanks for reading and have a happy Easter!
More Unique Easter Gift Guides: