Make this Easter holiday filled with extra fun not just for the kids but the adults too. Complete the holiday celebration by giving Easter gifts for the adults in your life. Create a joy-filled experience that include everyone even when they are fully grown. They might be too old for egg hunt but grown-ups totally deserve some fun like getting an adult version of Easter basket. Not sure what to put in adult Easter basket? Check out our favorite Easter gifts for adults below. Our list features more than twenty Easter-themed gifts perfect for adults of all ages. Waste no time, read now to discover all these Easter gift ideas loved by adults.
And, if you are looking for Easter basket fillers for teens, we've got you covered.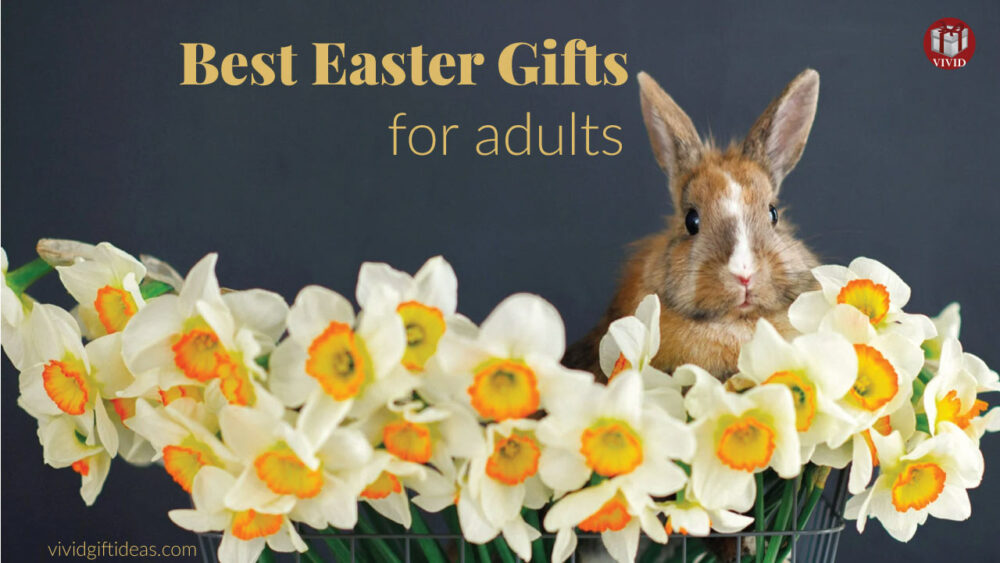 Best Easter Gift Ideas for Adults 2023
1. Beth Marie Luxury Boutique Bunny  Ring Holder
If you are wondering what to put in Easter basket for adults, why not gift not one but two bunnies to your loved one this holiday. These little critters will keep your rings safe and no more misplacing your wedding rings.
Cute bunny themed gifts are typical Easter gifts to get for adults. These bunny ears headbands will keep her hair out of face when washing face or applying makeup. They are super cute and as soft as a bunny's fur. What more could you ask for?
This season is about sunshine and flowers. When it comes to picking Easter gifts for friends, you can't go wrong with this lovely bangle. It is finely handcrafted using pressed flowers to make its wearer feels like having a garland of delicate flowers on her wrist.
4. Redouté. The Book of Flowers
A gorgeous book loved by many. This book gathered some of the finest floral and botanical illustrations by Pierre-Joseph Redouté. If your recipients like flowers, this book is a must-have for them.
The grown-ups are above egg hunt, but they can always get into the holiday spirit by doing Easter decorations for our home or dressing up the festive way. Socks are always a good Easter basket stuffer ideas for adults. They are inexpensive but they are practical. Who doesn't need socks anyway?
This grilling tool is one of the most popular Easter basket items for men. It is cheap and practical. These meat claws make grabbing and shredding meat much easier.
7. Rainbow Stemless Wine Glass Set
Add some spring colors to the dining table. Friends and families will love this set of 6 wine glasses in vibrant colors.
The weather is getting warmer and it's time to update your closet. Help him to restock on his beachwear to get ready for the upcoming beach trips. He will love this pair of swim shorts featuring adorable flamingo design and three pockets. It is definitely one of the best Easter gifts to get for boyfriend.
Sending them good vibes this spring. When it comes to Easter gifting for adults, you can skip the basket altogether and use a tote bag to fill the goodies. One can never have too many totes as they are useful for carrying stuff from books to groceries.
Show that you care even when your kids have grown up. Get a small Easter gift for your adult children. This rabbit flower pot adds a touch of warmth and love to their garden.
11. CASODA Bunny Animal Bathrobe
Plushy sherpa robe in bunny design? Yes, please. It will make us hoppy!
12. BONALUNA Bohemian Statement Earrings
Another fun fillers for grown-up Easter baskets. Crafted with a unique flower print design on recycled wood, this pair of earrings looks chic and elegant. Imagine how cheerful they look with your spring outfits.
13. Daisy Mug
They can never have too many mugs. Spring is here and this daisy pattern mug is sure to please. And, it features an inspirational quote to brighten up your day.
Help them welcome the new season with this cute sunshine mat. It helps bringing a sunny mood when you enter or leave the house.
When you are looking for basket stuffer for grown women. These sweet-looking hair scrunchies with bunny ears design are right on theme. They are perfect for putting into her Easter basket.
16. Bamllum Leather Gardening Gloves
Get a pair of botanical print gloves to match the season. These gloves are made of durable microfiber leather. They provide excellent grip and offer ultimate protection against scratches when you are working hard in your garden this spring.
17. Bunny Pattern Necktie for Men
This tie features hopping bunny print that's perfect for Easter, but it is so subtle that men of all ages can wear. It's a failproof Easter gift for men from young working professionals to elderly dads.
18. Joomra Cloud Slides Sandals
This slide sandals is super lightweight and it has thick cushioning to make you feel like walking on cloud. It is also quick drying and non slip. Available in many colors, it is great for use in both indoors and outdoors. And, it's definitely a thoughtful Easter gifts for college students because they can always use it in the dorm bathroom and also the living area.
19. Spring Floral Resin Coasters
During the spring months, it's nice to freshen up your room by bringing in some flowers. Everything floral is on trend. We love these resin coasters made using real flowers and foliage. Each of them has their own unique design and they never wilt.
The grilling season has begun. With all the grilling they'll be doing, dads need a new apron. this cool statement apron will make all the guests laugh out loud for sure.
21. RIFLE PAPER CO. Marguerite Stitched Notebook Set
Every grown-ups need a place to jot down all their big ideas! Give them not one but three beautiful notebooks. And, she will definitely love the colorful floral design of these notebooks.
More Popular Easter Gift Guides: