Show your boyfriend some love this Easter with a special Easter basket for men. We know what to put in an Easter basket for kids, but many of us need ideas on what to stuff in an Easter basket for adults. Read here if you need some Easter gift ideas for boyfriend. Here, we have a brought together our favorite Easter basket ideas for him. Read on for 16 Wonderful Present to Get for Boyfriend This Easter.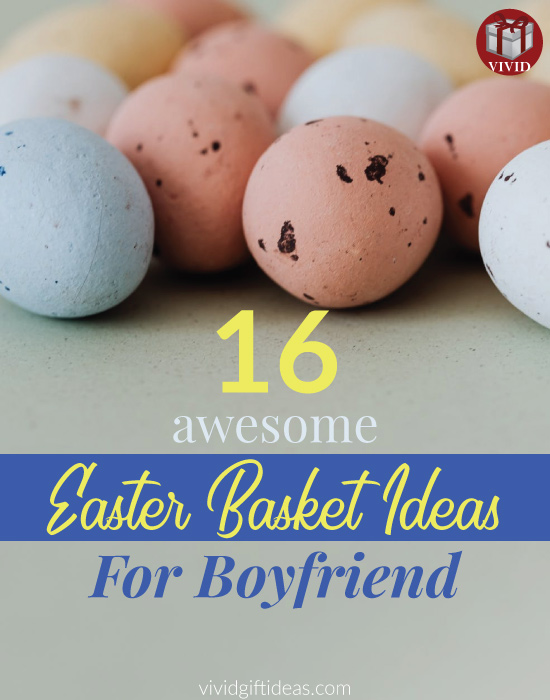 Best Easter Gifts for Boyfriend
1. Funny Easter Bunny Chocolate T-shirt
Make him smile with this funny bunny T-shirt. The graphic of the butt bitten chocolate bunny is so adorable and eye-catching. This shirt is made from comfy cotton. It is a great stuffer for your boyfriend's Easter basket.
And, if you want to surprise him with a personalized gift, why not be creative and customize it with your own graphic t shirt design.
If he enjoys sushi, why not get him a sushi making kit so he can make his favorite sushi anytime and anywhere he wants. Sushiquik Sushi Making Kit is a complete sushi making set great for beginner. It is fun, simple and easy to use.
This kit includes: (1) a special designed training frame which measures exactly the amount of rice you need to make a perfect sushi roll, (2) non-stick rice paddle to help you spread the rice along the training frame, (3) SushiQuik Roll Cutter which help you to cut out roll evenly, and  (4) soy sauce holders.
3. Tintonlife Brazilian Double Hammock
Another Easter gift approved by men. Spring is here and it's nice to lounge outdoor. This hammock is large enough for two adults to rest comfortably. It is sturdy and easy to set up. Perfect for lovers to enjoy the sunny afternoon together.
4. Netflix and Chill Soy Candle
Fill your boyfriend's Easter basket with a premium candle. It's always fun to introduce a new scent to the room. Set the mood for late night chill with this scented candle. It has a warm scents of coconut, lavender, and vanilla.
5. Fishing Lure My Best Catch was You Fisherman Keychain
For the boyfriend who loves fishing. This cute keychain is perfect to express your love to him.
6. 100 Parks, 5,000 Ideas: Where to Go, When to Go, What to See, What to Do
Book is one of the best Easter gift ideas for him. This beautiful book showcases the best experiences in the top parks throughout North America. It is filled with vibrant photos, overview of the park, detailed travel advice, and expert tips for hiking, biking, camping, and exploring.
Be sure to get a unique gift for his Easter basket. This artistic planter pot is great for succulent and small plants. It looks really cool on your desk, in the office, or any room.
Also available in black, white, yellow, and pink.
8. Sasquatch Camp Out Socks for Men
An additional pair of socks is always welcomed, especially the ones with exciting designs.
Pamper your boyfriend with a good shave gel containing soothing essential oils like olive, manuka, moringa, and meadowfoam seed oil. This shave gel lathers up rich and thick for a clean shave without irritating the skin. The aromatic scent smells fresh and manly. A great Easter basket idea for boyfriend.
10. Ferrero Chocolate Covered Crisy Hazelnut Eggs
If he is a sweet tooth, he will enjoy Easter themed chocolates. These golden egg-shaped chocolates by Ferrero taste rich, smooth, and very delicious.
11. Velazzio Polarized Fashion Sunglasses for Men 
This pair of sunglasses is a practical Easter gift for boyfriend. Featuring UV400 protection, tri acetate cellulose lens, and lightweight TR90 frame. The lens comes with hydrophobic, anti-scratch and anti-glare coating. It is durable and extremely comfortable to wear.
Also, it looks cool and stylish. An affordable sunglasses under $30 suitable for all weather outdoor activities.
12. Havaianas Men's Flip Flops
Beach gears are another nice addition for adult Easter basket. We recommend these amazing Havaianas flip flops. They have great grip on wet surface and are flexible to wear on street or beach. Made of good quality rubber materials, they feel soft and comfortable.
13. Quick Dry Microfiber Towels
Another smart item to make any outdoor trips more convenient and fun. This is a strong absorbent and fast drying towel made from antibacterial microfiber with super soft ultra-suede finish. Thin, compact and quick drying. No more odd and smelly towel for your next trips.

14. Basketball Hoop Wall Mounted Bottle Opener
This bottle opener is a must-have for boyfriend who loves to play basketball and drink.
15. Stuff You Should Know: An Incomplete Compendium of Mostly Interesting Things
Another cool stuff for men's Easter basket. Curious to know more about the world around you? Let's learn more fascinating knowledge from a new array of subjects from history of facial hair to the psychology of being lost.
16. Camping Pillow
Inflatable pillow that can be compressed easily to pack into small bag. Provide good sleep for your next flight, backpacking, and camping trips. Light weight and handy. It makes travelling easy.
That concludes our list of 16 best Easter basket gifts for boyfriend. Have a happy Easter!
More Easter Basket Ideas:
More Unique Gifts for Boyfriend:
---
Like us on Pinterest!