Cool gift ideas to fill your teenage boy's Easter basket. Don't take away the magic of Easter even if your son has grown past the age of fluffy bunny and colorful candies. 15 best Easter basket ideas for teen boys here. Scroll down to discover now!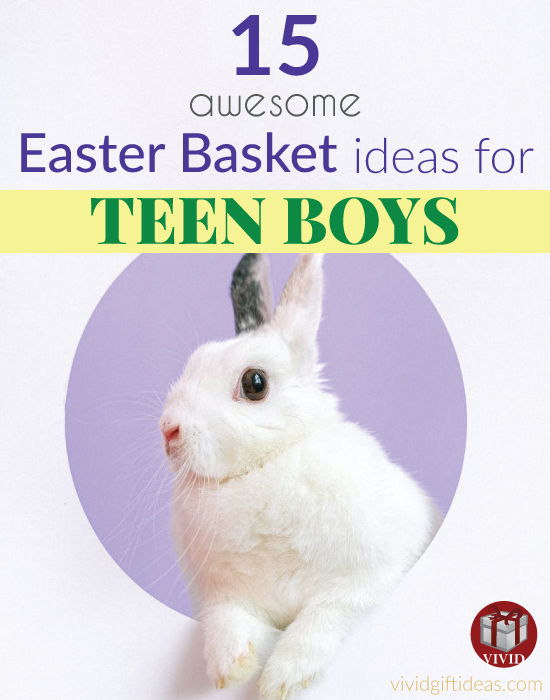 Cool Easter Basket Ideas for Teenage Boys
Get ready for the summer. A nice pair of swim trunks will be useful. He will love this quick-drying board shorts with mesh lining. Hawaiian style with coconut tree pattern. A great Easter gift for teen boys under $20.
2. Symphonized SNRGY True Wireless Earbuds
Fill your teen boy's Easter basket with this awesome pair of earbuds. It is handcrafted from all-natural wood for the best acoustics possible. He will love its superior sound, lightweight and comfy construction.
Teen guys gonna love this pair of cool-looking sunglasses. It has that bad-ass thug life look. Get this for him to stay stylish and protected from harmful UV rays all summer long.
Be sure to get something special to fill your teenage boy's Easter basket. This 360° rotatable star projector will make his room looks extra cool. It has twelve colors and four brightness level to create gorgeous scene in the room. It is also built with a Bluetooth speaker that can connects to his phone to play music.
5. Tech Tools Desktop Madness Series Hand Cell Phone Holder
Teenagers can't live without their phone. Give them a "hand" to hold their phone when they do not have a free hand. This phone holder is craft into the shape of human hands to keep his phone elevated and within view in a stylish way.
It can also hold his earphones, iPad or handheld gaming device.
6. Multi-tool Survival Flashlight
One of the best Easter basket ideas for teen boys — flashlight. Don't ask us why, this is definitely a guy thing. This utility tool flashlight will be useful in case of an emergency. It features a folding pocket knife, 400 lumen super bright flashlight, and a power bank.
7. Polo Ralph Lauren Men's Vaughn Fashion Sneaker
A pair of good-looking shoes for teenagers. It is simple, stylish, and comfortable to wear. This shoe matches well with any outfit.
For the teen boys who love basketball — a special slam dunk basketball mug that is fun to use. It is made of ceramic and it is oversized. This mug comes with an attached hoop for you to play with your food.
An age-appropriate toy to fill a teen boy's Easter Basket. This Infinity Cube fidget toy will help him to relieve stress, focus better, and combat anxiety. It is made of eight small cubes and each cube can be rotated from any direction.
This toy provides endless fun. Simply rotate and turn it into any shape you like.
Another teen-approved Easter basket idea. This hand shaped sticky notes let him have extra fun when writing notes. He can also fold the fingers to create some personality with the message.
11. Cool Statement Shirt for Teens — I Didn't Fart Funny T-Shirt
Get something funny for the teen boy this Easter. This tee gonna make him laugh. It reads "I didn't fart, my ass blew you a kiss".
12. The Guy's Guide to God, Girls, and the Phone in Your Pocket
A good book also makes a good Easter gift for teens. This book is an excellent pick for teen boys. It is well written with practical advice on how to deal with issues in teenage guy' life like girls, dating, technology, personal hygiene and more.
13. Casio Men's Classic Digital Watch
This Easter, get a cheap and durable watch for your teenage son. This classic Casio watch is a fantastic choice. It features an easy to read screen with LED backlight, stop watch, and daily alarm. This watch is also water resistant for bathing and swimming.
Attention-getting hat for the guys. It reads "I pee in pool". This is going to be a big hit!
You can also fill your son's Easter basket with something that makes him smells good. He will love this Polo Black deodorant by Ralph Lauren. Features a fresh and clean scent perfect for the summer.
That concludes our list of Top 15 Easter Basket Ideas for Teen Boys. Thanks for reading.
Follow us on Pinterest!