As we approach to the end of the year, we share this year's most popular holiday gifts that you can get for your favorite girl. Show some love to your best friend this holiday season with a thoughtful gift that she really wants.
If you are wondering what is the best Christmas gift for a close friend or what can you send your BFF for holidays, you have come to the right place. In this article, you will find 28 awesome pressies for that important friends who are always there for you. These Christmas gifts are incredibly cool and meaningful to celebrate your special bond. Whether she is a girlie girl, techie girl, book lover, or coffee lovers, we have the perfect gifts are every type of gal pals in the list.
Read on to discover these awesome Christmas gifts for female best friends.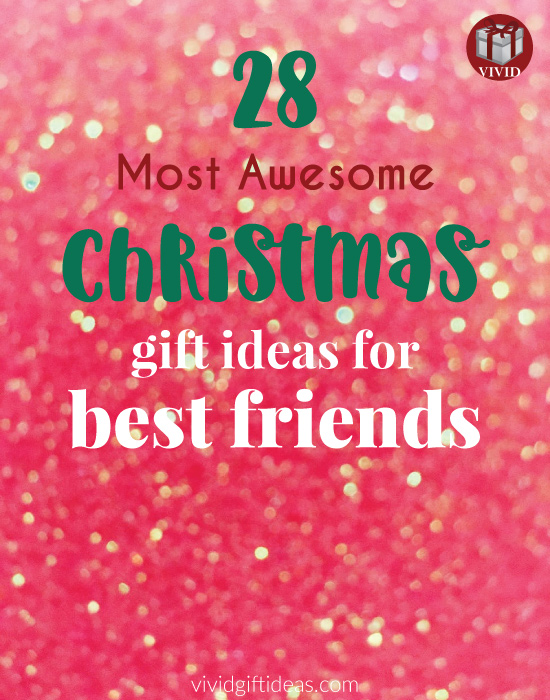 Best Christmas Gifts for BFF 2021
It's the gift-giving season, gift your bestie with this stylish necklace. It is one of the most meaningful Christmas gifts for a girl best friend. Features a minimalist design with two interlocking circles. It symbolizes how close you are linked to each other's life; whether it's in the real life or connecting on the soul level.
2. Reindeer Holiday Coffee Mug Warmer
Warm her beverage and warm her heart this winter. This beautiful mug warmer is a thoughtful Christmas gift that your BFF will really use.
Gift your female best friend with a dose of inspiration and strength whenever she needs. This book is filled with empowering quotes by female role models and colorful illustrations to uplift your spirit. It is an ultimate gift for women to women.
This is no ordinary mug, this is a special gift for your best friend this Christmas. Because she is always there for you. Whether it is to support your plans, listen to your rants, or doing crazy things together.
She has won your heart and she definitely deserve to get this extraordinary mug.
Good friends are like stars. You don't always see them, but you know they're always there for you. When your favorite girl is miles away, why not send her this pair of sparkly stars. It makes a meaningful Christmas gift for long-distance friends.
6. FaceTory Glow Baby Glow Brightening Sheet Mask
A practical gift approved by girl best friends. It keeps her skin soft and hydrated. And, it is also fun to apply together when you are having sleepover.
7. Coffee Self-Talk: 5 Minutes a Day to Start Living Your Magical Life
For the friend who is feeling lost in life. This book will help her to boost self-esteem, attain new goals, and live a happier life.
8. Nine West Women's Patterned Strap Watch
A beautiful timepiece is a classic holiday gift that never goes out of style. You might not be able to afford an expensive watch for your bestie, you can get her this luxury-looking watch that costs less than $30.
This watch features a gorgeous gradient dial with rose gold-tone hands and markers. It also comes with a matching navy patterned strap.
9. Blue Rabbit Flannel Women Pajama Set
This pajama set is made of 100% cotton flannel to keep you cozy even in the cold winter nights. With the rabbit and heart print, she can pajamas all day and still looking cute.
(Don't miss out on this article for bunny lovers if your girl best friend loves bunnies)
When your gal pal is a sweet tooth and has been complaining about her weight. Give her this cute donut Popsockets. Help her in fixing her craving. Attach it to the back of her phone for a more secure grip and also serves as a reminder of not taking the real sweet-tasting foods.
11. Primrosia 24 Pastel Dual Tip Markers
A popular present for the artistic girls or friends who like journaling. 24 pastel markers with brush end and fineliner point. Flexible tips, pretty colors. They are perfect for writing, drawing, lettering, and highlighting.
12. Women's Laptop Bag Briefcase
Whether she is a college student or a working professional, she will need a good briefcase to carry her laptop around. This stylish laptop bag with roomy compartments can accommodate a laptop, documents, and other accessories.
Surprise your bestie with this versatile speaker. It allows her to enjoy favorite music in the shower. This speaker plays loud, crisp, and clear sound. A must-have for the music lovers.
14. AMASTE Drip Coffee Machine
Add style to your girlfriend's kitchen. Whether she is a coffee lover or a girl who loves decorating her house, this retro style coffee machine will make her happy.
It has a control panel to adjust the coffee strength and a warming plate to keep your coffee warm. This coffee machine uses rinseable filter, so no more wasting on paper filters.
(RELATED: 18 Best Retro Home Appliances Collection)
15. Multi-Device Bluetooth Keyboard
This adorable keyboard is a must-have for every modern girl. It is light and small enough to tuck into your bag. It supports up to two devices simultaneously so you can switch between them with just one touch.
We also love its ergonomic design; the concave arc keycap that feels soft to type on. It is also available in mint and black.
16. Pinky Up Matcha Ice Cream Tins Loose Leaf Tea
For the friend who likes drinking tea. Help her to stock up her tea collection with this dessert tea. It contains premium whole leaf green tea with white chocolate curls, candied pineapple, matcha, and almond. Brew sweet and delicious tea with great aroma.
17. Nite Nite Tote
Invite your girlfriends to a sleepover with this Nite Nite Tote. It is spacious, cute and functional.
18. Friendship Stainless Steel Travel Mug
Another awesome gift for your favorite gal.
Adorable heart-shaped tray for your best friend to keep her blings and other tiny treasures. It is a great addition to any vanity.
For the friend who loves to be active. These wireless earbuds let her enjoy music while doing her favorite exercise. The special designed ear hooks fully fit the ears contours, so no accidental falling out during work out.
And, the waterproof design allows user to go on with their fitness routine even in the rainy days.
21. Vintage Clouds Loose Sweater
This lovely knitted sweater made it to the list of most-popular Christmas gifts for women. It is really soft and comfy to wear in the cold months.
22. You Make Me Smile Long Distance Friendship Mug
Make your friend drink her coffee and think of you every morning.
23. It's So BIG Volumizing Mascara by Elizabeth Mott
Skincare and makeup are wonderful Christmas gifts loved by girlfriends. She will surely appreciate this powerful mascara that lifts, lengthens, and curls her lashes without smudging.
24. Casio Candy Color Leather Watch
When you are looking for something inexpensive and cute for your girl bestie. This simple watch by Casio is your top choice.
25. Lucky Cat Sock
These lucky cats will bring lucks and happiness to your gal pals this holiday. It looks colorful, cute, and fun. If you are looking for cheap Christmas gift for a friend, this sock is an excellent choice.
26. White Marble Desk Accessory Kit
No more using boring stationeries. Glam up your best friend's desk with this trendy marble stationery set. It includes a tape dispenser, stapler with clips, staple remover, scissors, and ruler.
(You might also like this article: 14 Marble Design Stationery and School Supplies)
It's fun to add some tropical vibes to her vanity desk. Gift her with green professional brushes. Create a flawless look with these 14 makeup brushes made of soft and dense bristles. Each of the brushes is in different shapes and sizes perfect for contouring, blending, and detailing.
28. Blossom Bucket Sisters Forever' Angels Figurine
Best friends are sisters not by blood, but from the heart. This Christmas, give her a sentimental friendship gift in the form of a beautiful figurine. It best depicts your relationship and expresses your love to this special friend.
That concludes our list of 28 Good Christmas Gifts for Best Friends. Thanks for reading and have a happy Christmas!
Follow my Christmas gifts board on Pinterest.
More Christmas Gift Ideas For Female Best Friends:
35 Unique Christmas Gift Ideas for Best Friends in 2021 | Cool AF Christmas Gifts For Girlfriends | 20 Best Stocking Stuffers for Teen Girls of All Time | 55 Best Christmas Gifts for Her 
More Awesome Pressies For Friends:
15 Best Matching Friendship Bracelets | 18 Best Gifts for Female Best Friends in 2021 | 20 Unique Gift Ideas for VSCO Girls | Cute Cat Mug Collection For Cat Lovers | 20 Unique Long Distance Friendship Gift Ideas