If you want to have an awesome pool party and add more laughter to your summer, you don't wanna miss out on these big and funny pool floats. These quirky inflatables are a little inappropriate, a little obnoxious, and definitely eye-catching.
A little sense of humor is what you need to make your summer more exciting. Make a splash with these insta-worthy, cute pool floats and rafts specially picked for adults who need a little more fun.
Let's take a look at our collection of 20 funny pool floats for adults.
Funny Inflatable Pool Floats for Grown-Ups
1. Sloth Meditation Pool Float
First off, let's float on this giant sloth. Because pool, lake, and beach make us adults feel so relaxed.
If you don't mind the dirty looks people would give when you step into the pool, use this golden toilet inflatable float. Flush away all the worries and say hello to summer!
You don't want to miss having this cute swimming companion this summer. Feel the magic of sea unicorn when you relax in the pool. A must-have for narwhal lovers.
4. Vintage Malibu Style Barbie Inflatable Golf Cart
If your are a grown-up girl who loves Barbie and pink aesthetic. You will love this super cool pink car pool float designed for adults. What's more fun than inviting your girlfriends to join a pool party? Let's have fun splashing and posing with this golf cart float!
Because this pink piggy is super cute and it has wings!
6. Fun Ski Luxury Inflatable Raft for Adults
Because we don't want to be lame grown-ups. We want to level up our pool party by adding a jet ski. Have a fun ride, make a splash, and take tons of great pictures.
Fiesta like there's no manana. This yellow llama has no prob-llama to make you feel llamazing this summer!
(And, you might want to check out this article for llama lovers.)
Ladies and gentlemen, we are bringing out the rodeo bull. Be prepared to ride on the waves and have lots of fun.
9. Retro Phone Inflatable Pool Lounger
Ring, ring, hello! Who's joining me to float back to the 90's?
10. Margarita Ring Pool Inflatable
Come on, babe. Boost up your pool game with margarita on margarita. Sip your favorite margarita on a margarita float.
This margarita tube is equipped with a lime wedge backrest and a cup holder.
Even the grown-ups will enjoy a hot dog war in the pool.
12. BigMouth Whoopee Cushion Funny Pool Float
Super-sized whoopee cushion — a funny pool float for adults to make a "blast" in the pool.
13. Dachshund Wiener Dog Pool Lounger 
Your inflatable buddy will keep you afloat while you are enjoying the sun.
13. Shrimp Sushi Inflatable Pool Float
A sushi lover? Find your soymate, and get rolling comfortably in this sushi pool float.
If you are so thirsty that you need to drink up the whole pool of water.
If beautiful, big pout is your thing, get this glittery lip to float in style.
17. BigMouth Purple Jellyfish Pool Float
If you love sea creatures, this pretty jellyfish float will make you happy. It is large and sturdy to keep you bobbing to the rhythm of the waves.
18. Llama Pool Float for Adults
Because this llama looks so funny and cute you want to ride it all summer long.
19. Giant Balloon Animal Pool Float
Take this oversized balloon dog to the lake with you. It will surely become a big hit.
20. Inflatable Rainbow Pool Float with Glitter 
Well, this rainbow pool float may not be that funny but it sure will bring you lots of joy this summer.
Because walking around in this starfish float looks so ridiculous it will make your friends laugh.
That concludes our list of funny pool floats for adults. If you need more fun beach accessories, check out the articles below.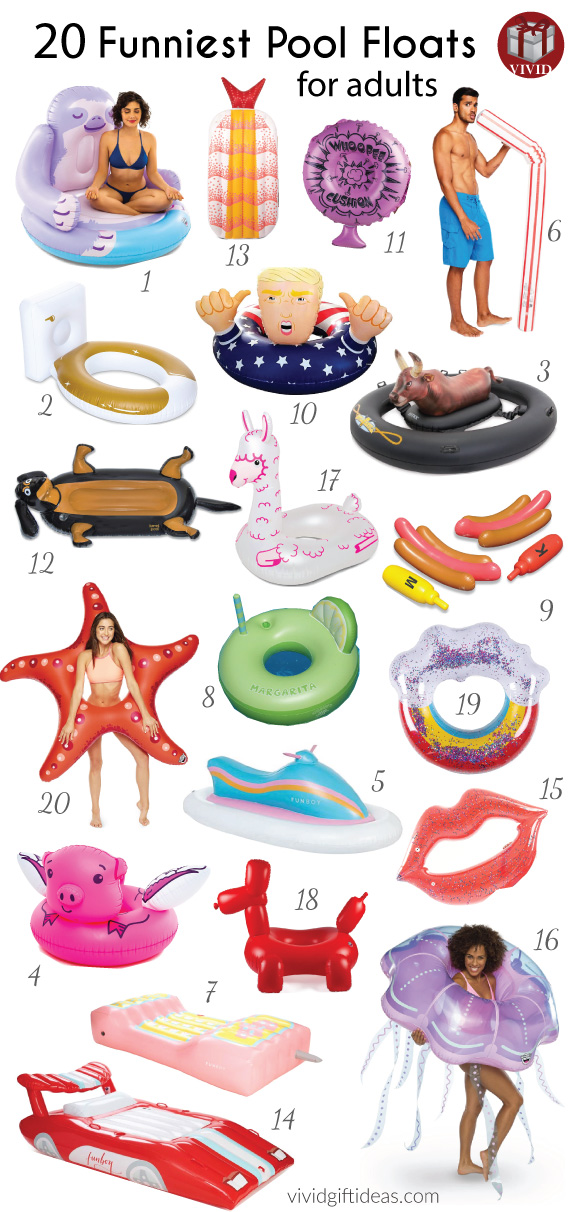 More Pool Floats For Adults: