Surprise your tween girl with a gift that she really wants this Christmas. Discover what's trendy and cool for the middle schoolers. If you are wondering what's on your tween's holiday wish list, don't miss out on these popular gifts for 9-12 years old girls. We have rounded up 34 best Christmas gifts for tweens. From awesome little gifts to fill your tween girl's stocking, to room decorations, tech gadgets, school essentials suitable for middle schoolers, clothing items, accessories, and other cool stuff to impress the tweens in your life.
(P/S: If you need gift recommendation for tween boys, read this article for best Christmas gifts for middle school boys.)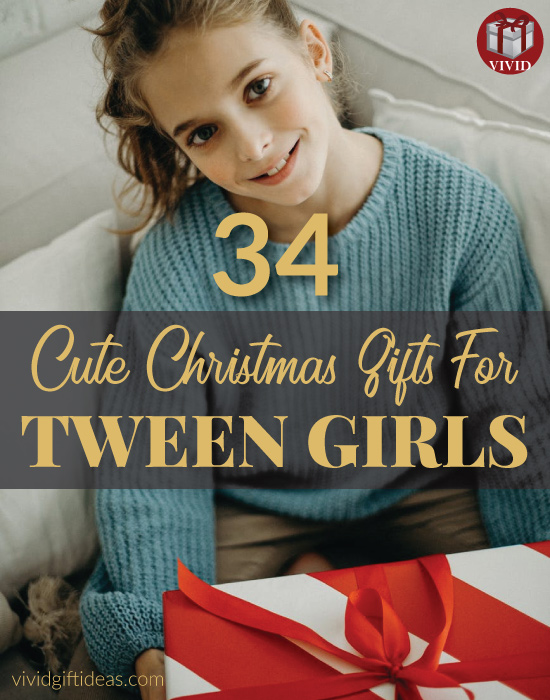 Christmas Gifts for Tween Girls Aged 9-12
1. Fujifilm Instax Mini 11 Instant Camera 
Impress your tween with this popular instant camera by Fujifilm. It is one of the most popular items on the tween wish list. This upgraded Instax is easier to use with a new automatic exposure function and one-touch selfie mode. Your girl will enjoy shooting the fun holiday moments with her new toy.
She might have grown beyond the phase of playing with plush toys but these roller skates will definitely make her thrilled. Featuring an eye-catching floral design with a vintage feel, these skates will make your girl put aside her phone and have some fun time moving around.
3. JanSport Pixelated Floral Mini Backpack
A practical and functional Christmas gifts for tween girls. This stylish mini backpack by JanSport is tween-approved. It a good daypack with surprisingly roomy interior space to store all her basic essentials.
(Related article: Browse this list of cute mini backpacks for girls.)
4. SweatyRocks Tie Dye Pullover Sweatshirt
Clothing inspired by the 90s style will make her happy. And, this sweatshirt will keep her warm and looking cool this winter.
5. UBOTIE Keyboard and Mouse Combo
Because typing homework is so boring. Brighten up her "school days" with this affordable keyboard and mouse set. They are wireless and easy to pair with any laptop.
🌈 cheer us up. Wear this fun statement necklace and be happy.
We adore the simple style of this mug and the pink 💗 nose.  If your girl loves cats and no matter how old she is, this mug will surely make her smile.
A dazzling gift for the artistic girls. These paint marker pens are highly pigmented and very glittery. It is perfect to add some shimmering details to your scrapbook, art, and craft projects.
9. Girls' Guide to Conquering Middle School
And, here's an informative book suitable for 9-12 year old girls. Help them sail through middle school like a pro. Learn how to face the changes in the body, moods, school work, and relationships. This book will teach your middle schooler something new and help them grow into a confident teen.
10. Vans Classic Slip-On Skate Shoe
Vans checkerboard slip-on skate shoe is this year's trendiest gift your tween really wants. It gives a retro, California surf vibe that's so on-trend now.
The basic VSCO stuff that any tween will love. This water bottle is double insulated, leak-proof, sweat-proof, and easy to carry around.
(Also read 👉 VSCO girl starter pack)
12. Waterproof Stickers
These colorful stickers make a great stocking stuffer for girls. She will use them to decorate her water bottle, phone, laptop, notebooks, skateboard, and etc.
13. Air Candy Pink Glitter Inflatable Chair
Now her room can be a little chic, thanks to this lounge chair. Just use your hairdryer to inflate the chair to your desired level of firmness. It looks very pretty and comfy to sit on. A perfect addition to your girl's room.
With this journaling set, your tween can design her very own journal with stickers, glitter tapes, tassel, frame and etc.
Unique gift for the girls who love science, math, galaxy, and stars. These earrings definitely look cool for your aspiring astronaut.
Give her a lot of kisses this holiday. This pajama set will become her new favorite loungewear.
17. Motivational Unicorn Tote Bag
We love that this tote bag is actually very useful. You can use it as a book bag or a gym bag. It is also easily foldable so you can keep it in your bag and take it out to use as a shopping bag whenever you need it.
18. Paxcess 7 Pads Electronic Drum Set
If your pre-teen is interested in drumming and you are not ready to buy a full drum set. Get this space-saving electric drum set that she can beat without waking up the whole neighborhood. It comes with 7 pads and two drum pedals to make professional drum sounds. It also has a built-in speaker with a fantastic bass effect.
Add a little fun to her room with this neon light. It is bright and cool.
20. Motivational Marble Pencil Set
It's a good time to help her stock up some school supplies for the next semester. You can get some stylish stationery like these marble patterned pencils with a gold statement that reads "You deserve the best".
(Here's more chic marble school supplies.)
21. Pineapples Composition Notebook
This gold pineapple notebook is perfect for writing, note-taking, doodling, and journaling.
Sometimes the small gift makes the most fun. This card game will bring a lot of laughter this holiday. It is a fast-paced game suitable for the whole family. It will become your girl's new favorite game when her BFFs come for visit.
If she loves purple color. Adding your own personal touch to the room is so much easier with this cinema-inspired marquee lightbox. You can change the light color and create a motivational message to fill your room with positive vibes.
24. Little Mermaid Seashell Purse
This shoulder bag looks so pretty even mermaids want it. And, it costs less than $20.
25. Barnyard Designs Mermaid Box Sign
Another cute stuff for people who love mermaids. This decorative sign adds a whimsical flair to her room. It has that playful, beachy feel that reminds us of the warm summer days.
26. Warm Pals Hedgehog Heated Plush
Even though your girl has turned into a pre-teen and she still loves plush toys. This adorable hedgehog will make her happy. It is filled with all-natural grains and a French lavender scent. Warm it up and you will feel so relaxed cuddling with it.
27. The Crème Shop Overnight Gel Mask
Because this watermelon mask is hydrating and cooling. It is full of antioxidants and anti-inflammatory properties. It will soothe your pre-teen's acne and make her skin feeling soft.
28. WRISTOLOGY Stella Silver Midnight Watch
Something sparkling for Christmas. This watch is so simple and classy she will use it for many years to come.
For the girls who love tinkering and fixing things around the house. This tool kit is an awesome gift that she will actually use. It contains a cordless screwdriver and more than 40 solid tools and accessories.
This colorful blanket makes a great gift for people who love unicorns. It is thick, soft, and super comfy.
31. Infinity Cube Stress Relieving Fidget Toy
A fun toy for tweens with fidgety fingers. The cube is solid, the movement is smooth with low noise, and the color is calming.
32. Cute Socks
Sock gifting is inexpensive and it can be really fun. Socks with a funky design will make your middle schoolers smile.
These washi tapes are very cute and cheap they make one of the best stocking stuffers for tween girls.
34. The Miscalculations of Lightning Girl
We also recommend this fiction book for tweens. The main character is a middle school girl with genius math skills. She is technically ready for college but her grandma insists on making her go to middle school. From there, the story begins.
And, that concludes our list of Best Christmas gifts for tween girls. Thanks for reading.
More Holiday Gift Ideas for Tweens: