We know getting a Christmas gift for your tween is not an easy job because they are in-between age. 9-12 years old girls are especially hard to buy for. They are not really kids anymore but they are not quite teens yet.
Not sure what Christmas gifts that tweens really want? Wondering what is the best stuff to get for tweens this year? We are here to help you with a list 60 best gifts for tween girls in your life. From popular accessories, tween age-appropriate toys, tech gadgets, room decorations, trendy makeup products, school supplies for middle schoolers, and more. We've got something cool enough for every type of tween.
Read on for this year's best Christmas gifts for 9-12 years old tween girls.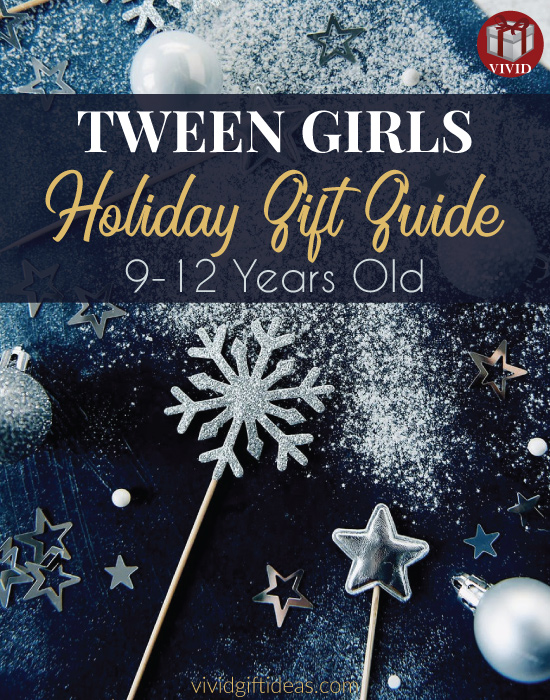 Popular Christmas Gifts For Tween Girls 2022
This night light is ideal for tweens who adore cute stuff. It adds whimsiness and Christmassy feel to any room. It is an energy-saving night light with eight colors. Just tap its soft silicone body to change the light color to fit your mood.
This pastel rainbow mini backpack is tween-approved. It looks so pretty and interior is spacious enough to fit her wallet, phone, charger, water bottle, and other backpack essentials.
(If you are looking for more mini backpacks, read our collection of 10 Best Mini Backpack for Girls)
3. Initial Letter Charm Keychain
If you are shopping for your tween's stocking stuffer as well. Why not give her a personalized gift in the form of a beautiful keychain with her initial? She can use it to hold the keys or accessorize her bag.
When your pre-teen starts to show interest in pop songs. Give her a good speaker to enjoy her favorite music. This mini speaker is not only looking adorable but also plays loud voice. It makes one of the best tech gifts for girls under $20.
5. The Complete Baking Book for Young Chefs
For the girls who love baking. This cookbook will level-up her baking skill. It is filled with step-by-step recipes from muffins to breakfast treats, breads to pizzas, cookies to cakes, and more.
This is an excellent book with detailed instructions perfect for the young chefs to learn how to make savory treats with confidence.
Another Christmas gift that tweens really want. This lap desk is great for studying, playing computer, making crafts and even eating snacks. And, its rainbow color will definitely brighten up your mood!
(RELATED: Decorate your room with these Free DIY rainbow quote posters.)
7. Impala Quad Skate Skates by Impala Rollerskates
Be sure to get a fun present for her this holiday. We bet she will have much exciting moments skating with this gorgeous pair of skates.
8. Tropical Vibes Stationery Kit
For the tween who loves note-making and journaling, this gorgeous stationery set is perfect for her. It comes chic paper clips, cactus-shaped push pins, large binder clips, gold pen with cactus pendant, sticky notes, and a writing pad.
This stationery kit with beachy tropical feel also makes a great gift for VSCO girls.
9. Juicy Couture Crystal Starlight Bracelets DIY Kit
Charm bracelet is a popular fashion accessory for tweens. Let your girl create her very own Juicy Couture Bracelets with this DIY bracelet making kit. This kit contains everything that you need. Mix and match, and create stunning bracelets with the 6 Swarovski crystals charms, 223 colorful beads, 20 jump rings and much more!
Best toy gift for middle school boys and girls in this year — desktop arcade basketball game. Place it on a table and start shooting. It is a fun, boredom killing activity perfect for kids, teens, and adults.
This pink Pusheen cat purse is too cute to resist. Whether she is a cat lover or not, it will surely win her heart.
This kitty purse also comes in grey and mint green.
Beauty gift that tweens really love. At this age, tween girls start exploring makeup and skincare. This watermelon shea sugar scrub will make her happy. It polishes away dead skin and deeply nourishes to give her soft, glowing skin.
If you are looking for a good music gift for your tween daughter. Kalimba is a fantastic choice. This thumb piano is easy to learn even if you do not have any musical talent.
14. Glitter Metallic Paint Pens
For the artistic girls to release her creativity. These highly pigmented and quick-drying paint markers are perfect for art projects, DIY crafts, drawing on mugs, rocks, glass surface, and more.
Versatile mini breakfast maker — another trendy Christmas gift for her this year. It is compact, lightweight, and easy to operate. It comes with three non-stick iron plates for making waffle, sandwich, and donut.
For the girl who is always anxious and stressed. This is a great anti-stress toy that's fun to play with and effective in combating stress. You can arrange them in different shapes, pop them as many times as you want, and play them like Tetris, Hopscotch, or battle with a friend.
17. Good Vibes Motivating Tote Bag
A thoughtful gift loved by tweens. For the days when she needs extra good vibes.
Because unicorn is not just for the little girls, it is an awesome gift for unicorn lovers of all ages. This holiday, get this colorful unicorn light to bring a magical vibe to her room.
She will love these beautiful butterfly hair claws — they are popular hair accessories loved by girls.
This sparkly necklace is perfect for mermaid lovers.
21. iLuv TB100 Wireless Earbuds
Best for the techie girls. These cordless earbuds have long battery life, stable connection, and water-resistant protection. They deliver clear definition music with deep bass.
And, we love its comfortable fit and great color selection. It's an inexpensive tech gadget you may also want it for yourself.
Another small and cheap gift that tweens will appreciate. These washi tapes look really stylish and cool. And, they are perfect for decorating journal.
If you need more small Christmas gift ideas for tweens:
23. Desk Planets
If she is into astronomy, space, astrology, or gemstones, you don't want to miss gifting her this amazing gemstone planets. It is a charming desk decoration handcrafted with natural gems that represent the eight planets in the solar system.
24. The Ultimate Self-Esteem Workbook for Teens
Books never go out of style. They are the most-popular Christmas gift for tweens and teens. Get this book to help boost her self-esteem. Girls at her age face many challenges in their daily life. Changes in body, school, friends, and family can all affect her confidence. They often worry about things and feel insecure.
This workbook is filled with practical advice, real stories, and creative activities. It will help her to learn thinking positively and start loving herself.
25. Eco-friendly Woodless Pencils
A pack of 12 pretty pencils for the middle schoolers to write. What we love most about these pencils are they are made from recycled papers and completely tree-free in production.
26. Quedoris Big Girls Tie-Dye Leggings Yoga Pants
These leggings are so soft and stretchy. They are perfect for workout and everyday wear.
For tweens who love decorating their space with fresh plants. Add happy mystical feel to the room with these mermaid pots. They are suitable for planting herbs, cactus, succulents, and most small plants.
28. Cute Sleep Mask
Have a good night sleep in a cute way. This plushy eye mask is made with soft silk inside.
Whether she's 9, 10, 11, or 12 years old girl, she will need this earmuffs to stay warm and cute this winter.
Best Christmas gift for girlie girls. This small wallet has attractive rainbow colors and glitter details.
(If you are a rainbow lovers, don't miss out on these rainbow gifts for all ages.)
If she has fidgety fingers. This small pouch with poppable bubbles will help her to relax and feel better.
Cheap stuff that tweens actually want. These VSCO aesthetic stickers are so popular among the tweens and teens. They are waterproof, sun proof and UV resistant.
And, they are great for decorating water bottle, skateboard, phone, laptop, luggage, notebook, and more.
33. Unicorn Stuffed Animal Toy Storage 
This unicorn storage bag will help her to organize her plush toys better. After filing it with plush toys, this unicorn can be doubled as a bean bag chair.
If she spends a lot of time in front of a computer. Get this cute mouse pad for her. It is made of soft silicone with ergonomic design to relieve pressure on the wrist. It provides support and all-day comfort for computer users.
35. SereneLife Portable Trampoline
An awesome fitness gift for tweens — heavy-duty trampoline with adjustable handlebar to perform a full range of exercises safely at home. Bounce and jump your carbs away. Ten minutes on trampoline per day can improve your stamina and increase your muscle density.
36. Dream Deluxe Journaling Set
You can't go wrong with a motivating journaling set like this. It allows her write, doodle, plan, envision, and stay organized.
37. Inflatable Kids Punching Bag
Freestanding punching bag for your girl to build better strength and stronger muscle. It's great to train punching, kicking, and other self-defense skill. This punching bag is also good for relieving stress when you have a bad mood.
38. SLENPET Hot Air Popcorn Machine
For the girls who enjoy watching movies. She can now make her own fluffy, fresh popcorn at home.
39. Burt's Bees Tinted Moisturizing Lip Care
Lip balm is a must-have stocking stuffer. A moisturizing tinted lip balm is great for middle schoolers who start learning to apply makeup.
If your girl is a cactus lover. Add a fun tropical vibe to her room with these cactus string lights. Features two shades of green to make her room looks livelier.
41. Instax Mini Instant Camera
42. Running shoes
43. Microscope Kit
44. Hair scrunchies
45. Makeup Palette
46. Facial spray mist
47. Strategic card game for middle schoolers – Taco vs Burrito
48. Family party card game – Poo Pocalypse 
50. Jewelry organizer
51. Cube puzzle
52. Sweater
53. Stuffed animal
54. Sheet masks
55. Bath bombs
56. Tarot deck
57. Student planner
58. Felt letter board
59. Electric toothbrush
60. Sunglasses
More Holiday Gift Guides for Tweens: