We have scouted around for cool gifts that middle school boys really like. If you need ideas on what to buy for your tween this Christmas, be sure to read our list below.
Ah, those tween-age years. Middle school children are learning how to become young adults and are looking forward to growing up. Somewhere between elementary school and middle school, young boys lose their love for toys and are ready to mature – but are still not quite old enough to be counted as teenagers. They grow up so fast!
What do middle schoolers really want for Christmas or their birthday? It can be really challenging for finding the right gifts for 11-13 years old boys. You don't want to buy them little kids' toys that they'll never play with. That's sure to earn you dirty looks and a cold shoulder. Not to worry. We've got all the ideas you need to finish up your holiday shopping with our list of 35 Christmas gifts for middle school boys!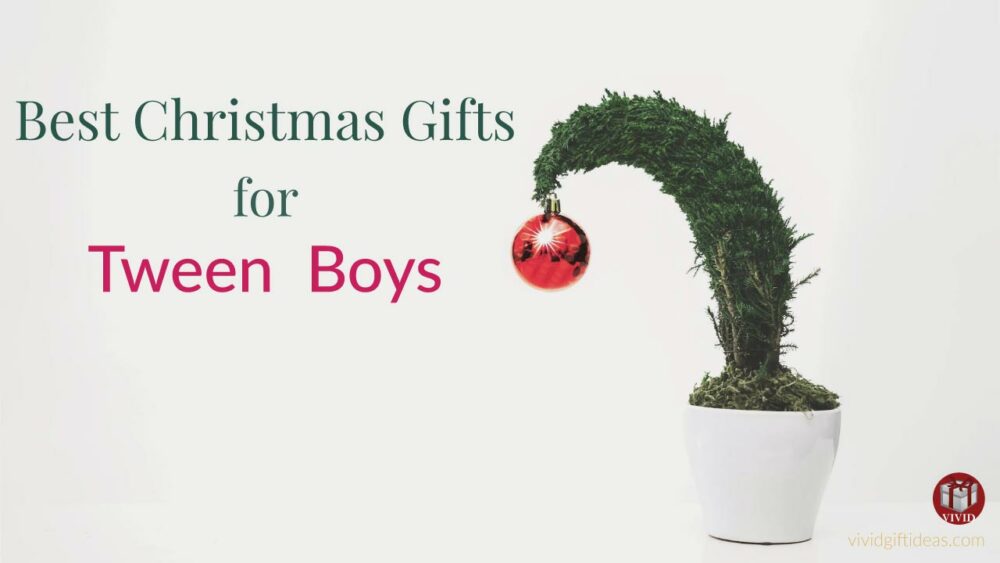 Best Gifts for Middle School Boys
Trendy and age-appropriate stuff loved by boys age 11, 12, 13, and 14.
Boys love their tech toys, so give them a gift that will help them get the most out of all those expensive devices. This multi-device, Bluetooth keyboard has a sharp-looking backlight with a cool glow and allows the user to prop up both a tablet and a mobile phone. It connects with up to four devices at the same time and has a rechargeable battery that lasts up to 1,000 hours.
2. Neon Sign
Room decoration that tween boys actually love. Kids love personalizing their bedroom space, so this neon sign will definitely be their favorite gift this year. Light up their bedroom or gaming room with this LED neon-lighted wall décor in the shape of a cloud and an awesome lightning bolt! The sign is made from real acrylic neon, not plastic or glass, so there's no risk of harmful substances leaking everywhere. They feature a low-voltage design, so there's no shock risk, and they are low-energy – so it won't drive up the electric bill.
Be sure to get something cool for him this holiday. Here's a stocking stuffer that any middle-school boy is guaranteed to fall in love with – light-up LED gloves! These awesome gloves are made from breathable cotton fabric and use a built-in battery box – so there are no exposed circuits or wiring. Click the button to switch between six different flashing modes, and your kid will be ready to take center stage as the star of the light show! They also come with five rechargeable batteries, so you won't spend a fortune on batteries.
Boys can sometimes be hard on their belongings, and it probably seems that your middle schooler is always in need of a new backpack. No worries – we've got you covered! And this is no ordinary backpack – it features a sleek, vintage design, a laptop compartment, lots of extra pockets and space, and a built-in USB charger outside and a built-in charging cable inside, making it easy to charge your devices on the go!
Middle school is right around that age when boys start thinking about becoming adults. If you ask us what's a good gift to get for tween boys age between 11-13 years old, we will tell you it's the perfect time to gift them with their very first grown-up wallet. This one is made from full-grain leather so it will hold up over time, and you can personalize it with a custom engraved monogram, name, initials, or a little message from you to him! He'll love storing his cards and cash in his very own wallet, and you'll love that he will think of you every time he pulls it out!
A popular gift for tweens. We all know how much kids love their video games and movies, so this mini projector is sure to be a hit on Christmas Day! It's small but powerful, capable of creating a 170-inch screen, and is 35% brighter than similar projectors on the market. This projector works with nearly any gaming device, DVD player, television, mobile phone, tablet, or laptop. And it has built-in stereo-surround speakers, so he can enjoy movies or games both indoors and outdoors!
7. Astronaut Mini Building Set
Middle school boys are straddling that line between being a kid and becoming a teenager – and that means they still like to play with toys, but only the right kind of toys. These micro building space sets are the perfect blend of toy and model, so even the most mature middle schooler will enjoy building it. The astronaut comes with LED light effects to keep things interesting, and the model includes 716 pieces, so he will spend hours enjoying putting it together and then be able to enjoy it forever!
8. You Are Turtley Awesome Mug
Because boys at his age love puns and memes. Get this cute turtle mug to motivate him every time he uses this mug. The design features a black turtle and beautiful wave pattern with a boho flair.
9. Hooded Flannel Shirt Jacket
Help your middle schooler step up his style and stay warm and cozy at the same time by giving him this hooded, flannel shirt-jacket from Legendary Whitetails. It's lined with super-soft Berber and insulated with poly-fill to keep him warm and toasty on even the coldest outdoor excursions. And, it has a comfortable hood to keep his ears safe from those cold winter breezes.
10. To My Son Engraved Moon Lamp
Something meaningful that your middle school son will carry with him forever! It's a moon lamp engraved with a heartfelt message reminding him that no matter where his life carries him, he can always follow the light back home. It's made from sturdy plastic, so it won't shatter if he drops it, and the light changes color between bright white and a yellow glow with a simple touch. Or, use a long touch to dim the light at your convenience.
This book offers your middle-schooler tips on how to cook, make friends, and be self-confident and healthy. Give your tween-ager advice on how to handle all those new, big emotions and be more comfortable in their own skin. Filled with relatable stories, tips, and illustrations, this book is useful, and your middle schooler will love learning how to become a successful, well-adjusted teenager.
12. LED Basketball Hoop Lights
Got a middle schooler who loves to shoot hoops? This LED light strip for basketball hoops will let him play long after the sun has gone down. It comes with sixteen colors and four light patterns which can be changed via remote control. The lights are shielded from the elements with protective tubing and the battery case is sealed to prevent moisture and damage. These LED light strips are super easy to install. The neighborhood kids will be flocking to your house to play basketball every night!
13. FAUX BOW 4.0 Lizardite Archery Set
You can also get a sports gift to get them out and moving. Let your child to explore his inner warrior with this archery set. This faux bow is designed for children ages 8-12 and shoots foam arrows over 120 feet! This is a gift that will get him away from the computer screen and outside for some fresh air and exercise. It comes with six durable, foam-tipped arrows for hours of outdoor play!
14. TUINYO Wireless Headphones
A must-have for middle schoolers. Of course, every boy needs a pair of stylish headphones to complete his back-to-school look. Check out these wireless headphones from TUINYO – they're Bluetooth accessible or capable of wired connections. The earmuffs are made from super-soft memory foam leather for comfort and durability, something every young boy needs. And they can fold up and store neatly away in the included protective case to protect them from wear and tear when he's on the go.
15. Water Bottle
Make sure your son stays hydrated, even when you're not around to remind him. It has a modern style and lots of amazing design options that will ensure he will want to carry it with him everywhere. This stainless-steel water bottle features double-wall insulation so it will keep his drink cold for hours, and it's leakproof so you don't have to worry about him spilling it on your furniture!
16. Gaming Chair
One of the top gifts for boys who are into gaming. With the number of hours spent in front of the computer, every boy could use a new gaming chair. Keep his back healthy and his posture great with this ergonomic, high-back, rolling chair. It's made from durable PU leather, so it will hold up to his abuse, has ultra-comfortable cushions, and a stylish design he will love. The seat moves up or down to accommodate any height and the armrests flip out of the way to take pressure off the elbows.
17. Columbia Men's Graphic Hoodie
For some of us, Christmas means cold weather and warm clothes, making it the perfect time to gift your middle-school kid a brand-new hoodie! This classic-styled hoodie from Columbia is made with perfect blend of materials for warmth and comfort. It features the Columbia logo on the sleeve, making it trendy and stylish – something every boy demands from his wardrobe.
A good duffel bag has countless uses – especially for the pre-teens and teens. He can carry this duffel back to sleepovers, sports practices, camping trips, outdoor adventures, and vacations. This duffel has a detachable, cushioned shoulder strap, lots of zippered compartments, and can be personalized with his initials embroidered on the front! It's so nice that he will never leave his duffel bag behind again!
19. The Manual to Middle School
Growing up is hard, and middle school can be a challenging time for any young person. Help him navigate his way with this best-selling by Jonathan Catherman. This book is written with the help of the author's own two sons. It offers boys practical advice to move from elementary school to middle school as painlessly as possible. It's filled with comic-styled illustrations and covers over 100 relevant topics like how to handle bullies and gossip, test-taking and homework, sports, leadership, respect, and more!
He will also appreciate good hair styling products. Every boy reaches a certain age where they start to care more about their appearance. If that sounds like your middle schooler, consider gifting him this hair paste by American Crew, so he can walk the halls in style. This hair paste helps to control frizz while simultaneously conditioning and moisturizing. It's best for those looking for a natural look, which is all the rage right now anyhow.
21. Customized Leather Bracelet
Looking for fashion accessories that he will actually wear? How about a customized leather cord bracelet? This genuine leather bracelet features sterling silver beads that can be engraved with a personal message. Each bead can fit up to 10 characters, so you can personalize the message any way you want! You can even include a sampling of emojis to make your message extra special!
22. Good Vibes Bag
An eco-friendly gift for the environmentally conscious kids. This fabric tote will give him good vibes while cutting the use of plastic bag. It is washable, foldable, and can be easily tucked into pocket or backpack.
23. 3D Printing Pen
24. Mini Fridge
25. Portable speaker
26. Board games
27. Computer games
28. Workout equipment
29. Cool statement tee
30. Sneakers
31. Wireless Charging Station
32. Sunglasses
33. Watch
34. Socks with cute print
35. Jogger pants
More Gift Guides for Teenage Boys: