Browse through our gift guide to discover what's the best gifts you can give to college-bound students. Here we have brought together a list of going to college gifts that college students need the most. Whether they are attending classes in campus or learning remotely in 2023, these are the must-haves for surviving college from freshmen year to senior year. Featuring 30 useful college gifts suitable for guys and girls. Read now to get awesome gift ideas that college students will really appreciate.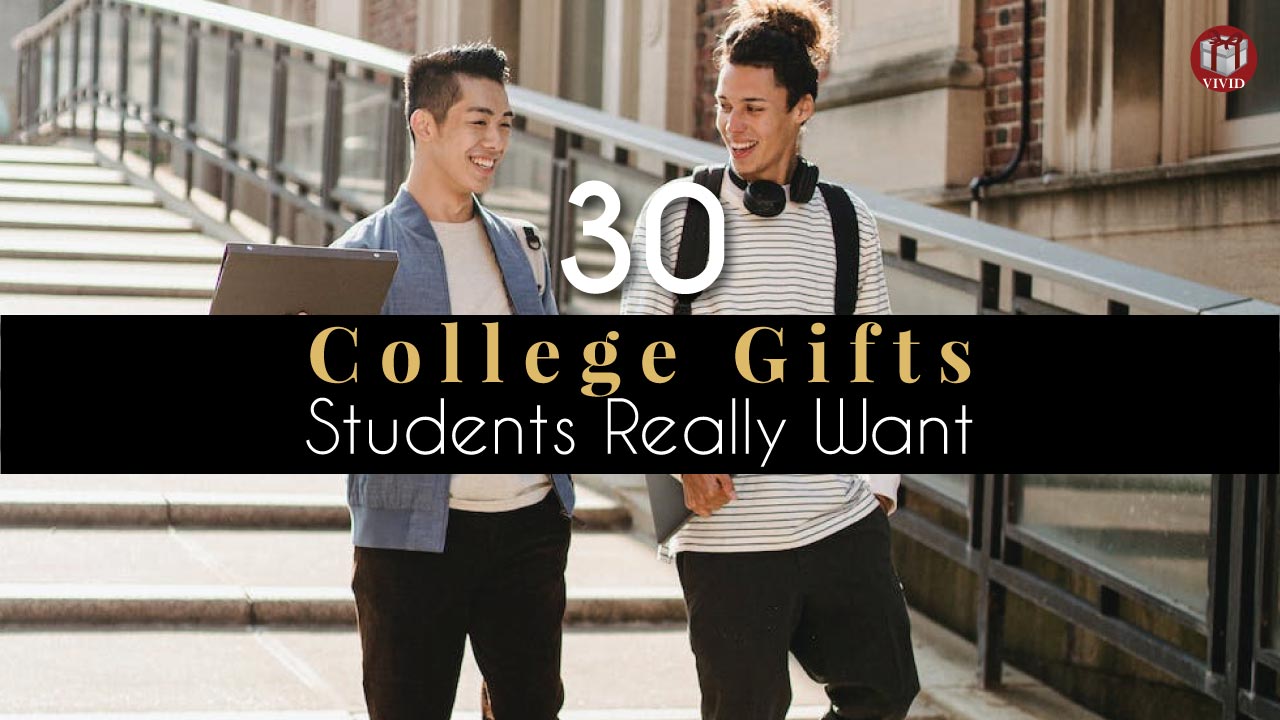 Most Useful Gifts for College Students 2023
Whether it is for your college-bound son, daughter, brother, sister, or best friend, these stuff are what they would actually use in college.
Going to college means moving out from the comfort of one's own home. Give the college students a hand in getting organized with their new life. One of the best college life hacks is sorting and storing dorm supplies using labels.
This portable label maker by Labelife lets you print out durable laminated labels effortlessly. Just type on the keyboard, choose a frame, and set the margin to make your own labels. Stick on any flat surface like file folders, notebooks, drawers, bottles, food containers, and so on for easy sorting and neater storage.
2. Cactus Pen Holder Desk Lamp
Gift your college student a proper lighting for studying. It's a useful going to college gifts that college students really need, no matter they are staying at the dorm or living at home this year. This cute cactus touch lamp with storage holder will brighten up their day. It has three level of brightness and a flexible gooseneck to direct light exactly where you need it.
3. Vera Bradley Recycled Lighten Up Reactive Grand Backpack
Your college-bound daughter will need a sturdy bag to carry her books, laptop, and other college essentials. A good backpack made it to the list of best college girl gifts in this year. She will love this Vera Bradley backpack in sunny floral print.
It is really lightweight thanks to the fabric made from recycled bottles. And, the beautiful exterior, spacious interior, padded compartment, and multiple storage pockets make it perfect for college use.
4. Dorm Cooking Electric Hot Pot
Here's another gift approved by college students. This multi-functional electric cooker makes dorm cooking easy. Features dual adjustable modes and non-stick frying surface. It is great for heating up food, cooking ramen, frying eggs, sauté, and more. Also, we love its mini size that's just perfect for kitchen with limited space.
5. Kodak Mini 2 Retro Instant Photo Printer
Help them to print out memorable photos in their college life. This powerful printer can be easily paired to any mobile device to print out clear pictures. It is one of the most popular tech gift that college students really need.
6. BURGA Protective Phone Cases 
College students can't live without their smartphone. They need it for tracking time, connecting with others, learning, and entertainment. Get a premium phone case by BURGA to protect their smartphone.
BURGA offers maximum protection to your phone without compromising on the style. They are slim, shockproof, and really tough. Your college student is going to love its trendy designs from chic marble and vintage floral to sophisticated animal prints and more.
8. Self-Care for College Students
Worrying about your college-bound kid who is leaving home for the first time in their life? Send them off with this helpful book. It is one of the most useful gift for new college students. This book will "take good care" of your college kid by giving them self-care tips and hacks to deal with busy college life, both physically and emotionally.
9. Nautica Men's Townsend Casual Lace-Up Shoe
Best gifts for a guy in college — Preppy shoe for him to walk in style. Minimalist style suitable for campus wear, it is also super lightweight for walking, biking, and a light jog.
10. College Storage Utility Caddy
A stylish and useful dorm room essential. This clear storage basket has two compartments and drainage holes perfect for carrying toiletries and skincare to the bathroom.
11. Wireless Backlit Keyboard and Mouse Combo 
Gift your college guy a good wireless keyboard with bright LED backlit. The unique purple color looks awesome and the quiet keys ensure smooth typing experience without the noise.
12. Gradient Felt Letter Board 
What's the best stuff to give for a friend who is leaving for college? Give her this light-up message board to decorate her room. She will love its pretty color and romantic LED lights.
13. College Laundry Hamper Bag
College supplies students actually use — getting your dirty clothes to wash is easier by carrying them in this extra large backpack.
14. Pukka Pad Carpe Diem Spiral Notebook
Cute school supplies are fun and cheap gifts that college students really need. These colorful notebooks will make writing homework extra fun.
15. Everything is Figureoutable Sign
Entering college can be overwhelming. It's a good idea to give inspirational gifts for college students. This wooden box will keep your thoughts positive and encourage you when things get tough in college.
16. Hobed Life Soft Pastel Fur Reading Pillow
Here's a must-have for your dorm room. You will need it when you are watching TV, reading, and studying from bed. And, yes, it supports your back and arms with the ergonomic design.
17. Top Ramen Soup Socks for College Students
Get to know your ramen when entering college. These socks recommend the top ramen for surviving the college. It is definitely a funny off to college gift loved by boys and girls.
Practical college gift that girls really use. Let her lounge in style with this soft cotton pajamas. She will surely love the cool tie-dye design.
19. Amazon Basics Reversible Microfiber Bed-in-a-Bag
A good quality bedding is another must-have dorm essential. This black and white set with geometric pattern is suitable for your daughter or son who is going to college this year.
20. Faber-Castell Metallic Highlighters
School supplies for college that they will really use. Add a pop of sparkle to your reading materials with these metallic highlighters. They make note-taking super fun!
21. UV Sanitizer Box
It's important to keep your stuff sanitized. Use this UV box to disinfect cellphone, keys, wallet, and etc. The UV-C waves will kill germs in 10 minutes.
Classic Adidas fleece hoodie to keep him warm and comfortable. A thoughtful gift to give for your boyfriend who is going to college.
23. Elephas DLP Portable Projector
This year's best gifts for a guy in college. With this portable video projector, he can have fun movie nights with friends at the dorm. Features clear resolution with projected screen size up to 200 inches. This small projector is also built with a powerful rechargeable battery.
24. Budget-Friendly College Cookbook
Most students probably don't have enough money to spend on good restaurant food. Help them to eat better with this cookbook. It has recipes to make healthy and delicious food on a very small budget. From breakfast to desserts, learn how to cook with minimal ingredients and appliances.
25. Good Vibes Rainbow Tote Bag
Yes, college students need some good vibes in their daily life. And, this bag is great for hauling books, laundry, gym stuff, and even groceries.
26. Friendship Quote Scented Candle
A cheap and funny gift for best friend who is going off to college. This candle will fill her room with calming lavender scent. It will also serves as a reminder of your friendship.
27. Turquoise Marble Texture Basket Bin
A clutter-free room will make you feel fresher and happier. Also, keeping things organized will help you to be more productive.
28. To Do List Pad 
Your future starts meow! Use this pad to keep track of your tasks and schedules. Cat-loving college girls will definitely appreciate this writing pad.
29. Vaeqozva USB Rechargeable Personal Blender
With a portable blender, they can make nutritious smoothies wherever they want.
30. Monitor Stand Desk Organizer
Raise their computer screen to keep eye level straight. Minimize hunching and bad posture when using the computer. And, they can use this stand to store some stationeries and small items.
Add some style to their desk. This waterproof rubber mat is large enough to fit a laptop, mouse, and keyboard.
32. Blu Monaco Gold Metal Desk Organizer
Gold desk organizer that is functional and chic looking. One of the best college girl gifts of 2023.
When your college guy is hitting the gym or going for a weekend trip, he can carry his essentials in this duffel bag.
Off to College Gifts:
24 Going-Away-to-College Gift Ideas For Girls  | Cool Going Away to College Gifts For Boys | Best Going Away to College Gift Ideas For Boyfriend | Minimalist College Packing List | 26 Chic Off To College Gifts Loved by Girls
Related Articles for College Students:
20 Simple Ways to Decorate Your Dorm Room | 15 Dorm Decorations that You Need | 10 Cozy Dorm Decor Ideas for Girls
More Gift Ideas for College Students:
Best Birthday Gifts for College Students | Christmas Gift Ideas for College Girls | Easter Basket Ideas for College Students | 22 Unique Holiday Gifts for College Students