We know that it is not easy to shop for middle schoolers. These tween boys and girls are not small kids anymore but they aren't old enough to be in their teens. So, what stocking stuffers should you get to fill their stockings for Christmas this year? Well, check out these unique stocking stuffer ideas for tween girls below.
You'll find a list of 40 creative small gifts to impress the pre-teens in your life. From fashion pieces, school supplies, tech gadgets, cool toys, and more. You are going to make the tween girl smile for sure.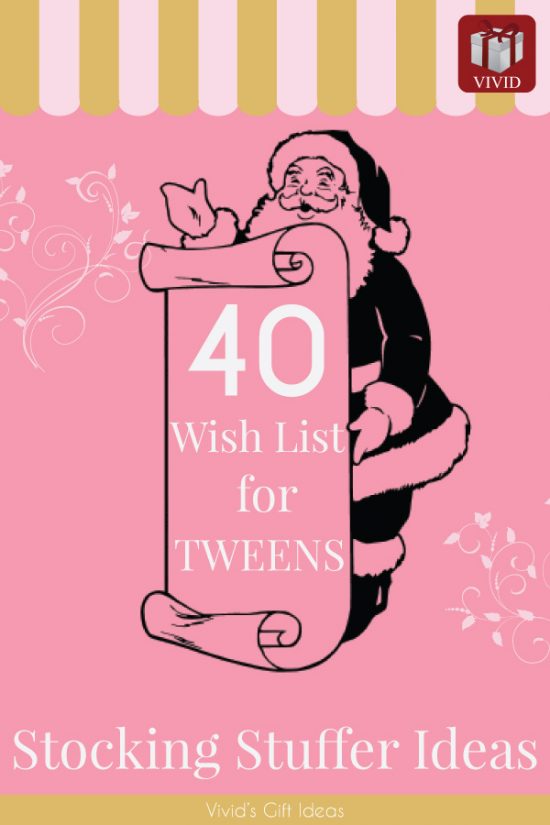 Tween Stocking Stuffer Ideas
Let's get started.
A darling pink heart for her room. It creates a warm and cozy ambiance.
For the middle schoolers who love avocado. This composition book is perfect for note-taking, writing homework, and more.
3. Pusheen Mermaid Plush Keychain 
Who can resist a plushy keychain of a meowmaid riding a seahorse?
4. Cute Earrings
These earrings are too cute. You might end up getting more than one pair for her.
For her to enjoy music in a "yummy" way. Features a funny cat avocado and taco earbuds, with a bright pink cord.
6. Unicorn Snot Pixie Glitter Lip Gloss
Give her smile an extra sparkle. Use this holographic pink lip gloss alone for a high-gloss shine or pair it with your favorite lipstick to glitz things up.
DIY kit great for the middle schoolers. Learn trendy craft technique, create your own garden in this glass bottle. You can build your own ecosystem by layering the soil and pebbles. Then, arrange and plant your moss. After that, you can place the small plants to complete the tropical setting.
For the girls who love llamas. Wear this eye-popping bandage and let's this llama protects you. Stick them on your blister or small cut to stop the ouchies from bothering you.
School supplies are cheap and practical. They are useful for middle school boys and girls. So, why not help them to stock up?
The design is outrageous. Need I say more?
You don't want to miss this adorable keychain with pretty letter charm, fluffy poms, and tassel.
12. Cute Cat Socks
You might think socks are lame but a set of five cat socks in different colors? You might think otherwise. Whether you are a cat lover or not, these kitties are going to win your heart.
13. Melissa & Doug Scratch Mini Notes
Etch words of encouragement with one of these cool scratch notes. That's right! This is no ordinary notepad, you will have to make use of the wooden stylus that comes with the product to etch out what you want — which can be important notes, wise sayings, or even some doodles. If you're looking for an edgy gift, here's an etchy gift.
Brightly-colored lemon, both on the inside and out. A treat for the eyes and hands. Not your ordinary lemon. Its realistic skin is pink instead of yellow. Inside is bright, almost-neon-like, yellow. Perhaps this is what pink lemonade is made of. Jokes aside, this is a cute soft toy meant to be squeezed for fun and relaxation.
15. Plush Earmuffs
The purr-fect earmuffs to keep you warm and cute this winter.
Have fun playing with these metallic tattoos. 6 sheets of animal tattoos loved by kids. It is waterproof and will keep its flash up to seven days.
A creative product that is cute, entertaining, and educational. This adorable hedgehog is part of a crystal-growing kit. By following the instructions provided in the kit, you can grow orange gypsum crystal on the back of the little creature. What is this magic? Well, that's for the middle-schooler to find out.
2-in-1 present. An extra large 10-ounce bath bomb packed with a surprise necklace inside. Drop it in the water, enjoy the never-ending fizzing bubbles and see the Swarovski crystal pops up when it's done.
Sticky notes are boring. Sticky notes that look like butterflies? Awesome! What's better is that a single stack of these sticky notes come with five different colors — you're literally decorating the surface that you're sticking the notes on with a kaleidoscope of butterflies!
We love it because it is a slice of soft bread that has cute expressions.
Lip balms are must-haves for girls. Get these Crayola-inspired lip balms for your pre-teens this holiday. They come in a pack of eight flavors to delight your senses. These lip balms will leave your lips feeling softer and smelling great.
Whether she is a bunny lover or not, she will love this fluffy bunny keychain. Features a soft pom pom with a metal clip. Perfect for organizing keys or accessorizing your bag.
A foldable book bag with a pretty design and nice sayings. It reads "Super chic, super smart, super strong. This girl is a Super Girl".
24. Hair Chalk Set
Girls at her age love experimenting with different hairstyles. She would be thrilled to get this set of blendable hair coloring chalk. Non-toxic, no-mess application, easy to wash out with ordinary shampoo. It comes in six vibrant colors to transform her hair into an exciting new style.
25. Toilet Odor Eliminator Spray
Leave only ocean scent in the toilet. Attack the bad odor with the natural essential oils. Whenever and wherever nature calls, spritz a puffy cloud of ocean breeze before you squat and make your next brick the best you'll ever lay.
Fuzzy little creatures to keep her feet warm this winter. It is extremely soft and plushy. Great for lounging at home.
27. Don't Just Fly, Soar Hand-Painted Wall Art
Gorgeous wall art to place in the tween girl's room. The bright-colored quote is hand-painted against the black galaxy background. It looks unique, beautiful, and inspiring.
You can also get a fidget spinner. It is a popular toy among the kids. Super easy and fun to play. This simple toy is designed to keep the player's hands busy, provide a focal point for busy minds, and help to relieve stress.
29. A Smart Girl's Guide: Digital World
A good book also makes a great stocking stuffer for pre-teens. This book is a must-read for girls growing up in the modern digital age. It is well written with practical tips and advises. This book guides girls to navigate wisely in the digital world and helps keep them safe from cyberbullying and bad influence.
30. Unicorn Bandages
The magical wound healers that every girl needs. It comes in handy when she has a small cut. A tin of 48 bandages in varying sizes. Colorful and cute. Stick it and let the unicorn kisses make everything better.
31. Cat Ring
For her with a feline obsession. A charming ring features a cat watching the moon at night. It is adjustable to fit fingers of different sizes. This ring looks simple and delicate.
A nice mug full of positive energy. It is made of ceramic, big capacity. Use it to enjoy your favorite morning beverage and feel motivated for the rest of the day.
Fun school supplies that she will love. These mushroom push pins are made of solid resin and metal nail. They are cute, sturdy, and functional.
34. Hello Gorgeous Gold Dots Fashion Pen
Chic pen loved by girls. Black and white polka dots with gold finish. This pen has a nice weight and it writes smoothly. It comes in a matching polka-dotted box.
35. Personalized Mermaid Tumbler
A gorgeous tumbler for tweens who are obsessed with mermaids. It is double walled, non-breakable, and sweat-proof for cold beverages.
One of the must-have backpack essentials for middle schoolers. Two glass mirrors with different magnification inside.
37. Crown Tiara Pen
For her to write in style. Set of eight fabulous pens in different colors. Fine point, slim body, it writes beautifully. She will love them for sure!
You can also get this lovely wallet for her. Good quality, compact size, pretty pastel color. Features three credit card slots, one change pocket, one full-length pocket for bills, and one photo ID window.
Also available in soft pink, purple, blue and black.
39. Screen Touch Texting Gloves
Tech gloves to keep her hands warm this winter. Soft, stretchable, and comfortable. It is made with ten-finger touchscreen technology. This glove works well on a mobile phone, tablet, and other touchscreen devices.
40. American Girl Baking: Recipes for Cookies, Cupcakes & More
An excellent cookbook for tweens who are interested in baking. This book is packed with more than 40 delicious recipes for making cookies, cupcakes, madeleines, fudges, truffles and more. There are step-by-step instructions great for beginner bakers. Girls are going to love their handmade sweet treats coming out from the oven.
That concludes our holiday gift guide for tween girls. Thanks for reading and have a happy Christmas!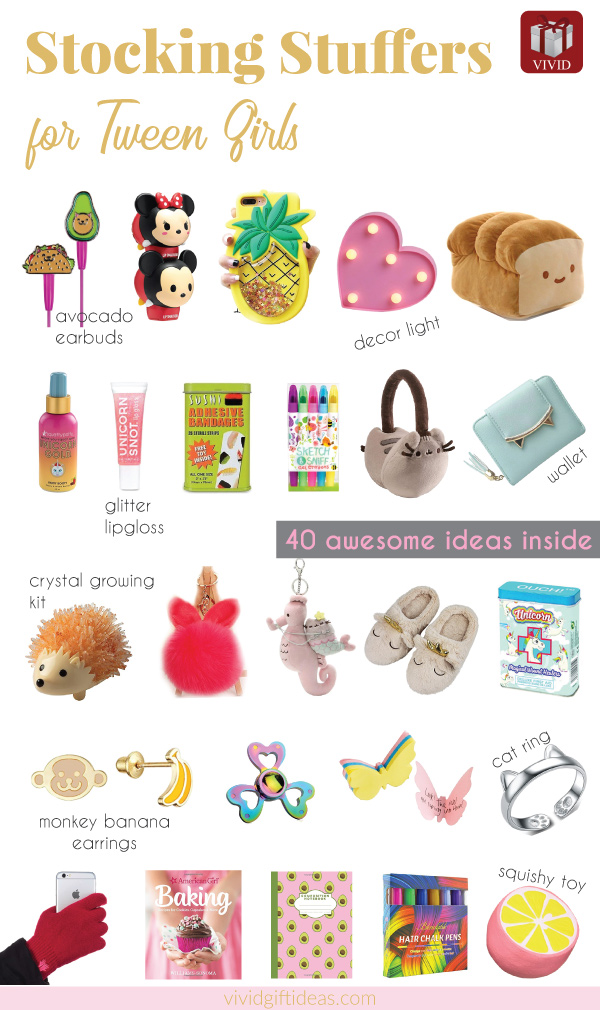 More Gifts to Impress Your Tweens: