Make your mom smile this Mother's Day with a simple gift that she can actually use. Browse through our gift guide below to discover these great ideas that are suitable for every type of mom.
Mother's Day is a special holiday celebrated in various parts of the world. The real meaning of Mother's Day is to express our love, honor, and respect to mom. Mothers don't expect their children to spend lavishly on getting Mother's Day gifts to celebrate with her. All they need are spending more time with their kids and knowing how well the children are doing. Don't make things complicated when it comes to celebrating this special day. Spend time with your mom, tell her how much you love her and express your gratitude with a simple gift is the way to go.
Make Mother's Day gift-giving no-fuss at all. Read on to find out 22 thoughtful, easy, and simple gifts to get for mom.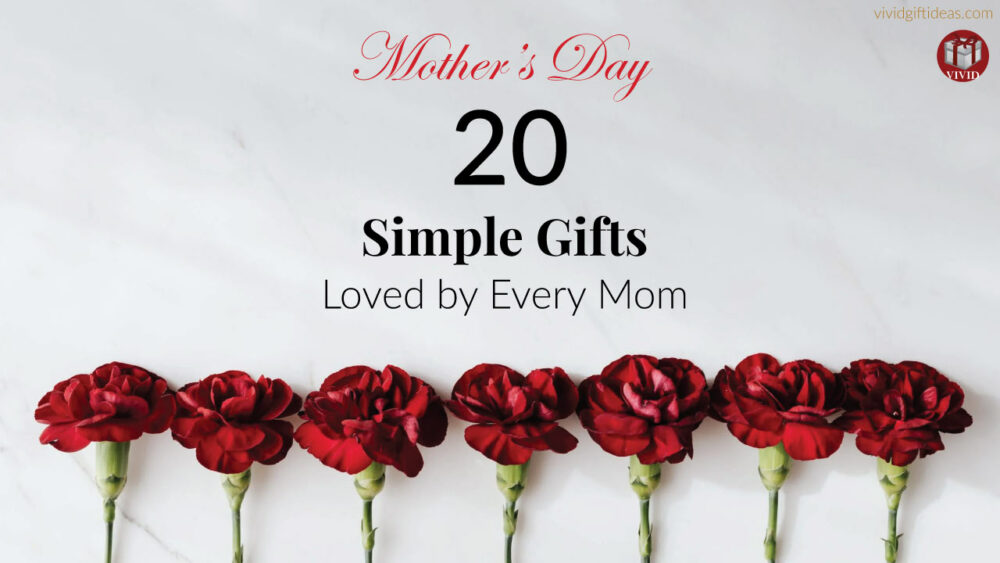 Simple Gifts for Mom
1. For mom to stay healthy — Naked Collagen
It's important to take good care of our mom. Boost her bones, joints, skin, and hair condition with collagen supplement. Naked Collagen Peptides Protein Powder is a high quality collagen supplement. It contains only one ingredient, that's the bovine hide collagen peptides sourced from pasture-raised cows in Europe. This collagen powder is odorless and tasteless. It's great for mixing with any beverage to reap the many health benefits.
2. Remember the joys with Minted Best Mom Ever Custom Photo Art
A picture is worth a thousand words. Give mom a memorable photo gift this Mother's Day. It's such a simple and sweet idea to make mom happy. Let Minted helps you to create a truly unique photo art. Only the most luxurious paper and printing techniques are used by their independent artists. And, the real gold foil detailing and beautiful wood frame makes this photo art a great visual reminder of the wonderful times you spent together.
3. Easy way to make mom's room a little cozier — Meidi LED Moon Lamp with Aromatherapy Diffuser
Be sure to get something thoughtful to show how much you care this Mother's Day. Picking a gift as simple as this moon lamp will make her feel loved. This lamp will your mom's room with warmth and comfort. 2-in-1 feature that combines night light with ultrasonic diffuser.
Mom can adjust the brightness and change the light color to match her mood. She can also fill it with essential oil to make the room smell like a spa.
4. For mom who loves gardening – Dansko Women's Kane Slip On Mule
Gift the outdoorsy moms with a good pair of clogs. It is a simple Mother's Day gift that mom will definitely appreciate. This slip-on backless shoe provides mom with good support when she walks around tending her garden.
The excellent shock absorption makes it comfortable to wear even for long hour.  It is also lightweight and comes with perforated uppers for proper ventilation.
5. Remember I Love You Mom Keychain
You don't want to miss this sentimental gift for Mother's Day. Sometimes, an inexpensive and simple present will bring the biggest smile. And, this keychain will remind your mom how much she's appreciated.
6. For mom to de-stress
For the mom who loves coloring, these coloring books are easy gifts to bring her happiness.
6a. Positive Energy: An Anti Stress Coloring Book
This book is packed with positive vibes. Whenever you need to boost your mood, sit down, gather your thoughts, and calm your mind by coloring these inspiring messages.
Embark on a therapeutic adventure through a garden full of gorgeous flowers and plants. Grab your colored pencils and color away all the worries in life.
7. Meaningful Small Gift — Love Sentiment Dish Tray for Mom
This pretty square dish is perfect for a small and simple Mother's Day gift from daughter. It will remind mom how much you love her.
8. Thoughtful Little Gadget — Homedics Marbelous Mini Massager
Another affordable small gift that moms really love. Enjoy relaxing massage from head to shoulder, wrist to legs, and anywhere you want. It is mini and easy to maneuver to relieve muscle soreness.
9. Carnation Floral Pattern Tote Bag
No pain in finding the perfect gift for mom. Give mom carnations on Mother's Day. This flower symbolizes motherly love.
Alternatively, you can get this durable fabric tote bag with carnation print. It is washable and foldable. A multipurpose tote fits for every mom, even the difficult moms.
10. Kodak Dock Plus Instant Photo Printer
If your mom prefers the traditional way of viewing pictures, she will enjoy using this photo printer. Just dock your phone to connect to this printer and print out flawless photos instantly.
Superior photo quality with fingerprint proof lamination. This photo printer makes printing photos at home effortless. It is one of the best easy-to-use tech gifts for elderly moms.
11. Simple idea for the mom who journals — U Brands Soft Dye Monterey Ballpoint Pens
Give mom a practical Mother's Day gift that is actually useful to her. This set of four ballpoint pens provides smooth writing experience. We love their tie-dye design with the gold accent. Also, the metal barrel adds some weight to make them more comfortable to hold.
12. Custom Coaster
If you want to get personalized Mother's Day gifts that's simple and affordable. We recommend this handmade resin coaster. We love its glittery design and also you can add personal message.
13. For the modern mom — Multi Device Bluetooth Keyboard
Trendy tech accessories loved by women. If your mom prefers typing over writing it down. She will appreciate this compact wireless keyboard. It is small enough to fit in a bag and she can carry it anywhere to set up a mobile workstation. The built-in slot allows her to dock her smartphone easily on this portable keyboard and switch between 3 devices simultaneously.
(Related article: 11 Gift Ideas For The Working Moms)
14. Vera Bradley Performance Twill Crossbody Purse
Give mom something functional that she can use every day. She will love this charming little crossbody purse featuring Vera Bradley's signature botanical pattern. Features all-in-one function that combines a wallet, wristlet, phone bag and crossbody bag. It is made of lightweight, water-repellent fabric that's durable for all weather.
This purse is small and easy to carry around. No more carrying extra bulk when mom is running errands.
15. Yiiho Dual Ionic Hair Dryer
If your mom loves having fabulous hair but is too busy for styling, this powerful hair dryer is perfect for her. Features 1800W motor with advanced plasma technology to eliminate static. This hair dryer has three heating functions. It dries your hair fast without creating frizz.
16. For mom who loves to cook — German Technology Gradient Fish Scale Coating Nonstick Frying Pan
Another useful gift approved by moms. This deep nonstick frying pan is not just aesthetically pleasing to look at, it is also very convenient to use. The German Thermolon patent coating is ultra nonstick. And, the sturdy aluminum body offers 5X quicker and even heating.
This frying pan is compatible with all cooktops including induction system, gas, ceramic and electric.
17. 100 Drives, 5,000 Ideas: Where to Go, When to Go, What to Do, What to See
This travel guide is a must-have for mom who enjoys road trips. Read it and be inspired to hit the road to experience 100 drives across the United States and Canada. This book is filled with epic sights, expert tips, good bites, and tons of activities.
When your mom loves reading so much she can't resist to add new books to her shelf. This T-shirt has the perfect artwork that book lovers and librarians can relate.
19. For the indoorsy mom – Lordem Full Spectrum LED Plant Light 
When your mom is an indoor person and wants to enjoy the outdoorsy things inside. Let her plants get some light and grow better even in the dark space with this plant grow light.
It emits warm natural light to promote indoor growth as it accelerates photosynthesis. This grow light has three timer settings and four brightness levels to meet your plant's needs at different stages.
20. Enjoy a good cuppa — Taimei Teatime Infuser Mug
Another good and simple idea loved by mom. If your mom is a tea drinker. Treat her with a warm cup of tea. Add this beautiful tea mug to her collection. It is hand-painted with gorgeous floral pattern and the size is large. She will also love its deep infuser that allows the tea leaves to fully expand in hot water.
21. Mother's Day Gift Card
If you don't want to risk buying the wrong stuff, a gift card is the safest and easiest gift to get. Of course, you don't want to just give it on its own, write a notecard to make this small prezzie a much better one.
22. A Handwritten Card
Last but not least, the simplest and most popular way to wish mom a happy Mother's Day is to pen down your thoughts on a greeting card. Tell mommy how grateful you are to have her in your life.
That concludes our list of 22 simple Mother's Day gifts. Thanks for reading.
More Simple Mother's Day Gift Ideas:
More Gift Ideas For Mom: