Christmas gift shopping for your favorite guys made easy with our complete list below. Give a thoughtful and simple gift that he will actually use. Discover 65 men-approved ideas that are useful, practical, and popular this year. This curated list has got you covered with holiday gifts for every type of men in your life.
Whether it is for a man who has everything, your dad who wants nothing for Christmas, a techie brother, a guy friend, a boss you are trying to impress, or something meaningful for your boyfriend, you will find the perfect gift to surprise him this holiday.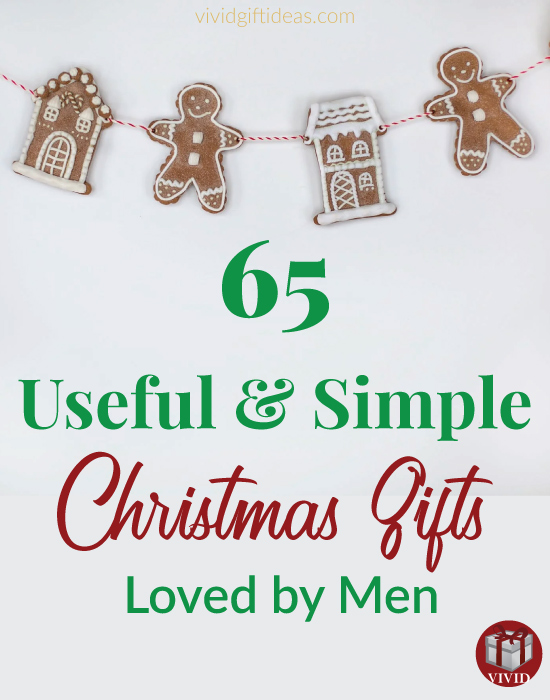 Simple Gifts For Him
Ahoy! Here's a fun gift for every guy in your life. Take him to the sea to unleash his inner pirate this holiday. Command a fleet, build ships, wage battle, find treasure, and conquer islands on the modular ocean map.
This is a well-made board game with an exciting concept that your whole family will enjoy. It is easy to learn and highly interactive. Play individually or form a team to navigate the dangerous water with your best strategies.
2. BOPAI Travel Backpack for Men
Get a stylish backpack for him. This all-black backpack is useful for traveling, business, or school. It is well-built with spacious interior and multiple pockets for easy organizing of your backpack essentials.
This backpack also has a soft flannel compartment to protect your laptop, water-resistant exterior, and invisible anti-theft design. It is a practical gift approved by men.
For the guys who love to laugh. Yes, that's how you describe a deer with big horns. It is called horn-y! When you are shopping for a stocking stuffer for him, don't miss out on this hilarious boxer shorts.
For your bae. A simple gift but full of love. This leather valet tray is engraved with a romantic love quote that reads "Loved you yesterday, love you still, always have, always will."
(RELATED: Read here if you need more sentimental gifts for boyfriend.)
5. The Open Road: 50 Best Road Trips in the USA
This book is filled with miles and miles of road tripping details to inspire your next trips. Whether you want to go for a short weekend getaways, have some fun times with your kids, travel with your four-legged friends, or planning for a cross-country trip, this book got your covered with comprehensive planning resources.
Get essential tips and expert advice from seasoned road-tripper Jessica Dunham. Enjoy awe-inspiring views, local flavors, and fun activities when you hit the road.
6. Merry Christmas Desktop Mug Warmer Set
Something thoughtful and simple that men will appreciate — heat up the beverage quick and make sure his coffee is always hot when he works.
If he is a gamer, this colorful mechanical keyboard is something he would actually use. He will love its swift response, dynamic RBG backlight, and stable performance. The ergonomic design and PBT keycaps of this keyboard ensure crisp and comfortable hand feel. Also, every keypress is perfectly detected with no ghosting and jamming.
8. Jousen Men's Lightweight Boots Shoes
Leather boots look so cool. It is a must-have for guy who is into fashion. Gift him with this stylish brown boots this holiday. Classic design, comfortable fit, affordable price. It is a pair of tasteful-looking boots to have this winter.
9. ClearClick Vintage Suitcase Turntable
This is a luxury gift even the men who have everything will appreciate. A classy home decoration loved by men — beautiful turntable with handmade wooden exterior to add some vintage feel to his room. This turntable features modern technology including Bluetooth, "aux-in" audio port, and USB-out port.
Good sound quality, stable Bluetooth connectivity. It can also convert your old records to digital format using the included software.
10. Morse Code Bracelets for Men
This year's most trendiest gift for dad from kids. This braided bracelet is perfect to express love and respect to dad in a creative way. The Morse Code beads carry a secret message to show dad how cool he is.
It's always a good idea to gift him with something green. Get a green plant to make his room looks livelier. Bob Ross said "There's nothing wrong with having a tree as a friend". And, your guy will be happy to see a Bob Ross tree growing on his desk.
Another simple gift that men will actually use. Make your guy laugh this holiday by gifting this bold statement sock. It is thick, warm, and really fun to wear. A perfect pair for the farters in your life.
It's the beanie season. Beanie is a must-have to keep us warm. Your brother will love this beanie with LED headlamp. It is comfortable to wear during those chilly days and the bright light is useful when he needs some light during his outdoor adventures.
If he loves grilling and BBQ, he might already own a big outdoor grilling station. Why grill outdoor in the bitter cold days when you can do it at the comfort of your house? We are sure he will enjoying using this smokeless grill. Just sit comfortable, grill, and eat barbecue at home no matter how harsh the weather condition is.
With this photo printer, he can now connect his phone to print out real photos easily. Transform those digital photo memories into something you can hold and something you can decorate your house with.
16. SURKER Home Haircutting Kit
Grooming tool is practical stuff that men really want. This holiday, upgrade his personal care regimen with this cordless hair trimmer set. Features powerful motor with low noise, self-sharpening blade, adjustable lever, and 8 comb guides. It keeps your man looking sharp by getting a snag-free, precise cutting at home.
Give your grandpa a cozy gift this holiday. This pair of slippers is made with memory foam, faux sherpa, and non-skid rubber sole. They are so plushy and comfy your grand bear is not going to take them off.
This slipper also comes with a matching collection for the whole family.
18. WACACO Nanopresso Portable Espresso Maker
This portable espresso maker allows him to enjoy his favorite espresso wherever he goes. Brew the perfect shot with ease. No power needed, no battery required. All you need is ground coffee and hot water.
This mini maker is suitable for men who love outdoor adventures, working professionals who are always on the go, and busy college students.
When you are looking for a cute Christmas gift for your teenage boyfriend. This matching couple keychain set is perfect to express your love to him. One for him and one for yourself. A cheap and simple gift loved by couples.
Up his cooking game with this easy one-pan cookbook. Whether he is a dude living alone in the bachelor pad, a college student with limited time, or a man trying to feed his family, this cookbook will help him master the basics of cooking.
Using only a single cooking pan. Learn how to cook delicious meals fast with no stress and no mess.
21. Motivational Time Marker Water Bottle
Yes, we know he already has a water bottle. But what about a one-gallon bottle to encourage him to monitor his daily water intake?
22. Polo Ralph Lauren Men's Plush Robe
For your husband this Christmas. Let him lounge in ultimate comfort. This luxurious fleece robe by Polo Ralph Lauren will become his new favorite.
23. Marvel Greatest Comics: 100 Comics that Built a Universe
From geeks and nerds, to comic lovers and Marvel fans. This book is what your big boy actually wants. More than 250 pages of amazing artworks and interesting storytelling on Marvel milestones.
If he spends most of his time working from home, get him this portable desk with beautiful marble print. It is useful for working and reading. The height is adjustable and it can be tilted at 4 different angles to protect your neck.
This laptop desk also serves as a breakfast table for him to dine in comfortably in bed.
25. APEKX True Wireless Earphones
For your guy friend who can't live without music. This wireless earbuds will stay in place even when he is doing a tough workout. It is sweatproof and waterproof. Enjoy crisp music whether you are running, jumping, or lifting weight.
26. Festive Christmas Themed Cufflinks
You have decorated your home and Christmas tree. Don't forget to "decorate" your man. Surprise him with a pair of unique cufflinks this year. He will adore these red Christmas bulb cufflinks with snowflake design.
Something quirky for dad this Christmas. Gift him with this funny statement shirt. Because only the best farter deserves this get this tee. Oops, I meant the best father.
28. Softsheen-Carson Magic Men's Exfoliating Face Scrub and Cleanser
Pamper your man with a good skincare. Give him gentle exfoliation of the skin around his beard, face and scalp. Infused with cocoa butter and cedarwood oil, this scrub deeply cleanse the skin to leave your skin feeling smooth and fresh.
29. Infinity Cube Fidget Desk Toy
This cube will help him to clear his mind and focus better. It is solid and the surface is smooth. This cube rotates smoothly with low noise. And, its color is calming. It is a great stress relieving gift for men.
30. TIMBER RIDGE Foldable Rocking Chair
Offer a comfy seat to your papa. Outdoors get more exciting when you can carry your own chair to rock to the rhythm of nature.
This rocking chair has high back, hard armrest to offer extra support, and a hidden pocket at the bottom to keep your small belongings safe.
31. Asobu Frosty Beer 2 Go Beer Cooler
This cooler is a must-have for avid beer lovers. No matter what beer he likes, this cooler will keep his beer bottle and can cold for hours. And, he will also the lid that comes with a built-in beer opener.
32. YES YOU CANDLE Hero Candle
When your man is a life-saving hero in the fire department, gift him a relaxation gift. This aromatherapy candle is a useful gift for the firefighter in your life. It is filled with natural essential oils to help him wind down after a tiring day at work.
33. Renpho Powerful Portable Massage Gun
For the guy who is serious about his fitness goal. No more sore muscle after intense training. This massage gun is powerful, cordless, and quiet. It has five massager heads with five speeds to deeply massage your body and relaxes tight muscles.
34. Sleep Headphones
Another inexpensive tech gift loved by men. This headphones lets him enjoy music without using uncomfortable earplugs that keep falling out. It also helps him to sleep better by blocking the ambient noise.
35. Sweatshirt
36. Home pizza maker
37. Beard grooming oil
39. Weighted blanket
40. Towel set
41. Sunglasses
42. Perfume
43. Watch
44. Retro handheld game console with 400 classic games
46. Battery power bank
47. Desk mat
48. Aged whiskey
49. Monthly coffee box subscription
50. Gym duffel bag
51. Work briefcase
52. Robot vacuum
53. Leather Airpods case
54. Men's skincare set
55. Standing desk
56. Jogger pants
57. Watch organizer box
58. Swim trunks
59. Carry-on luggage
60. City bike
61. Running shoes
62. Customized leather card holder
63. Leather jacket
64. Whiskey decanter
65. Gourmet hot sauce set
More Holiday Gift Guides For Him: