Your dad never runs out of corny jokes, he is the funniest guy in the family. Surprise dad with quirky gifts this Father's Day. No better gifts beat the unusual, gag gifts that he will be happy to use. We have brought together a list of 15 funny gifts for dad below. These hilarious picks are packed with a lot of fun and they are actually functional. See dad cracking up when he opens his Father's Day present. From banana deodorizer to pooping tea infuser, and other gag products added with a touch of quirkiness. Our quirky Father's Day gifts are the perfect gifts to bring him a good laugh this year.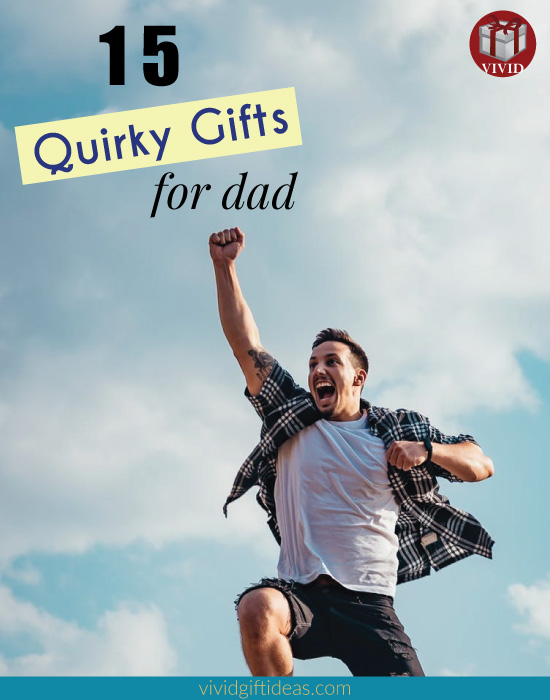 Quirky Gift Ideas for Dad
Let's start our list of quirky, fun Father's gifts with this unique face planter. Place it on your dad's desk with a small plant to liven up the area. It is more than a pot for your plant. The smartly designed nose and ears can hold your dad's reading glasses. You can also give the blank face a personality. Use a dry-erase marker to draw a silly face to make your dad smile when he looks at it.
Give your dad his very own mug to use. Tell him he is an amazing dad who is made up of so many nutritional values like 100% guidance, 110% hard work, 500% caffeine, and a significant amount of dad jokes.
You can't go wrong with this cute keychain. It is a small and quirky Father's Day gift for the world's best farter. Oops, I mean father.
For the dads who love football. This pair of socks will become his favorite pair to wear when it's the football season. Please read the message. Nobody can disturb the guy who is doing some serious business — watching his favorite team playing football.
5. Boot Bananas Original Shoe Deodorisers
If you constantly feel the presence of the "life-threatening" invisible green gas around your dad's shoes, these bananas will be your savior. It is a winner for combating the extreme odors found in footwear. These bananas have an amazing combination of active ingredients to neutralize odor, absorb moisture, and provides long-lasting fragrance to any shoes, even the sweatiest and smelliest of sports shoes.
6. Social Distancing Gag Wine Glass
With the on-going pandemic, you might not get to see your dad on Father's Day. Send him this trendy wine glass to use on this special quarantine period. It will cheer him up when he is spending time alone away from the crowd.
A must-have gift for elderly dad who has retired. It is important to stay cozy when he spends most of the days at home. Whether he likes Mexican food or not, he will be going to love this taco wrap blanket. It is made of eco-friendly fleece fabric that feels super soft and light. This blanket is available in different sizes to keep you warm and comfy at home.
If your dad is a tea lover, you got to get this for him. This silicone infuser will take his tea-drinking game to the next level. We are not shitting you. It is the funniest tea accessory that is not only awesome-looking but also very useful when you are making tea using loose leaves. And, yes, it is approved by many tea drinkers on Amazon.
For the big ice cream eater at your home. Give him this huge ice cream bowl to enjoy his favorite dessert. It comes with a 7-inch long shovel spoon to shove all the delicious frozen cream into his mouth.
10. GetBullish Ridiculously Motivational Pen Set 
When your dad says he wants nothing, get him something inexpensive and quirky that will be happy to use. This set of five ballpoint pens have fun, motivational messages to keep him going at work.
This is the purr-fect quirky gift for the dad who loves cats. This cat paw opener is so cute and solid your dad will look for it every time he is trying to open a bottle.
Who doesn't love lobster pants? Maybe it is not for you who has a shellfish allergy.
A funny gift to make dad smile when he has a hard time at work. It is a whimsical box containing 50 inspirational affirmation cards focusing on the working world. Place it in the office, take it out to read when you need a little pick me up. Witty and hilarious. These cards boost positive thinking to brighten up your day.
14. Dad Jokes Book
The funniest guy in your house needs to up his dad jokes game. Once you give these books to him, be prepared to get more laughter or maybe more embarrassment in the future.
14a. A Daily Dose of Dad Jokes
For anyone who needs a good laugh. This book is packed with a year's worth of laugh. 365 really funny jokes to make your eyes roll, groan and then make you smile.
14b. Exceptionally Bad Dad Jokes
If you are not afraid of facing awkward moments, then we highly recommend you to get this book for your dad to learn more bad jokes, exceptionally bad dad jokes. They are so awful, but so hilarious your dad will laugh so hard.
15. These Cards Will Get You Drunk Adult Drinking Game
One of the best funny Father's Day gifts from adults. When you have all grown up to be the older children and you want to have some fun with your dad, the adult way. Get this drinking card game to play this Father's Day. Compete, vote, and screw your siblings over with 100 dynamic cards. No more boring game nights. It is super fun and will get everyone drunk as promised.
That concludes our list of quirky Father's Day gifts. I hope these gifts make your dad crackle. Thanks for reading!
More Funny Gifts for Dad:
Follow us on Pinterest to see more unique gifts for dad.