The holidays are approaching. It's time to start thinking what to buy for your boyfriend to make him feel extra special this Christmas. Because your bae is such an important man in your life, he deserves to get an extra thoughtful Christmas gift filled with love from you.
This Christmas, give him a unique present that he really wants. Show how much you care by selecting something seriously cool and meaningful your SO will appreciate. Let us help you to lessen the holiday shopping stress with the list below. Featuring more than 30 men-approved gifts for every type of boyfriend. From men's accessories, home décor, tech gadgets, practical stuff loved by guys, to sentimental couple items. These gift ideas are sure to impress your boyfriend this holiday.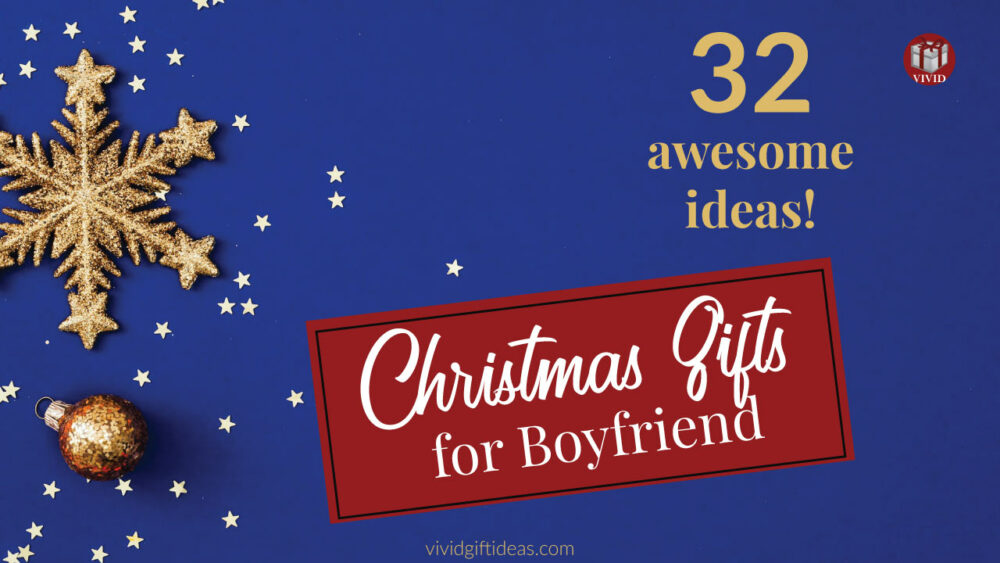 Waste no time, read now and discover most thoughtful gifts for boyfriend.
Meaningful Christmas Gifts For Boyfriend
1. TRIO & TRIO Max Portable Laptop Monitor by Mobile Pixels
Surprise your boyfriend with an awesome tech gift that will boost his productivity level. Gift him with this portable external monitor to make his working life easier. Simply attach it to the back of your laptop to expand the view.
This monitor is easy to connect, light, and easy to carry around. Whether he is a working professional, student, gamer, writer, or entrepreneur, this monitor is the perfect gift for him this Christmas.
Looking for a thoughtful Christmas gift that your boyfriend will actually use? Give him this quick heating mug warmer. Warm up his coffee, warm his heart. He will thank you for making sure his coffee is always hot in the cold winter days.
A meaningful gift for your SO this holiday. Play with the 150 cards to engage in conversations with him. Get connected and deeper understand each other across multiple topics like family, intimate memories, future plans, and more.
4. SOOCAS Electric Razor for Men
Good quality men's grooming products are must-haves for guys. This powerful multifunctional shaver is a popular gift approved by men. It is equipped with 4 different function heads for his facial care needs.
From close shaver, to sideburn razor, nose trimmer, and facial cleansing brush. This waterproof grooming tool takes care of every detail of your hairstyle.
A functional and cute Christmas gift your boyfriend will love. This adorable toast is a LED night light with its legs act as a stand holder for your smartphone. You can switch between single or double-sided light to serve as a night light or backlight for bedtime phone playing session.
6. Custom Magnetic Couple Bracelets
You can also get matching couple stuff for your bae. It's a romantic Christmas gift to show how much you care for him. These magnetic couple bracelets are super trendy this year.
Each bracelet comes with an attraction ball that will stick together when a couple gets close to each other. You can also customize your own message to make this present extra special.
7. The 5-Ingredient Cookbook for Men
Whether he enjoys cooking or just starting out in the kitchen, this cookbook will impress him with the simple, easy-to-follow, and delicious recipes.
8. Baseus True Wireless Earbuds
If you are looking for an affordable tech gift for guys, this wireless earbuds is an excellent choice. Features new Bluetooth 5.2 version that covers wider connection and provides smoother music playback. The secure fit in-ear design makes it stays in well. It is also light and comfy to wear for long hours.
9. Bob Ross Ugly Christmas Socks
Be sure to get something awesome to celebrate Christmas with your boyfriend. This pair of socks features Bob Ross with his paint brush. It is funny and Christmassy. A perfect sock to adds some holiday spirits to your outfit.
10. Bottle Opener with Fridge Magnet
Shopping for his Christmas stocking, too? Pop this camper van bottle opener into his sock and he will be happy to use it every time he needs a beer.
11. Naughty Sayings Keychain for Boyfriend
Special naughty Christmas gift for your boyfriend. He is going to love this keychain.
12. Best Boyfriend Of The Year Mug
Even the pickiest guy will appreciate this mug because he has just named the "Best boyfriend of the year".
Another thoughtful couple gift loved by many. Be a helpful partner to your boyfriend. Take your relationship to the next level by making your date nights more exciting.
14. Skagen Aaren Colored Watch
Watch is a classic holiday gift for boyfriend. Your boyfriend will love this vibrant green silicone watch by Skagen. It is inspired by the nature and wild world around us.
Modern, minimalist, and playful. It's available in a fun range of color from black and white to yellow, blue, red, and orange.
15. Amazon Essentials Men's Fleece Sweatshirt
Cozy gift for the boyfriend who won't sacrifice for comfort. This fleece sweatshirt will become his go-to outfit for this winter and the coming spring.
16. Custom Engraving Leather Messenger Bag
Leather goods is another men-approved gift for holiday. Your SO will appreciate this stylish briefcase messenger bag. It is solid, well designed, and spacious. And, you can add personalized engraving to the front or inside the bag.
17. Watch Box Organizer For Men
If your S.O. likes to keep things organized, this beautiful box organizer is perfect for him.
18. Tiki Toss Desktop Hook and Ring Toss Game
A functional desk decoration for the working professionals. There is a good chance he will place this in the office and play with it when things gets stressful.
(Read also: 23 Best Zen Office Decor Ideas For A Peaceful Mind)
Practical gift for boyfriend who has everything. Help him to stock up on underwear. Leave the plain, boring one aside. Let's get this funny boxer shorts for Christmas.
The material is comfy, the color is bright, and the graphic will make him LOL.
Add some quirkiness to his room. Get these little guys to hold live succulent. They will definitely brighten up the space.
Give him a personalized gift . It is another meaningful gift for men. This slim wallet is made of split cow's leather with multiple slots perfect for everyday use.
A heartfelt Christmas gift for long-distance boyfriend. Insert a memorable photo that reminds him of the good time you spent together. He will think of you every time he looks at this picture frame.
23. 50 Reasons I Fell In Love With You
A sentimental gift to touch your boyfriend's heart. Show your affection, write down your thoughts, and express how in love you are.
24. Shiatsu 4D Kneading Massager
Give the gift of comfort this holiday. Give him warm and relaxing massage on neck, shoulders, and back. This massager has 8 shiatsu kneading nodes with infrared heating to improve blood circulation and relieve muscle soreness.
25. HulaFish Waterproof Picnic Blanket
An extra large picnic blanket to share with your loved one. It has lined bottom with extra cushioning to protect your outdoor experience from dampness, sand, or rocks.
(If you like to picnic and outdoor date ideas, read also: Romantic Picnic Packing List For Two)
26. Desktop Boxing
Add this useful desk accessory to his office. When his work gives him much pressures, he can beat the stress out with this mini punching bag. It comes with a pair of tiny boxing gloves for his pointer fingers.
Also, your boyfriend will enjoy reading the fun mini book filled with basic finger boxing moves.
27. Stud Beanie Hat
Winter accessories is a must-have for fashion-conscious men. Help him to update his closet with this cool-looking beanie hat. It looks sharp, trendy, with a hint of rebel.
28. KKV Compact RGB Mechanical Gaming Keyboard
For the guys who love gaming. This mini mechanical keyboard gives you more space on your desk to move mouse and other gaming gadgets. It is ergonomically designed to give you the most comfortable hand feeling. Because of its smaller size, less hand movement is required and finger fatigue is minimized even after prolonged use.
29. Pop Game Controller Shape Fidget Pack
Playing game is fun until you're becoming too obsessed and forgetting you have a girlfriend. Get this pop fidget toy for your gamer boyfriend. It will help switching his attention away from the games.
This is also a good stress-relief toy for adults to calm the mind and gain more focus.
30. BALEAF Men's Cotton Joggers Pants
Yeah, your guy probably needs an extra sweatpants that can be doubled as pajama pants.
A good-quality backpack with sturdy construction, padded laptop compartment, and multiple organizer pockets is perfect for school, travel, and outdoor adventures. It's a practical present for every type of guy.
32. INSMY Portable Bluetooth Speaker
Another tech gift approved by guys. This speaker is waterproof, loud, and portable. Bring it to camping, kayaking, party, beach activities, or outdoor adventures to enjoy immersive 360-degree sound with rich bass.
33. Wallaro Premium Leather Phone Card Holder
Here's a cool little gift that men really want. A slim, minimalist leather case that is compatible to every smartphone. It is made of rich leather that's durable and good-looking.
Stick it to the back of your phone to hold your ID, cards, and cash. No more carrying bulking wallet when you are going out.
34. Pecosso 4000mAh Battery Portable Blender
This blender is small and that's its beauty. It is incredibly convenient; powered by large rechargeable battery that provides strong crushing and blending power.
Make delicious smoothies, healthy protein shakes, juice, and milk shakes anywhere you like.
35. Chic Republic DETOX Facial Cleanser
Here's a pampering gift idea for men who have sensitive skin. This 100% natural facial cleanser is packed with calming rooibos tea, white tea, green tea extract, and activated charcoal.
It is good at cleaning clogged pores, drawing out impurities, soothe skin irritation, and shield your skin  from everyday environmental factors.
36. AlphaBeing Inflatable Lounger
If your SO loves spending time outdoor. Gift him with portable air sofa. It is lightweight, easy to set up, and strong enough to support 400lbs. Also, it is very spacious for couples to relax with maximum comfort.
That concludes our this year's holiday gift guide on 36 Thoughtful Christmas gifts for boyfriend. Have a happy Christmas!
More Unique Gift Ideas For Boyfriend:
Cool and Unique Gifts for Your Boyfriend This Christmas | 15 Christmas Gift Ideas for Teenage Boyfriend | Holiday Gift Guide for Long Distance Boyfriend  | 65 Stocking Stuffers for Men – Small Gifts to Surprise Him | Christmas Gifts For Boyfriend: 40 Best Gifts For Men