Finding the perfect Christmas gifts for boss made easy with our gift guide here. We have put together 17 fun and creative gifts that are appropriate to wish your boss a happy Christmas. Suitable for both male and female boss. These gifts are all under $50 — yes, we make sure they won't burn a hole in your pocket.
Scroll down to discover now!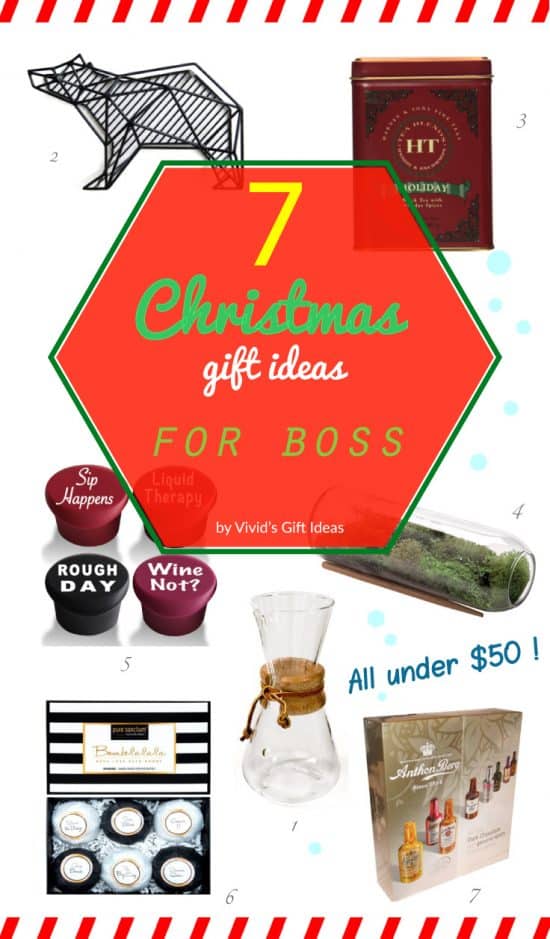 Perfect Christmas Gifts for Boss
1. Beautiful Hardcover Journal
A pretty notebook like this will be useful to your female boss. The flexible faux leather cover embellished with gold dots will make her happy.
2. Marble Wireless Charging Pad
This black marble charging pad looks classy on any desk. It allows your boss to charge his/ her phone in style.
3. Chemex Pour-Over Glass Coffeemaker
For the boss who enjoys good coffee. This is a fantastic coffeemaker loved by many. Its simple pour-over design retains the best of the coffee's aroma and taste.
4. Inspirational Scented Candle
Something motivating for her. This candle is infused with positive vibes and a sense of humor.
(You might wanna check out these 16 inspirational mugs)
Get him ready for the Christmas with this snowflake cufflink. It is definitely fun to wear during the holiday season.
6. Zodiac Constellation Trinket Dish
A thoughtful gift for the astrology-obsessed women. Add some twinkle to her dressing table with this adorable dish. Find out her horoscope and we are sure this gift will impress your boss.
A cool bear organizer to organize your stuff with style. It can be placed on the desk or hung onto the wall to store mails, folders, notepads, magazines and more.
It is a cute and functional gift perfect for men and women.
Give your boss a green plant to make his office looks fresher and livelier.
9. Brümate Imperial Pint Stainless Steel Travel Mug
Something glitz and glam perfect for the holiday. This glittering, shimmering mermaid colored mug will help you score some points.
A delicious holiday blend tea to bring joy and warmth. It contains fine blend of black tea infused with citrus, almond, clove, and cinnamon. It is flavorful with a lovely hint of spices.
11. Bejeweled Christmas Ornament Earrings
Because she really really loves Christmas.
12. Americanflat Omala Cotton Blanket Throw
Another great Christmas gift for boss — keep him/ her warm all winter long.
Something green for the desk. A mini moss garden that you can customize to suit your mood. Fun to see, easy to take care of. A unique desk decoration for the executives.
If she talks about her cats all the time — this mug will definitely make the cat lover in your office happy.
Skincare like lotion, lip balm and bath products are great Christmas gifts for a female boss. This luxurious bath bomb set makes a decent choice. Box of 6 fresh fizzies crafted with natural essential oils. Indulge in a spa filled with lovely floral scent to relax your mind and soften the skin.
Something fun for your boss this Christmas. A set of 4 bottle stoppers with funny statement. Made of 100% food-grade silicone with an air-tight seal. They are cute and functional to keep drinks fresh for long.
17. Fames Chocolates Dark Chocolate Assortment Gift Box
Good food is always welcomed. Your boss will appreciate this box of premium quality chocolate by Fames Chocolates. 15 exquisite assortment of handcrafted chocolates filled with berry, coffee, coconut, and hazelnut truffle. These chocolates definitely taste amazingly rich, smooth and yummy.
That ends our list of appropriate Christmas gifts for boss. Thanks for reading. Have a Merry Christmas and a Happy New Year!
More gifts for boss:
Follow us on Pinterest!