Surprise your dad this Christmas with a thoughtful present that he really wants. Although he always insists that he wants nothing when you ask him about his wish list, you can still find something that your dad doesn't "need", but would actually use.
We have rounded up 30 great gift ideas for every type of dad. Whether he is into tech gadgets, loves making silly jokes, a beer lover, or a man who claims he already has everything, these presents will delight him. These holiday gifts approved by men are cool, practical, and budget-friendly. They are fantastic items to steal your daddy's heart this holiday.
Disclosure: This post contains products that I personally like and may contain affiliate links. I get commissions for purchases made through links in this post, at no cost to you.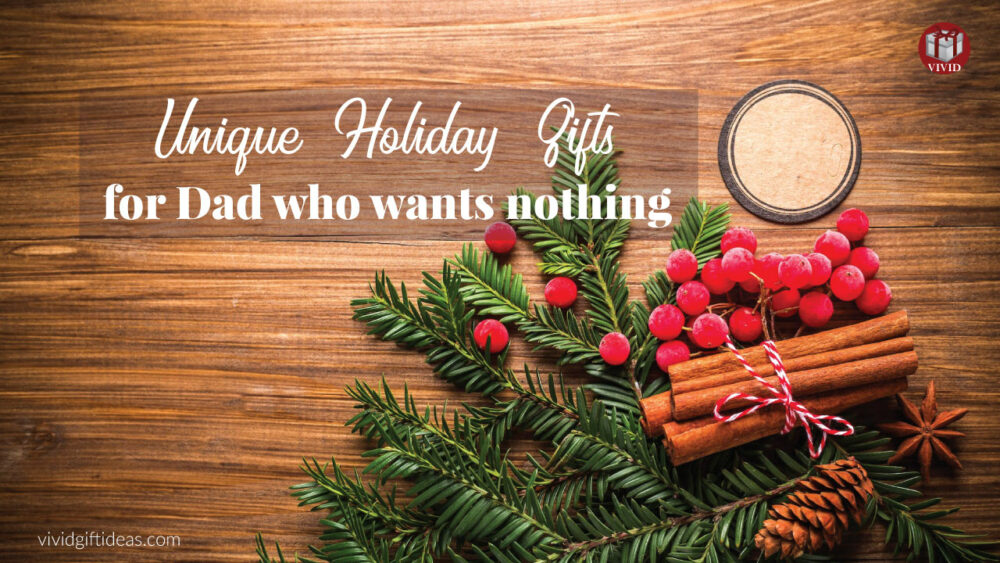 This Year's Best Christmas Gift Ideas for Dad
1. World's Best Dad Small Hammer Multitool
A special gift for the dads who can fix everything. This 12-in-1 tool offers a quick fix to small repairs around the house. It is a compact tool that's versatile and sturdy. Dad can always bring it in the car, hiking, or camping just in case he needs to fix anything.
This zebra can hold your dad's glasses perfectly on his desk. It is beautifully hand carved with natural solid wood.
A personalized dad gift for your best farter, I mean the best father ever. Get your camera ready and record down the epic moment when your dad opens up his Christmas present.
4. Dad Jokes Holiday Edition: Yule Love Them!
May your Christmas be punny and bright. Celebrate the holidays with a lot of bad jokes from your dad. Everybody might roll their eyes but your dad is definitely going to love these jokes!
(Read also: 15 Quirky Gifts to Make Your Dad LOL)
5. Rymek Typewriter Style Mechanical Keyboard
Since he already owns a basic wireless keyboard, up his game. This keyboard is inspired by the mechanical keyboard and vintage typewriter. It blends classic design with ultra-modern features. This retro keyboard supports both Bluetooth wireless and USB wired connections. It is also compatible with Windows, Mac, iOS, and Android system.
6. The Complete Kombucha Brewing Starter Kit
When your dad says he wants nothing for Christmas, give him a good food gift. Now, he can brew his own healthy kombucha. Just follow the easy instructions and make your kombucha in different flavors.
Even the father who already has everything will appreciate this massager. It offers a deep kneading massage to relax your muscle. The advanced heating function promotes blood circulation and relieves body aches.
If your dad loves his coffee hot. This coffee warmer will keep his beverage warm all day while he works.
Papa bear deserves to get these comfy slippers to keep his feet warm this winter.
This multipurpose grooming kit is a great gift that dad would actually use. It comes with different trimming attachments for grooming your beard, nose, ears, face, and eyebrows.
11. Skagen Aaren Colored Silicone Watch
Add a pop of color to his wardrobe. Inspired by the brightly colored townhouses of Copenhagen's Nyhavn district, this watch is filled with young, modern, and playful vibes. The minimalist face and vibrant color of this watch will brighten up your day.
12. I Didn't Fart Funny T-Shirt
If you want to get a funny gift to make your dad laugh, this T-shirt won't disappoint you.
Impress the men who want nothing with this inflatable lounger. This air lounger chair allows him to relax comfortably anywhere he wants. It will become your dad's favorite companion to the next hiking, beach, fishing, or camping trips.
14. Knock Knock Productive AF! Pad
A cheap and helpful notepad to help your dad to be productive AF.
15. Customized Whiskey Decanter Set
This gorgeous decanter set with engraved whiskey stones and wooden gift box is something your dad will treasure for years to come.
A sentimental gift for dad from daughter —  a keychain to tell dad how much you love him.
17. eos UltraProtect Men's Shaving Cream
Even when your dad says he doesn't want anything, he still needs his men's grooming stuff. Get him a good shaving cream this holiday. It is a cheap and useful item that every man will appreciate.
18. The Don't Laugh Challenge – Dad vs. Kid Edition
What is the best gift for dad from kids? What dad really wants for Christmas is to have a fun time with his family. Get this joke book and get lots of laughter. This is not the ordinary joke book, it is a seriously hilarious game to be played between families and friends.
A meaningful gift for dad from son. Tell him how much you appreciate what he has done and you will always love him.
20. Kenneth Cole REACTION Men's Indy Boat Shoe
Men appreciate good leather products. This classy boat shoe is loved by men. It will become your dad's new favorite pair when spring comes.
21. COMISO Waterproof Bluetooth Speaker
A great tech gadget approved by men. This affordable speaker gets thousands of good reviews on Amazon. It has a super long battery life, powerful, and waterproof. Now, your dad can jam out to his favorite songs wherever he likes.
22. tomtoc 360 Protective Laptop Sleeve
If your dad needs to carry his laptop everywhere. This sleek and slim laptop sleeve will protect his laptop.
23. Amazon Essentials Men's Quarter-Zip Polar Fleece Jacket
A comfy sweatshirt is one of the best gift ideas for a dad who wants nothing. Help him to upgrade his wardrobe with this stylish fleece jacket. It is soft, warm, and really good-looking.
24. Wonderful Holiday Time Beer Can Glass
Cheers to the most wonderful time of the year. If your dad loves beer, this beautiful glass is perfect for him to enjoy his favorite beer this holiday season.
25. War Thanos Gloves Bottle Opener
The coolest way to open his beer bottle, this bottle opener is nicely weighted and solid. It is an awesome find for the Avenger fans.
26. Clocky Alarm Clock on Wheels
If your dad is a heavy sleeper, this alarm clock will help him wake up on time. It will beep super loud and run away until it is caught.
27. LapGear Home Office Lap Desk
Your dad probably works from home most of the time this year. Upgrade his work-from-home setup. This lap desk will improve his work environment by allowing him to work comfortably on his favorite sofa.
28. Potty Putter Toilet Time Golf Game
When your golfer dad tells you he doesn't need any present, surprise him with this putting green. Toilet time gets more exciting when he can practice his favorite game. A must-have for all golf lovers.
29. MiiXR+ PLUS Protein Shaker Bottle by PROMiXX
If he is the guy who takes his fitness goal seriously. This electronic mixer bottle will make him happy. It is small, portable, and versatile. It comes with a 1600mAh battery. Now, he can make super smooth protein shakes and charge his devices at the same time.
30. Charging Station Alarm Clock
Gone are the days when you plugged in your chargers and charge each of your gadgets individually. You will only need one charging station to dock your smartphone, watch, and headphones. Quick charge them simultaneously while keeping your nightstand neat.
That concludes our list of Best Christmas Gifts for Dad Who Wants Nothing. Thanks for reading.
More Cool Gift Ideas for Dad: