We have hunted down 18 best gifts for the fireman and firewoman in your life. Firefighters are the unsung heroes who risk their lives saving people from fire hazards and other dangerous situations. Every day, they run into danger from putting out fire, carrying the victims out from an accident scene, and rescuing a tiny kitten stuck on a tree. They are brave people who deserve a great gift for the awesome works they have done.
Show appreciation to the firefighters in your life, make them feel warm after putting their lives on the line at work. After all, our heroes are normal human beings who also need to be loved and pampered.
Below are some cool gifts to make firefighters happy. They are the perfect treat on a special occasion like firefighter graduation, Christmas, or the firefighter's birthday. Keep reading to check out our top picks for the firefighters.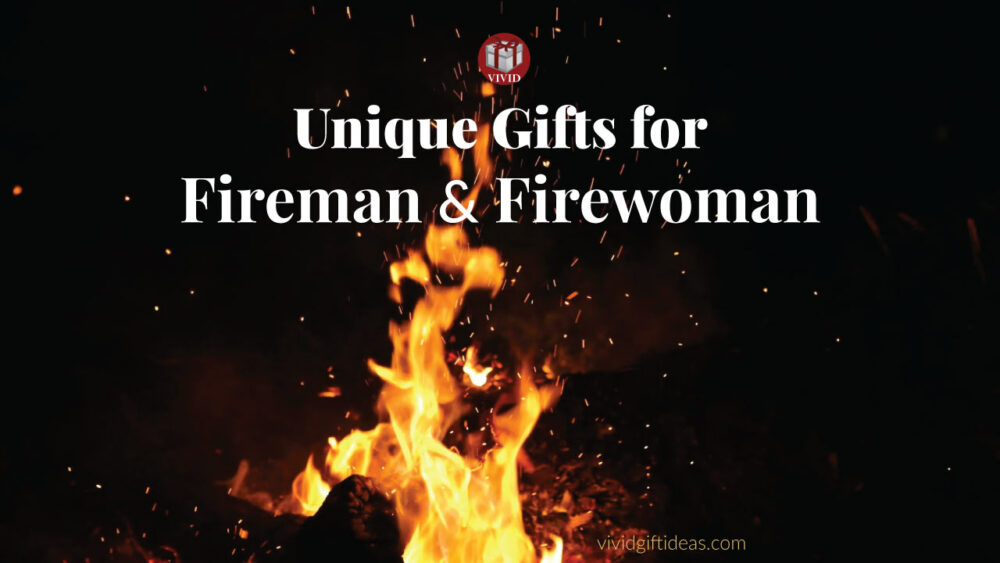 Unique Gifts for Firefighters
We all know that firefighting is a high-risk job. This distressed-style wood sign reads the prayer of the fireman. It is powerful and inspiring. It will give them the courage and strength that they need. A thoughtful gift that fireman and firewoman will appreciate.
2. St. Florian Firefighters Coin
A small appreciation gift for the brave hearts. This sentimental keepsake coin features the image of St. Florian, the Patron Saint of Firefighters, on one side. On the other side, it has a prayer to protect your fireman.
For Firefighter Dad
3. Firefighter Parking Only Parking Sign
When you are looking for something funny to make your fireman LOL, you can't go wrong by placing this sign on his usual parking spot.
4. Custom Name Fireman Pint Glass
If you are looking for personalized gifts for firefighters, why not give your firefighting dad this beautiful pint glass engraved with his name? Because his work is mentally and physically exhausting, it would be relaxing for him to enjoy some beers in his own glass after work.
5. Fire Department Bottle Opener
Inspired by the color palette and style of the fire department, this wall-mounted bottle opener is sturdy and functional. Mount this on the kitchen wall for firefighter dad to uncap their bottle of beer with style.
This idea is also perfect for the crew. It's fun and inexpensive. If the fire department is holding a holiday gift exchange this could be a fun idea for the exchange.
6. Cuff-Daddy Fire Extinguisher Cufflinks
Your firefighter dad looks handsome in his uniform. For special occasions when he ditches the uniform for a dressy suit, make sure he looks sharp with this pair of cufflinks. It's not just any random pair of cufflinks. These cufflinks are little fire extinguishers — a nod to their firefighting career.
For Female Firefighters
7. Best Firefighter of the Year Mug
A meaningful gift to give the female firefighter because she who saved many lives deserve this mug.
She won't be able to refuse this pretty floral planner. The life-saving girl definitely needs a proper notebook to keep her life organized. And this firefighter gift will help her to do just that — plus the floral design of the cover looks really pretty.
Another cool firefighter gift for her. Your firewoman can wear this pair of cute earrings when she is off duty.
10. Firefighter Adult Coloring Book
This is a fun coloring book filled with firefighter themed jokes and quotes. It is an inexpensive stress relief gift that will make them smile. This gift may be cheap but it packs hours of harmless fun. Get a box of coloring pencils to go along with the book. The firefighting men & women will definitely love this unique present.
For New Firefighters
11. Ergodyne Arsenal Firefighter Gear Bag
Let's take a look at this practical firefighter graduation gifts that they can actually use. This super-tough bag has more than enough room for storing the fire gear.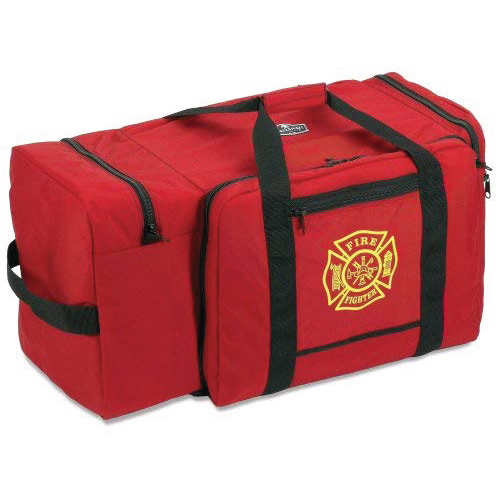 12. Fireman Porcelain Coffee Mug
This ceramic mug is perfect for him to enjoy his favorite beverage. This idea is versatile. You can give this as a welcoming gift or to congratulate a new firefighter for joining the fire dept. It is also a great gift for the firefighter's promotion. This mug is also a perfect retirement gift for the men & women in firefighting.
See also: 17 Funny Mugs For Work
13. Pine Ridge Fire Department Coasters
If they like to have some friends to hang out at their house, get these rustic, beautifully detailed coasters to entertain the guests.
A simple and nice gift for firefighter graduation. This black-inked pen glides on smoothly and it has a stunning fire department Maltese Cross design on it. This is definitely a nice gift that the firefighters will surely appreciate.
This pen is also suitable for events like firefighter's retirement or farewell (transfer, career change etc).
For Firefighter Boyfriend
You can't go wrong with this keychain that carries a message to remind your firefighter to stay safe. This inexpensive item is a great just-because gift for your firefighting SO. The words "Be safe. I need you here, with me" are engraved on the tag. It is something sweet and meaningful for your boyfriend who is an aspiring firefighter.
This sock is so soft and so heartwarming at once. It is written with the perfect description of all that a fireman is.
17. Fire Alarm Emergency Flask
We all know there is this guy who needs this fire alarm emergency flask. It will come in handy when he needs to unwind.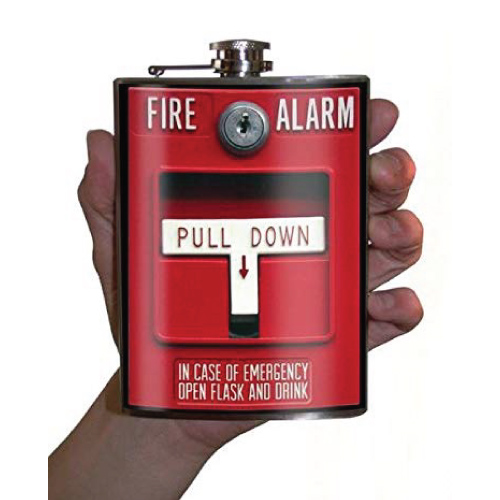 18. Fire Hydrant Storage Container
How cool is this metal water hydrant that can be used as a storage container, garbage can, or a puppy pee post? This container definitely has its practical uses. But at the same time, it's also a novelty/ gag gift. Get this bad boy for someone who has a sense of humor.
Did you manage to find a good firefighter gift from the list of ideas above?
Gift Guide Details
The Firefighter Gift Guide Are For…
Your boyfriend, girlfriend, husband, wife, mom, dad, grandma, grandpa, best friend, crew, team members, neighbor, cousins, siblings.
Target Reader
Friends, family members, and coworkers who are looking for a unique gift for one or more firefighters. Perhaps you're the firefighter's girlfriend, boyfriend, wife, husband, mom, dad, grandma, grandpa, sister, brother, best friend, cousins. You could also be the supervisor or team lead looking for a simple appreciation gift for the crew while keeping the team budget afloat.
When (Occasions)
Graduation, birthday, Christmas, just because, employee appreciation, staff appreciation.
Articles related to "Firefighter" and "Gift Ideas"
Share this article