Looking for unique gift ideas for college-bound boyfriend? Here, we have a list of 19 best going away to college gifts for boyfriend that are thoughtful, fun and cool. From college essentials, dorm room decorations, attires, school supplies and more. These presents are perfect for sending off your boyfriend to college, with love!
Going Away to College Gifts for Boyfriend
These off-to-college gift ideas are perfect for guys!
1. I Carry Your Heart with Me Necklace Set
Let's start the list of going away to college gifts for boyfriend with this lovely necklace & keychain set. Engraved with a sweet message, it is designed for the couple in love.
Greet him a very good morning every day. A heat-resistant ceramic mug with lid. 17 oz capacity. Great for morning coffee!
Because love is greater than distance.
Useful school supplies for college. This cool ninja is ready to store his documents, music, videos and more. Big storage space, fast transferring rate. A fantastic tech accessory for guys.
5. Cooking Through College: When You Can't Stand Instant Noodles Another Day
He will thank you for this when he is sick of ramen, sandwiches, greasy pizza, and Chinese take-out. This is a good college cookbook with quick and easy recipes. The recipes are healthy and delicious. Preparing these meals don't require long cooking time and it won't break the tight budget of college students.
The bedding for the long distance boyfriend who is at the college.
7. You are MUSIC to My Soul Guitar Pick 
A gorgeous guitar pick for the boyfriend who loves music. Made of aluminum, hand-stamped with cute quotes.
8. Forbidden Fruit Boxer Shorts
Make him laugh with this funny boxer shorts. Rich colors, hilarious graphic. Made of soft cotton that he will love.
Provides him with extra power on the go. Make sure he never miss a call from you because of low battery. Get him this cool-looking monster battery charger. Huge capacity of 10000mah to charge his smartphone, laptop, and other devices. Makes one of the best going away to college gifts for boyfriend.
8. Herschel Supply Co. Chapter Travel Kit
A nice travel bag for him to keep his shaver and toiletries. Solid construction, roomy, useful. Features a convenient carrying handle and an internal mesh storage sleeve.
Make every moment count with this beautiful watch by NEFF.  All black design, minimalist style. Looks classy and fashionable.
10. School Supplies
More school supplies for the college guys.
11. Firerose LED Illuminated Mechanical Gaming Keyboard
A solid and cool-looking keyboard that guys love. Ergonomic design, powerful performance, tactile and clicky feedback perfect for typing and gaming. The chromatic breathing LEDs improve visibility in low-light condition. The rainbow effect definitely looks awesome.
12. UIN Men's Morning Canvas Loafer
He will definitely need a pair of comfy shoes for college. We recommend this colorful loafer. The geometric art looks really cool and edgy.
13. GOgroove Hand Crafted Bluetooth Speaker  
70s retro-style speaker that looks fantastic for a guy's room. It is a handcrafted piece of art made from a solid piece of walnut wood. Modern and powerful. Deliver crisp, acoustically natural sound.
Statement tee for the dudes. Black and white design.
15. Justice League Pajama Pants
Comfortable pants to lounge in the dorm. Features treasured artwork developed in the golden age of comics. Clear graphic with bright colors. He will definitely love it!
16. Tomons Scandinavian Wood Desk Lamp
College dorm decor – a classic-looking desk lamp with an adjustable arm. When solid wood meets iron, it is super stylish and sleek.
17. Long Distance Relationship Keychain
A small and meaningful gift for your boyfriend who is going away to college.
Back to back classes, part-time job, club meetings are exhausting. Your boyfriend will definitely need loads of caffeine to keep up with the busy schedule. Get him this marble pattern mug to sip his favorite beverage while busy rushing from place to place.
Keep him warm during the cold days. This pullover argyle-pattern sweater by Dockers makes a wonderful choice. Nice colors, good quality, soft. He will definitely appreciate how caring his girlfriend is.
That concludes our list of best Going Away to College Gifts for Boyfriend. Thanks for reading!
Follow us on Pinterest to see more great ideas!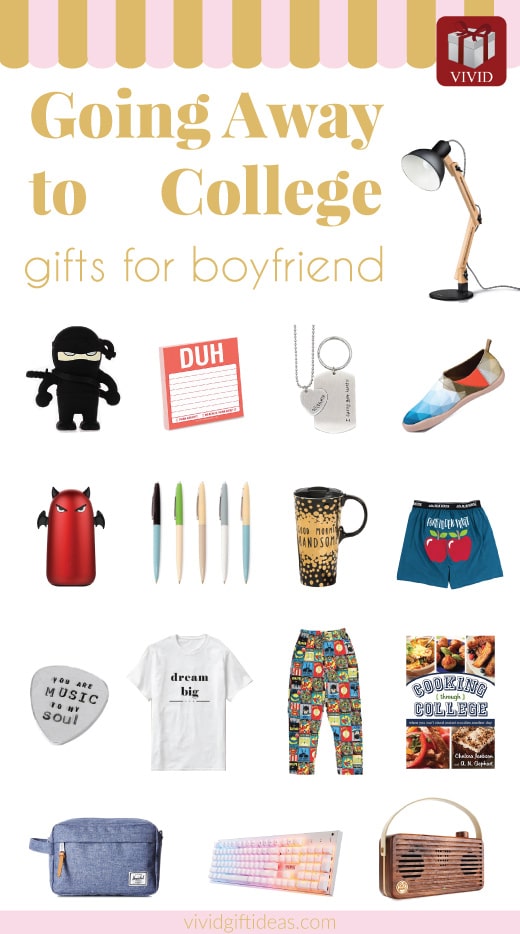 Boyfriend Gifts
18 Graduation Gifts for Boyfriend
18 Valentine's Day Gift Ideas for Boyfriend