List of 25 cool and functional gifts for the guys who are going away to college. From college supplies, electronics to dorm room decorations and more. These going to college gifts gonna be helpful to the freshmen, sophomores, and even the seniors. They are perfect gifts to send off your boyfriend, son, or brother who is going away to college.
Off to College Gifts for Him
1. Stylish Messenger Bag
Let's start our list of going to college gifts for guys with this beautiful classic-design messenger bag. Made of durable canvas and cowhide leather. This bag is well crafted with a nice design. It has a spacious main compartment and several pockets for easy organizing. This is a great bag for college boys to carry to classes and running errands.
More of a backpack person? These stylish backpacks are perfect for college classes.
2. Columbia Liberator Retro Cruiser Bike
His perfect ride around the campus. Eye-popping vintage military designed cruiser strong enough to hit the roads and up the hills.
3. Flip Down Desk Clock
Make his dorm room looks cooler. Get him this unique flip-down clock. Quartz movement, operated by internal gear. A clock that tells time with style.
4. College Storage Trunk
The storage trunk is one of the must-have dorm essentials. This 30-inch footlocker with wheels is an excellent choice. Made of durable wood, it is great for heavy-duty use. He can use it to store heavy textbooks, sports equipment, school supplies, and other knick-knacks.
5. Mini Table Dust Vacuum Cleaner 
Compact vacuum cleaner to keep his desk, keyboard, chair or car clean. Small, lightweight and powerful. Clean dust, scraps, and crumbs easily. This is an excellent off-to-college gift for girls too.
6. Portable Foldable Keyboard
Computer accessories make one of the best off to college gifts for guys. This ultra-slim wireless keyboard is going to be a great companion to his laptop, PC, and smartphones.
It has a sleek and smart design that can be folded into pocket size to carry around campus easily.
7. Travel Tumbler
College students constantly need coffee to keep up with their busy schedules. Travel tumbler with an awesome design makes a fantastic present.
Black tumbler added with a sense of humor. Drinking coffee is more fun while pretending it's a beer!
This bright color to-go cup will definitely catch his attention. With handy spill-proof lid and insulate feature, it is an attractive tumbler he will appreciate.
8. School Supplies
You can also help him to stock up school supplies for college.
8a.   Word Notebooks
Notebook with special bullet point design to help organize busy college life while looking simple and stylish.
8b.   Today's Plan of Attack Sticky Note Pad
Cute sticky notes for him to tackle tasks with military precision. Fun and functional. A small and nice going to college gift for him. 
9. Men's Grooming Kit
Men's grooming is practical going to college gift for him. He will appreciate this 8-in-1 hair trimmer. Cordless, versatile and powerful. By using the various guide combs, he can easily shaves, trims and clips his facial and body hair.
10. Magic Cube Bluetooth Speaker
Unique tech gadget for men under $20. This cube-shaped speaker has a colorful design and awesome sound quality.
Main features include 8 hours playtime, long transmission distance, built-in FM radio and built-in microphone enabling hands-free cell phone voice calls.
11. Wireless Charger
College life is going to be busy. From back to back classes, part time job to club meetings, he will be out and running around the whole day. Help him to power up his phone quickly. Just place the phone on the wireless charging pad and it will charge automatically. 
12. Skagen Klassik Men's Three Hand Leather Watch
This gorgeous watch also makes a good off to college gift. The clean, modern, minimalist design suit young men well.
He will also need a pair of comfy shoes. This pair of sneakers by Sperry Top-Sider is a wonderful choice.
Features classic design that never goes out of style. Perfect for college boys.
14. Atomic Age LED Table Lamp
This vintage-style LED bulb makes a cool dorm decor for guys. The bulb mimic protons and the metal wires represent the orbits of electrons.
15. Hand Pen Holder
Add a personality to his desk with this pen holder. Keep your pens, pencils and other stationeries in an organized way.
16. College Guide Books
Books to help him survive through college.
16a.   101 Things To Do With Ramen Noodles
Don't let your boy goes hungry. Get him this recipe book to learn quick and easy cooking with ramen. It is budget-friendly and tastes yummy. Turn that packet of ramen into a gourmet treat!
16b.   The Naked Roommate
Another great read for boys who are going to college. This book provides an insightful look at the everyday life of college students. It covers things that every freshman should know; dorm living, lectures, parties, managing stress, managing money, and more.
17. Sushi Socks
Rock in college with this pair of sushi socks. Fun design, rich colors.
18. Bullsh*t Bull Shirt
Funny statement tee for him. It is not bullsh*t, it is a bullshirt!
19. Sriracha Pajama Pants
Eye-catching red pants to lounge in the room. Featuring the popular rooster logo of Sriracha hot sauce.
20. Oversized Saucer Chair
This foldable chair is a fantastic addition to the dorm room. Wide seat, plushy cushion. A comfy chair perfect for gaming, watching TV, drinking beer and more.
21. Organizer Desk Lamp
This organizer desk lamp is a stylish dorm room decor for guys. It combines desk lamp with multi-compartment organizer. Price under $20.
22. Victorinox Classic Knife
Compact and sturdy tools for the guys. By reliable brand Victorinox. Gonna be useful to him.
23. Columbia Men's Hoodie
Keep him warm and cozy with this pullover. Features simple style loved by guys, this sweatshirt is soft and comfy to wear.
24. Hilarious Laundry Hamper
Another must-have dorm room supplies. A proper laundry hamper for him to store all the dirty clothes and beddings. Big size, cute design. Makes one of the best going to college gifts for boys.
25. High Sierra Pack-N-Go Duffel
This duffel bag is going to be useful when he needs to travel. It is spacious and durable. Features a large main compartment and easy-access pocket at the side. He can use it as a regular duffel or wear it like a backpack.
That concludes our list of 25 going to college gift ideas for guys. Thanks for reading.
Follow us on Pinterest!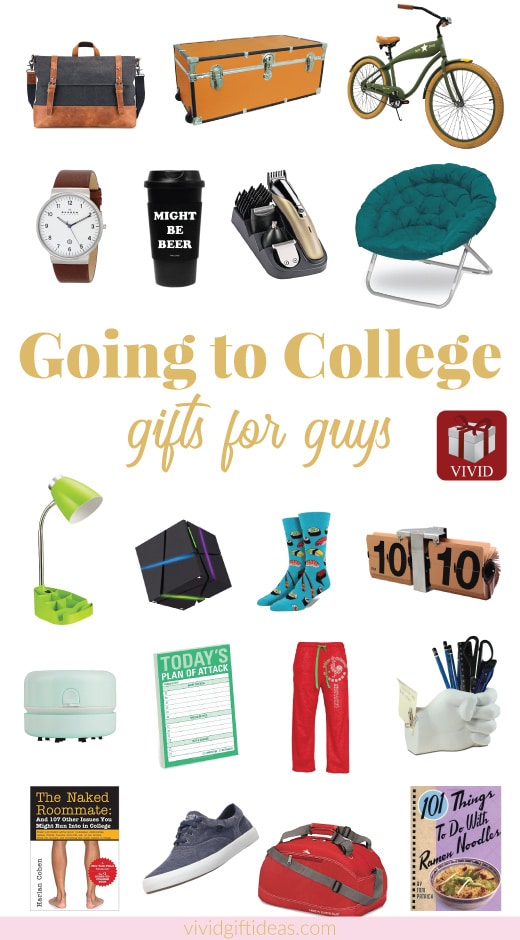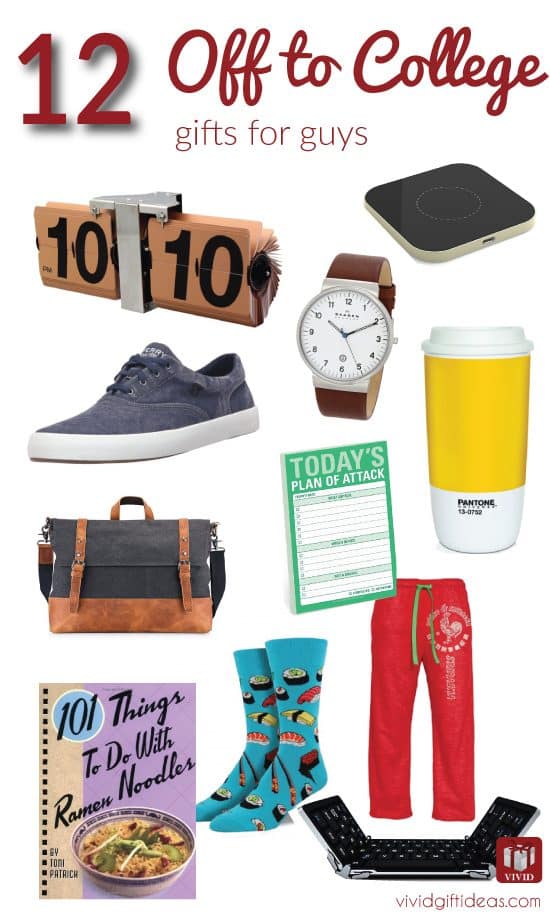 Away to College Gift Guides