Get a thoughtful Christmas gift that your college girl really wants. 'Tis the season for giving. In the spirit of the season, let's start planning and buying unique gifts for every important person in your life. Have a college girl in your life? Here is a gift guide to help you pick the perfect holiday gifts that are on the college girl's wish list. From dorm room ideas, tech gadgets, college supplies, fashion, and more. These are the gifts that every college girl really wants.
Scroll down to discover now!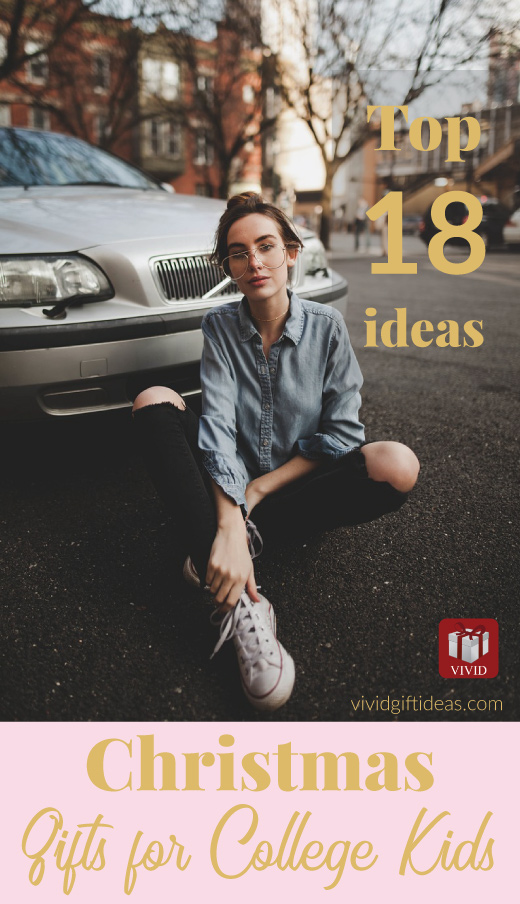 Best Christmas Gifts For College Girls
College Dorm Room Ideas
Stylish dorm decoration is one of the most popular gifts for college students. Help her to beautify her living space with some chic furniture. This pink chair is a wonderful choice. It can move 360° smoothly comfy, has adjustable height, and comfy cushion that provides good lumbar support.
This popular webcomic kitty is coming to wish your college girl a Merry Christmas. It is soft, cuddly, and adorable. Wearing a Santa hat and drinking hot cocoa, it is ready to celebrate the holiday season with everyone.
3. Wake Up and Makeup Wall Art
This hand-painted wall art is another pretty dorm decor for girls. Modern style, beautiful colors. It adds whimsy to her vanity area.
4. Lap Desk 
A marble design school supplies that college students love. This lap desk works as a portable workstation for the college girl to do her works on the bed or couch. She will appreciate this lap desk featuring an ergonomic elevated cushion, device ledge to keep work from slipping off the surface, and a phone slot. It is useful and convenient. Perfect for college students to work in comfort anywhere they like.
Fashion Accessories Loved By College Girls
A beautiful necklace suitable for your grown daughter this holiday season. Shiny north star pendant with a delicate silver chain. It looks simple and elegant.
Female college students will actually use a good timepiece. They will love this gorgeous watch that tells time in a feminine way. By Victoria-Hyde, this watch elegant floral design dial, gold case, and black leather straps. It looks modern and chic.
A small and practical gift for college kids– tech gloves with ten-finger touchscreen performance. They are warm, soft, and comfortable. Works well on mobile phone and tablet.
College Student Outfits
8. Think Outside The Box T-Shirt
Good-looking tee with awesome graphics is always welcomed. She will thank you for this cool T-shirt. Wear it, be inspired, and be creative.
9. Sperry Women's Saltwater Core Boots
Beat the cold and rain with this Sperry boot. Versatile style, cute look. A must-have for every fashionista.
Hate the snowy days? How about getting something sweet and summery to keep her warm at heart? This mini crossbody bag will definitely make her happy. Unique watermelon design, rich colors, gold chain strap. It looks cute, girly, and really fun!
Tech Gifts for College Students
11. Fujifilm Instax Mini 90 Instant Film Camera
Camera is a great tech gift for college students. Help her to capture the precious college moments with Fujifilm Instax Mini 90. Designed with a retro look and advanced technologies. Its main features include automatic brightness detection, double exposure, macro modes, and fast shutter speed mode.
Mini, powerful, and fun to use. An awesome instant camera that prints out beautiful photos.
12. HP Sprocket Portable Photo Printer
Portable photo printer is another fantastic choice. HP Sprocket easily connects to any smartphone and lets you print out photos instantly. You can customize with emoji, text, border, and more before printing.
The printer is light and small in size. Bring it anywhere and print out good-quality photos anytime you want.
Food Gifts for College Girls
13. Get Relaxed Tea
College life can get stressful at times. This Christmas, get her a tin of good tea to help her unwind and relax. We love this caffeine-free herbal blend of rooibos tea with calming aromas of lavender and rose petals. It is delicious, flavorful, and nerve-soothing. Just steep, sip, and enjoy.
14. Ramen Bowl
Ramen noodles are a staple food for the busy college students. A pretty ramen bowl will make their ramen looks extra yummy. They will thank you for this.
Cool Christmas Gifts for College Girls
15. Jouer Skinny Dip Ultra Foil Shimmer Eyeshadow Palette
Gold, shiny, and shimmery. The perfect eyeshadow for this festive season. Six gorgeous colors for a stunning metallic finish. It will become her new favorite.
16. Almost Adulting: All You Need to Know to Get It Together
An interesting book for young adults. Learn how to survive your future adulthood from famous lifestyle vlogger Arden Rose. This is a fresh, hilarious guide that covers topics like how to dress yourself, how to travel alone, how to talk to strangers online, and how to date strangers (in PERSON!), and more.
Insightful, real and practical. Recommended for all college girls.
17. Multipurpose Tote Bag
Be sure to get something fun and functional for her this Christmas.
17a. Dream Often Tote Bag
Trendy canvas bag for college students to haul the books, laundry, and groceries in style. Clean, minimalist design. A bag that reminds people to dream often. Be inspired, dream often, work hard, and achieve big.
17b. Good Vibes Tote Bag
Another chic bag that she will love. Features a big rainbow. This bag is fun and stylish!
18. Travel Coffee Mug with Lid 
Another gift approved by college students. This double-walled insulated travel mug is perfect for busy students to grab their morning coffee.
That concludes our list of this year's best Christmas gifts for college girls. Thanks for reading and have a happy Christmas!
Other Good Gifts For College Students: