A List of 26 Best Going To College Gifts For Girls
Get the perfect off-to-college presents for your college-bound girl. It's her first step into adulthood, help her to live life on her own with cool and practical stuff. Here are our favorite college gift ideas from school supplies, dorm room decorations, self-help books for college students and more. These items are chic, stylish and functional. They are awesome off to college gifts for girls that they will definitely love!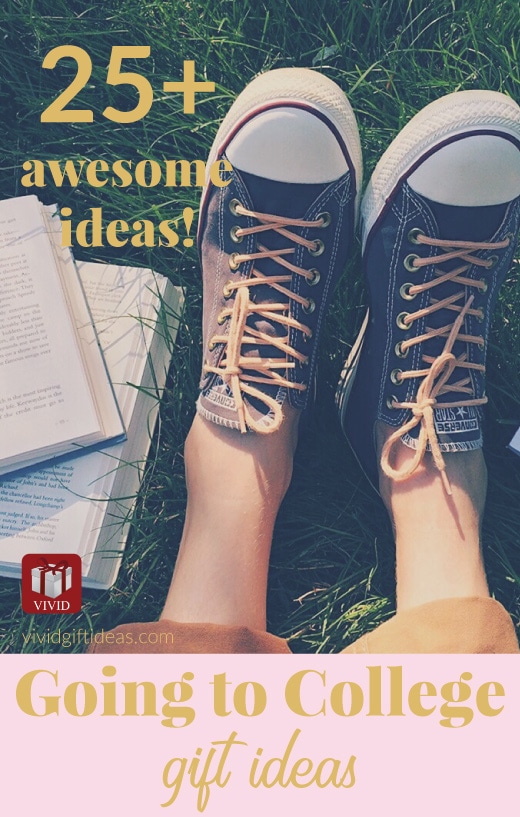 Off-to-College Gift Ideas for Girls
1. Vintage Style College Trunk
Let's start with helping her to stay organized in a stylish way. This set of two beautiful storage trunks is great for storing bedding, clothes, books and other belongings. They are stackable, allowing her to make the most of the small dorm space.
These trunks are made from robust steel in pink with on-trend rose gold clasps and handle. They are sturdy, spacious and functional. These dorm decor items are cute too.
2. JanSport Sweet Nectar Backpack 
You can also get her a durable backpack. This classic backpack by JanSport is perfect for college students who carry large loads across campus. It has two large compartments with organizer and stash pockets. Pack up the laptop, textbooks, notebooks and other school supplies and she is ready for classes. See more cute backpacks for classes here.
3. Dogeared Going Places Necklace
This pretty necklace makes one of the best going to college gifts for girls. Features a compass disc pendant with a gold chain. It is simple, dainty and meaningful. Great for girls starting off a new adventure.
4. Inspirational Quote Mug
"Go confidently in the direction of your dreams, live the life you have imagined". Inspirational mugs are excellent (and cheap) off-to-college gifts to keep the college freshman inspired.
5. Don't Just fly, Soar Acrylic Painting
Lovely wall art to decorate her dorm room. Hand-painted with an inspirational quote to keep her motivated.
6. Hustle Inspirational Coffee Mug
A fabulous off-to-college gift. This mug has 22K gold lettering on both sides that say "Good things come to those who hustle". It is an awesome mug to keep you hustlin' throughout the day.
7. Rose Gold Paper Clips
Fancy school supplies that she will love — rose gold paper clips in different shapes. Functional and cute. Add an elegant touch to the study desk.
8. Seuss-isms! A Guide to Life for Those Just Starting Out…and Those Already on Their Way
A classic book by Dr. Seuss for those starting out a new life. Contains invaluable advice about life with Dr. Seuss' famous quotes. Witty and fun. Great for college-bound students.
9. Strong Laundry Bag
Doing laundry by yourself is part of college life. It is not fun but it still has to be done. This funny laundry bag helps make this boring chore more fun. It is really big in size and can hold 15 pounds. The material is durable and the shoulder straps allow you to carry your dirty clothes with comfort.
10. Fujifilm Instax Mini 9 Instant Camera
For girls to take memorable photos of college life. A good camera makes it to the list of must-have college essentials. We love this mini instant camera by Fujifilm. It is fun and easy to use. Features automatic brightness control, a selfie mirror, and a macro lens attachment for close-up shooting.
The good thing about having an instant camera is you can have photos that you can actually keep. You can also decorate your room with a photo collage.
11. bkr Glass Water Bottle 
Inspire her to drink more water with this sleek water bottle. It is an insulated bottle that maintains a hot or cold temperature. The crafted glass design enhances the pure taste of water and reduces bacteria buildup. It doesn't alter taste like metal and doesn't leak chemicals like plastic.
12. Leaf Pattern Academic Planner
Life in college can be very challenging. College students have to juggle between classes, part-time work, clubs and student organizations. She will need a good planner to keep up with the busy schedule. This chic planner with words of wisdom will be helpful.
Features monthly and weekly spreads, class scheduling pages, notes pages, and a pocket at the back. Great layout with spacious design. Organize and keep track of daily activities with ease.
13. Cactus Pen
Cute school supplies for college. Set of three cactus pens to make writing more fun.
14. U Chic
Give the freshmen a leg up on all things college with helpful advice from the expert team of all-star college students. Read this book to know the secret of life in college from campus living, academics, social life, party and more. Here are tons of practical tips to ensure you have an incredible college experience.
This is a must-have college guide for girls.
Going to college with these chic pens carrying a motivational message. They got all the positive vibes she needs for college.
16. The Pineapple Tote Bag
A multi-purpose bag with vibrant pineapple graphic. Made of 100% cotton. Haul your belongings in style!
17. Wireless Keyboard and Mouse Combo
You can also provide a laptop and computer accessories for your daughter. Let her enjoy typing at its finest with this gold keyboard. Sleek design, ultra-slim, low profile. Provides quiet and smooth typing.
18. Rose All Day Pencil Set
Add a touch of pink glam to her study. Girly desk accessories that she will adore.
19. Goal Digger T-Shirt
Stylish college outfits is another good idea. She will love this stylish statement tee that says "goal digger". Wear it, feel motivated, and work hard towards your goals.
20. You've Got This Travel Tumbler
For her to enjoy hot coffee on the go. This amazing travel mug with gold saying will definitely make her feel motivated every morning. With this inspirational mug gift, she can go off to college feeling inspired (and loved).
21. Be Yourself File Folder Set
College supplies to help her keep organized with the assignments and notes. Nine gorgeous folders embellished with gold inspirational sayings.
Shower caddy to survive the dorm's bathroom. Features 9 various-sized compartments, built-in handles, and drainage holes at the bottom.
23. Compact Mirror Battery Pack
Tech gift for her. This sleek gold clamshell gadget combines a compact mirror with 3000-mAh power supply.  It has a normal and a magnified mirror with LED light to allow makeup in the dark. The power bank charges the smartphone and other electronic devices fast. An essential companion for every modern girl's bag.
24. Eiffel Tower USB Flash Drive 
USB storage drive is another must-have college supplies. Save important files in a stylish way with this Eiffel Tower flash drive. It has 32GB of storage space to store documents, music, videos and more.
25. Zebra Mildliner Highlighter 
Five pretty pastel-colored highlighters with double tip feature. The soft colors are very much loved by girls. Must-have college essentials.
26. The 5-Ingredient College Cookbook
A useful cookbook for the college-bound students. Make sure she eats healthy and stay healthy. This cookbook has a lot of quick and easy recipes that stick to only 5 easy-to-find ingredients. The food takes 30 minutes or less to prepare. Suitable for busy college kids who have no money and no cooking experience.
27. Pineapple Stress Toy
Life after going off-to-college can be stressful. The college freshman can take this pineapple and squeeze as hard as she can to release stress. She can imagine that she's visiting a tropical island and let her mind calm down.
That concludes the list of our favorite gifts for girls who are going off to college. Thanks for reading.