Choosing the right Christmas gifts for teens can be a difficult task. Don't risk getting stuff that she doesn't like, let's check out our gift guide: Christmas gift ideas for teen girls below. We have brought together a list of 22 best gift ideas from hottest fashion item, cool tech gadgets, popular makeup, unique school supplies and more. These are the stuff at the top of every teen girl's wish list. Scroll down to discover now!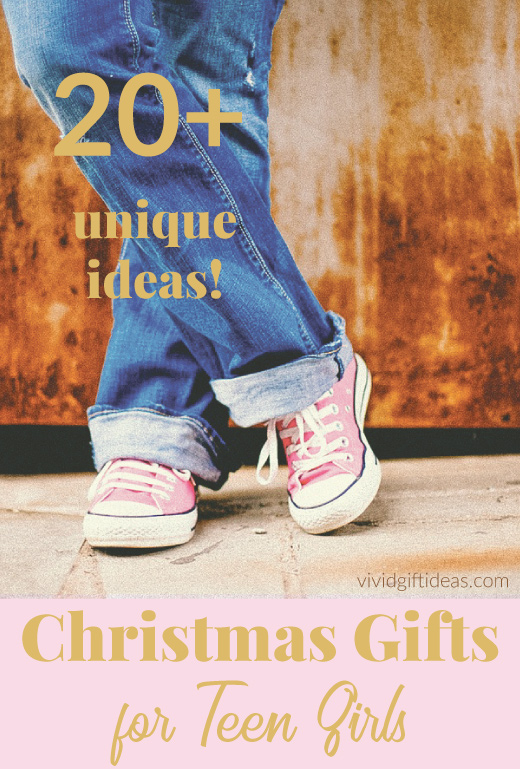 Christmas Gift Guide for Teens
Teen Fashion and Accessories
1. Dogeared Stronger Than Ever Pendant Necklace
Pretty jewelry is one of the best Christmas gifts for teen girls. Get this inspirational necklace for her. It has a cool-looking lightning bolt pendant with a delicate gold chain. It looks simple and stylish.
2. Betsey Johnson Fringe Cross Body Bag
She will love this cute purse by Betsey Johnson. Features a hip fringe design, bow with hearts detail, and a chain strap. It looks great with any outfit.
3. Military Inspired Bomber Jacket
Bomber jacket is a must-have for this season. Get her this military-inspired bomber jacket. It has functional side pockets, elastic ribbed collar, cuffs, and waist hem. Vintage style decorated with cute badges, this jacket definitely makes one of the best Christmas gifts for fashionistas.
Killer kicks that give her a comfortable boost in height. Awesome color, fabulous style.
Work out in style with this pair of stylish black pants. Unique mesh details, stretchy material. It has tummy control wide waistband to contour your curves and shape.
Room Decor as a Christmas Present for Teens
Add a magical touch to your teen girl's room with this unicorn jewelry dish. Beautifully crafted from ceramic. It is perfect to hold rings, earrings, necklaces, and bracelets.
(For the unicorn lovers, don't miss out this list of 23 Unicorn Gifts That Are Super Cute & Awesome)
7. Personalize Cinematic Light Box
Light up her room with this awesome light box this holiday season. It comes with 90 letters, symbols, and numbers for you to create your own messages. Just slide the letters to change the messages as often as you wish.
8. Inspirational Quote Wall Art
Gorgeous wall decor to keep her motivated. Handmade with shiny gold foil. Definitely looks great in the teenager's bedroom.
School Supplies – A Small Christmas Gift for Teens
Make her go to school happily with this good-looking school bag. Cute cactus graphic, spacious design, water-resistant fabric. Makes one of the best Christmas gifts for teen girls.
10. Choose Where Your Energy Goes Planner
17-month planner for teenagers to keep track of her busy schedule. Attractive monthly and weekly spreads, helpful budget planner, storage pocket for loose papers, and lots of stickers to mark activities.
Tech Gifts for Teens This Christmas
Purrfect tech gift for her. Enjoy music with this adorable cat ears headphones. Crisp clear sound, comfy earcups, adjustable head size. A powerful and trendy tech accessories loved by girls.
12. Pineapple Pocket Phone Charger
Pocket-sized battery charger for her this Christmas. Fun pineapple design, large capacity of 10400mah, quick charging.
13. Fujifilm Instax Mini 9 Instant Camera
This popular camera is on most of the teenagers' Christmas wishlist. It is a powerful, handy and fun instant camera by Fujifilm. Easy to use, prints out a good-quality photo instantly. It will definitely become a big hit among the girls.
2-in-1 high definition camera lens to help her take photos like a pro. 140° wide angle lens and 15x macro lens to capture all those beautiful moments in life. Just clip on to any smartphone and it will turn your mobile into a DSLR Camera.
Hair and Makeup
15. Wild & Alluring Baked Eyeshadow & Highlighter Palette
Another killer present for teen girls — colorful makeup palette with 12 wonderful shades. A great mix of soft and dark colors, highly pigmented, blendable colors. It comes in a unique mermaid design packaging.
Dive in and create your favorite looks.
16. Automatic Hair Curler Wand
Teenagers love experimenting with different hairstyle.  They love having different hair styling tool to play with. We recommend this amazing hair curler. It has an auto rotating curl chamber with spray. Curl your hair with ease and at the same time allowing the water molecules to penetrate into hair thoroughly. Give you fabulous, red carpet curls in minutes.
Games and Hobby Gifts
Teens will love this fantastic arcade game. Mini in size with authentic arcade sounds and style. It is the exact replica of the famous 80's game Pac-Man.
Fun invention kit for kids of all ages. Makey Makey is a simple circuit board that lets you reprogram the world by connecting everyday objects to a computer. No programming knowledge required. Just plug, clip and turn your stuff into a touchpad, game pad, controller and much more.
Good Books for Teenagers
19. Bad Girls Throughout History
This is a beautifully illustrated book to learn about some of the most amazing women throughout history. 100 revolutionary, rule-breaking women are highlighted. From artist to scientists, pirates to warriors, activists, spies and more. This is an inspirational read for ladies of all ages.
20. Stuff That Sucks
Another great book as your teenage girl's Christmas present. This easy to read, helpful guide will help her to move past negative thoughts and feelings and discover what truly matters. With this book as your guide, you will learn to accept emotions based on acceptance and commitment therapy. You will also learn to prioritize your thoughts, feelings, and values.
With this book as your guide, you will learn to accept emotions based on acceptance and commitment therapy. You will also learn to prioritize your thoughts, feelings, and values.
Other Christmas Gifts loved by Teen Girls
21. Strong Girl Bag
Small Christmas gifts for teens under $15. She will adore this whimsy book bag with a retro design and interesting girl power quote. It reads "Wink at challenges. I am a strong girl."
Pajamas also make a nice Christmas present for teen girls. Keep her warm this holiday season with "happy poo faces" sleep pants. Made of soft fleece. Rich colors. She will love it!
That concludes our list of best Christmas gifts for teen girls. Thanks for reading and have a happy Christmas!
Get more Christmas gift ideas for teenage girls: