Find out some seriously sweet Mother's Day gift ideas for grandma in this article. This Mother's Day, get grandma a little present to appreciate her for being so awesome. Discover lovely presents that are going to make grandma happy.
Related: Best Gifts to Get for Grandma (Practical ideas)
Related: 12 Mother's Day Gifts For Grandma That She'll Love
1. Family Tree
Vintage-inspired family tree to remind grandma of her children and grandchildren. 7 2-sided photo frames for grandma to put her favorite pictures. To make this an even better gift, fill the frames with photos before giving it to grandma this Mother's Day.
Alternatively, here's a wooden family tree that goes on to the wall. It has considerably less frames for granny to put pictures in: only 6 frames. You can see on the trunk of the tree there is some decorative green leaves and it says "Our Family — growing memories one smile at a time"
2. Grandma Mug
Playful mug dedicated to grandma. It says on the mug "I'm a grandma. What's your superpower?".
If sentimental is the theme, you won't wanna miss this gorgeous mug by Pavilion.
3. Jewelry & Keepsake Box
Elegant hand-carved keepsake box to keep grandma's treasure safe. Inside the box says "love that transcends the years".
Deluxe Red Jewelry Box
Designed specifically for storing jewelries. Red faux alligator leather exterior with convenient handle. Compartmental interior for grandma to put her rings, earrings, and other treasures.
4. Sentimental Jewelry
Sentimental pendant necklace. It's not expensive, but it sure is meaningful.
Dedicated to grandma for being awesome.
5. More Mother's Day Gift Ideas for Grandma
Partridge Nest Tealight Holder
Artistic tealight holder for the perfect evening.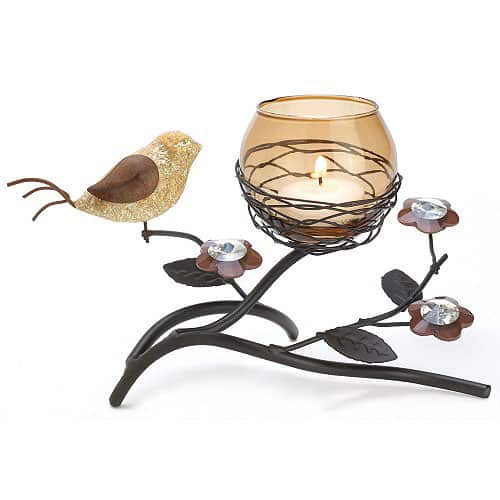 Hand carved by artist Susan Lordi. Each of the Willow Tree figurines are flawless from every angle. Grandma will love this outstanding wooden figurine in her living room.
Sit back and relax. Have a foot spa at home with this easy-to-use device.