Gift-giving can be tricky when it comes to shopping for your boyfriend who seems to has everything. Surprise your bae on his birthday with a thoughtful present even when says he already owned everything and needs nothing more.
Here, we have brought together a list of 12 best birthday gifts for boyfriend who has everything. These stuff are cool, fun, and affordable. Scroll down to discover now!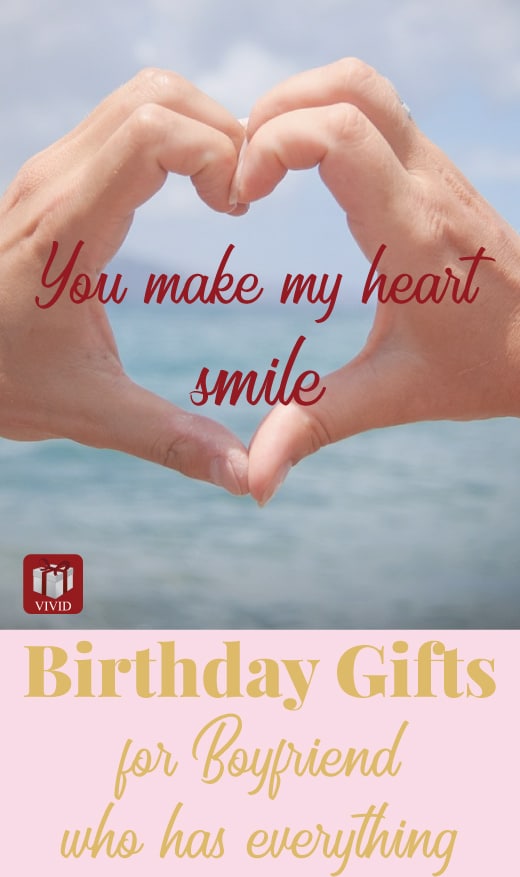 Birthday Gifts for Boyfriend Who Has Everything
1. Romantic Wrist Watches for Couple
When it comes to the guy who has it all, you can surprise him with a sweet couple-theme stuff like matching jewelry or shirts. This his-and-hers watch set is an awesome choice.
We love its simple design suitable for both men and women. This matching couple watch set features a complete heart and a letter "love" when they are placed side by side.
2. Lucleon Montreal Slim Executive Tan Leather Bag
Gift him with luxe leather goods, it's a fail-proof birthday gift for guys.
Men will appreciate this beautiful messenger bag from Lucleon. It is slim, stylish, and spacious enough to fit a laptop, planner, and other work essentials.
This bag is made of soft genuine leather with multiple pockets for easy storage. Its clean, minimalist design is perfect for the modern guys to commute in style.
When your bae is always full of gas and "leaky". Make him LOL on his birthday with this funny mug. It reads "I didn't fart. My ass blew you a kiss".
4. Ben Sherman Leather Travel Kit 
For the man who is a frequent traveler. He got everything he needs from all over the world. What more can you get for this type of boyfriend who seems to has everything?
Well, give him a practical stuff that he can always use. This handsome toiletry bag will be his best companion for his many trips to come. It has a roomy main compartment and side pocket to hold his toiletries and other travel accessories.
5. Bodum Insulated Travel French Press
Treat him with good coffee even when he says he wants nothing for birthday. Coffee lovers will appreciate coffee gift like this beautiful French press travel mug. It is great for those busy mornings when you need your coffee fix on the go.
Brew delicious coffee and drink from the same container when it's ready. This mug is easy to use. It also keep beverages hot for hours while maintaining the aroma and flavors.
6. Polo Ralph Lauren Pajama Pants
Additional comfy pair of pajama pants is always welcomed even for the man who owns everything. He will definitely appreciate this pajama bottoms by Polo Ralph Lauren. It is made of 100% cotton with elastic waistband and side pockets.
Something funny for your boyfriend's birthday. A yellow apron with an eye-catching statement. Add extra fun to the kitchen when he is cooking or helping out. Perfect for the Best Cook Ever, oops… I mean the Best Cook Ever!
8. Underwear for Men
When your boyfriend says he owns everything he needs. Why not help him to replace his old underwear with some cute boxer shorts?
9. JBL Clip 4 Mini Bluetooth Speaker
An excellent tech gift that guys love — A powerful and versatile speaker with a convenient clip-on design to fix on your bag or stand on any surface.
This speaker has long battery hours. Designed with integrated carabiner for extra protection, it is also dustproof and waterproof.
Rich sound, deep bass, lightweight. This is a fantastic speaker for traveling, hiking, camping, and more.
10. Bruntmor Rubberwood Beer Opener & Cap Catcher
A cool addition to his man cave. This awesome beer opener with strong magnetic mounting is loved by men.
It is solid and easy to use. It can be stick to the fridge or mount to the wall.
11. Classic Men's Cufflinks Set
Six sets of cufflinks in minimalist, neat design loved by men. They are one of the best birthday gifts for your significant other who has everything.
12. USB Milk Frother Foam Maker
For boyfriend who enjoys making coffee. This mini electric milk frother has double stainless steel whisks and three whisking speeds for creating exquisite coffee art foam.
That concludes our list of Best Birthday Gifts For Boyfriend Who Has Everything. Thanks for reading.
Follow us on Pinterest!
More Cool Gifts for Boyfriend:
Top Boyfriend Birthday Gifts | List of 12 Coolest Birthday Gifts for Teen Guys | 15 Sentimental Gifts For Your Boyfriend | 24 Best Gifts for Your Boyfriend That He Will Love |
More Gift Ideas For Men Who Have Everything:
20 Valentine Gifts for the Guy Who Has Everything | 9 Gift Ideas for Men who Have Everything