Are you looking for a tea-related gift idea for someone who enjoys drinking tea? Get inspiration from this gift guide! Below is a list of gifts tea lovers will love to see on their birthday, Christmas, graduation, or retirement. We have handpicked 19 fantastic tea gifts that are actually useful for your tea-loving friends.
Best Tea-matic Gifts For Tea Lovers
Let's brew some tea.
An adorable way to enjoy tea. Fill some loose tea leaves into the elephant's body, pour hot water into the cup and let the elephant dip into the water. Simple to use, easy to clean. Made of food-grade soft silicone that doesn't affect the taste of the tea. Tea lovers are definitely going to love this duo of elephants. This tea lover gift is fun and cheap. All the better if they are also big fans of the majestic elephant.
2. Tea World Tour by Atlas Tea Club 
Let your tea lover experience amazing tea tours around the world without having to step out from the house. Join Atlas Tea Club to discover new unique local flavors delivered to your door every month. Relax, boil your water, and steep your way to Argentina, Japan, Kenya, and beyond.
3. "It's Always Time for Tea" Glass Mug
Here's a lovely mug for that someone who always finds time to drink tea. 13 oz capacity, tempered glass material. If you're looking for a funny gift for tea lover, definitely give this cup a look.
Tea addicts constantly need a fresh supply of tea. Get them the Tea Book from Basilur tea family. Impressive book-shaped packaging filled with aromatic Ceylon tea and garden fresh. It tastes flavorful and extremely delicious. A fantastic gift to the connoisseurs of tea.
Accessorize the teacup with something that blings. Drink your tea like a royalty with this set of four gold spoons. Each spoon features its own unique design and is accented by a sparkling crystal. Elegant little spoons perfect for any tea party.
Love with every sip! These delightful cups will make the tea drinkers smile each time they fill them up. Unique heart shaped design, double walled to keep tea hot.
Add a bit of Zen to your day by making matcha the traditional way. Unplug from the stress of modern life by using the bamboo utensils to slowly craft a perfect cup of matcha. This set includes Chashaku (the traditional scoop for measuring a matcha), sieve, whisk, and a wabi-sabi Japanese tea bowl.
8. If Teacups Could Talk: Sharing a Cup of Kindness with Treasured Friends
For tea aficionados who are also into books, we recommend this unique book that is about the beverage. It is an excellent tea book that contains a tremendous amount of knowledge and beautiful illustrations. You will find tea recipes and menus, types of teas, the history of teas, how to brew tea, tea party ideas, and more.
Follow along as the author Emilie Barnes invites you to tea.
Fun little silverware for fun little occasions. An excellent stocking stuffer for Christmas. This beautifully engraved spoon is 7 inches long (tablespoon size).
10. "You Will Fill Me With Joy" Tea-for-One Set
Individual-sized, stackable tea set perfect for tea drinkers. Be enchanted by the winsome design. There is a charming bird motif on one side and the other side features text from Psalm 16:11 "You Will Fill Me With Joy".
Level up your drinking experience with this set of porcelain teacups. Sophisticated design, pastel colors with gold plated rims and handles. Colorful and pretty. This set will instantly elevate any room décor and add a liveliness to your chinaware collection.
12. Tea Forté KATI Ceramic Tea Brewing Cup
Stylish tumbler with stainless steel infuser and lid. The innovative double-wall ceramic keeps tea hot and prevents the tumbler from being too hot to handle. An amazing cup that tea drinkers will treasure.
Slowly sip a cup of tea with the companion of a feline friend, isn't it a wonderful way to enjoy your life? Tea lovers who love cats will definitely appreciate this.
14. Teapot Necklace
Antique silver teapot pendant necklace for the ladies. Come, let me serve you the nicest tea with this cute little teapot.
Adorable Japanese doll tea set for two. Made of ceramic. Tiny size perfect for sipping Oolong, Pu'er, green tea and flower tea.
16. Mud Pie It's Tea O'clock Tea Spoon and Rest Gift Set
Vintage style spoon with a figural ceramic teapot. Spoon reads "It's Tea O'clock Somewhere.".
17. Kikkerland Frog Tea Infuser
Let the stainless steel froggy helps you to brew a nice cup of tea. His arms and hands can move to create a custom fit on your mug. You can rest him on the included drip tray when your tea is steeped.
19. Disney Lenox Classics Beauty and the Beast Mrs. Potts Teapot
An enchanting teapot from Disney's cartoon Beauty and the Beast. Stunning design, hand-painted porcelain, accented in gold.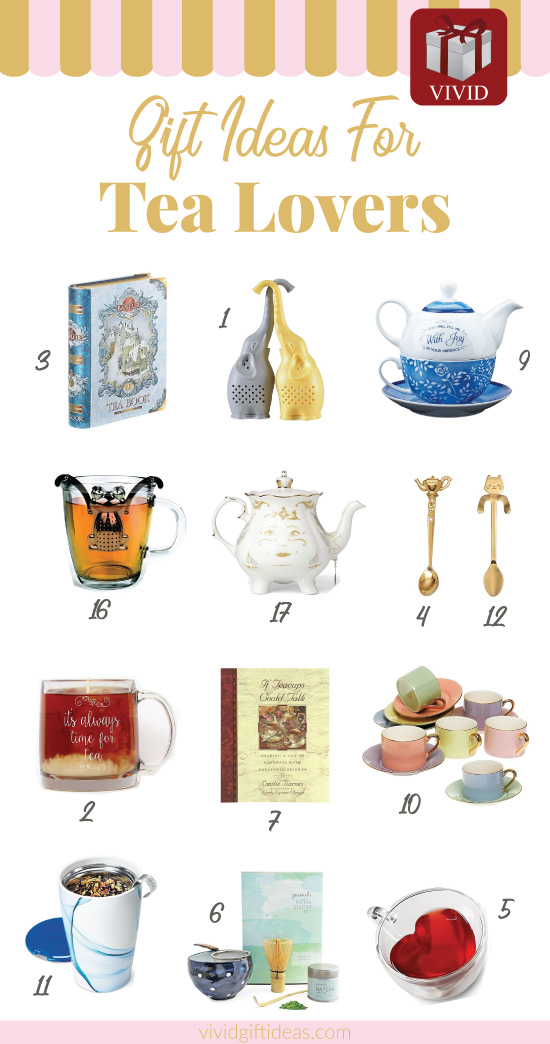 That concludes our list of 19 best gifts for tea lovers. Thanks for reading.
See also: