In this article, you will find some of the most interesting and unique gifts to buy for your coworkers for Christmas, birthday, retirement, promotion, farewell, and etc.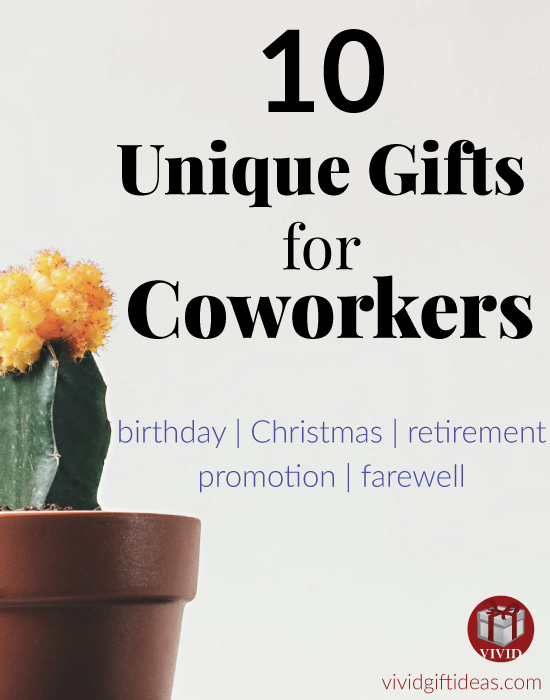 Creative Gifts for Work Colleagues
For more gift ideas, check out this coworker gift ideas article we published previously.
1. Relaxing Office Desk Decoration for Coworkers — Celestial Night Sky Desktop Sandbox
With this gift, your coworker can have her very own zen garden on her tabletop. It is a sandbox that combines unique office décor and stress-relief tool. This item is a great way to celebrate a coworker's birthday and promotion.
2. Inexpensive Office Gift — VOBAGA Mug Warmer
One problem office workers have is keeping their coffee warm. With this USB-powered mug warmer, your coworker can enjoy his favorite beverage at the preferred temperature he preferred all day long. This mug warmer is an excellent gift for a coworker's birthday and gift exchange. It is also a really cool present for the new coworker (new employee gift).
3. Office Supplies — bloom daily All in One Ultimate Planner
This present will help your coworker become more organized and productive. The Choose Joy planner will work for all types of coworkers, but it will be most appreciated by coworkers who are serious about getting work done. If you're a team lead or a manager, this is an appreciation gift that will help your team members and subordinates stay on top of their game. This planner is recommended for female coworkers and pink-loving male coworkers.
4. Funny Gift for Coworkers — Exhale The Bullshit Mug
An inexpensive gift for your coworker friend who has a sense of humor. Exhale the bullshit! Which is a more sassy way to say let it go, get rid of the negative thoughts. Check out this awesome work-friendly funny mugs collection for more.
For occasions: office gift exchange, birthday, Christmas, just-because.
5. Practical Office Gift — Banana Mini USB Hub Splitter
In this era of abundance, one thing no one can get enough of is USB ports. This banana helps overcome that problem by extending one USB port to many. Given its outstanding yellow banana design, it will make a great white elephant gift when it comes to office gift exchange. It is an inexpensive and funny gift idea for coworkers. Not recommended as an appreciation or thank-you gift.
6. Unique Work Desk Decoration — Floral Skull Pen Holder
If your coworker is the edgy type, this skull stationery holder will appeal to him. This novelty item is an interesting product. It's more than just a plain skull. There's unique filigree on the skull. This is a funny idea that works great as a white elephant gift.
For occasions: office gift exchange, retirement, farewell.
7. Small Gift for Office Staff —  Sparrow Paper Clip Holder
Provide a unique home to your coworker's paperclips. Guarded by an apple green sparrow, this paperclip holder is a one-of-a-kind item that your coworker most likely has never seen before. Novelty factor aside, this item is strangely pleasing to look at and can make your coworker's workplace feels livelier. Recommend occasions: thank you, appreciation, promotion, retirement, birthday, gift exchange.
8. Personalized Gift for Coworkers — One Fur All Scented Candle
Recommended for coworkers who are cat lovers, dog lovers, and pet lovers in general. This special candle is a pet odor eliminator. Made of natural soy wax. This is a great retirement gift and the perfect gift when the coworker complains about pet odor.
9. Funny Gift for Colleagues — Tervis Sloth Nope Not Today Insulated Tumbler
Nope, not today! This insulated tumbler with pink lid and unique sloth design will be your coworker's shield that guards her against BS work and office politics. A practical gift that your coworker can use every day.
10. Upgrade Your Workspace — SUCK UK Chemistry Terrarium Kit
Grow a garden in the lab flask with the help of this terrarium kit. This interesting gift will fascinate coworkers of all ages. This kit contains everything your coworker need to grow an indoor mini garden. This present is great for birthday, retirement, gift exchange, and Christmas.
So what do you think of these interesting coworker gifts? Did you find a gift idea that fits your unique criteria? Personally, I think your coworker will love most of the unique ideas above regardless of your coworker's personality because these ideas are quite versatile. But let us know what do you think!
More Interesting Gifts for Coworkers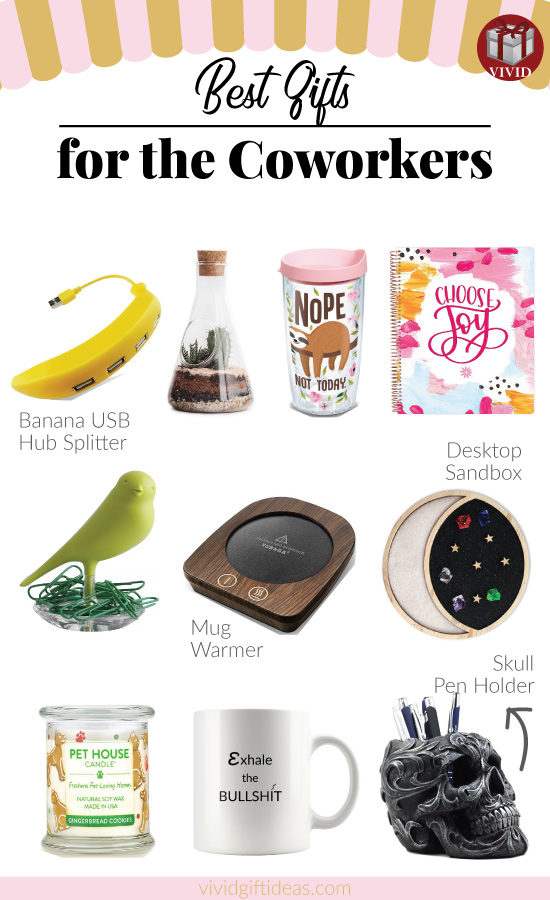 Find out more gifts for coworkers on our Pinterest!