Discover more than thirty employee appreciation gifts for your staff in this article. Say thanks to your employees with a thoughtful gift that they really want. Your team has work long and hard this past year. It is important to recognize the efforts your staff has put in.
This March, don't forget to celebrate Employee Appreciation Day to boost your employees' morale. Say thanks for the job well done, get them a small token of appreciation, and reward them with gifts that your employees value most. Here's a list of 32 unique employee appreciation gifts. They are inexpensive, fun and creative.
These gift ideas are also great for Christmas and other occasions such as work anniversary, and achievement party.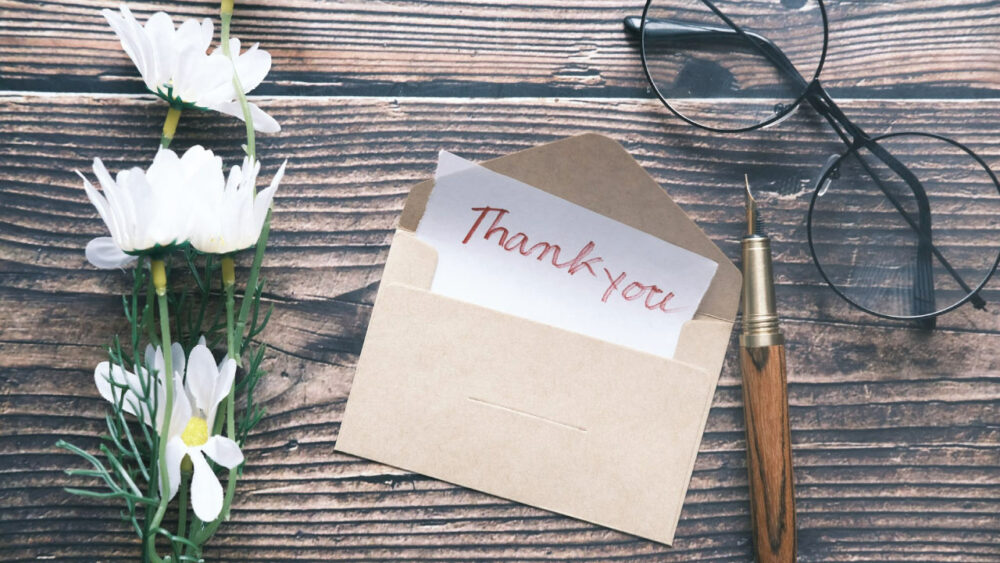 Appreciation Gifts for Employees
1. A Trophy for Your Team
Thank them for the great jobs done, get your employees a recognition gift. This Employee Appreciation Day, present these Top Banana Award to the best bunch in the office. These bananas are adorable and fun. They are going to be a big hit in the office.
Another good gift to give your employees on Employee Appreciation Day. This is the best mug for the world's best employee. Features a classic newspaper design and it is made of ceramic. This mug is perfect for morning coffee.
(This mug is also available in women version that makes a good gift for female employees.)
See these funny office mugs your coworkers'll love.
Gift Ideas for Staff on Employee Appreciation Day
3. Restock Your Office Supplies
For staff appreciation gift under $10, you can get these fancy diamond pens for the ladies in your department. We love the sparkly diamond and the rose gold accent. These pens definitely make writing more elegant.
4. World's Okayest Employee Travel Tumbler
Another nice recognition gift for employees. This travel tumbler is designed for the world's okayest employee. It is double walled and insulated for keeping drinks warm.
5. Funny Box Sign – For The Hardworking Staff
A cute sign perfect for the dog owners at your workplace. Made of high-quality wood, it is painted in a distressed style with paw prints. It reads "I work hard so my dog can have a better life".
Cat version is available too. Click here to check it out!
6. Encourage Your Staff To Go For Holidays
This beautiful coffee table book is suitable for people from various background. Destinations of a Lifetime takes us on a photographic tour of the world's most spectacular destinations, and inspire tangible ideas for your next trip.
This book is filled with colorful pictures. It is well written with hard service information like when to go, where to eat, where to stay, and what to do to ensure the most enriching and authentic experience. A wonderful book for co-workers. This book is also an excellent retirement gift for a colleague.
7. Say Thank You to Your Team Member – Willow Tree Abundance Figurine
Give your employees a big bouquet of flowers. This lovely figurine will help you to express your gratitude for their hard works and dedication.
8. Help them with Their Job
Another interesting office supplies that will become a big hit in the office. This unique sticky notepad helps your employees to tackle their daily tasks with military precision. It is fun and functional. This employee appreciation gift is fun and cheap.
9. A Small Tech Gift For Employee Appreciation Day
This marble pattern Popsockets is useful for frequent phone users. It expands the grip of the phone and makes holding a phone or tablet easier. You can also use it as a convenient stand to watch videos.
10. Reduce Your Employee's Stress
Sometimes work can be really stressful. It's a good idea to give them some stress-relieving gifts. Here's a set of eight pencils with funny sayings to cheer them a little.
11. Coffee Mug Warmer – For the Coffee Lovers
Give a useful gift to your employees. Let them enjoy hot coffee while they work. This mug warmer heats up fast to keep the beverages hot. It is compact, light and fits working desk without consuming much space.
12. Decorate The Workspace with an Indoor Mini Plant
Another good gift to give on Employee Appreciation Day. Place a pot of plant, add a touch of nature to their workspace. Your co-workers will definitely appreciate this kind gesture.
13. Reward them with Fruits
These colorful fruit USB drive are coming to transfer and store data. They have 16GB capacity to keep your documents safe.
14. Sending Them Good Vibes
When you are looking for best gifts for team members. Why not give them good vibes and make them feel happy?
15. The Farting Animals Coloring Book – A Good Stress Relief Therapy
This is perfect for colleagues who need a good laugh. This funny adult coloring book lets them release stress by coloring the farting animals.
16. Dinosaur Memo Holder – To Deliver Thank You Note
Write a thank you message and send out this dino to your employees. He can hold the notes firmly in his jaw. He can also carry some pens, pencils and paper clips on his back.
17. Something Cheap and Cute
Cute and small appreciation gift to cheer up employees — elephant shaped paper clips.
(Related article: We recommend these elephant-themed gifts for your elephant-loving co-workers.)
18. A Gentle Reminder – Get Sh*t Done Notepad
A cool design notepad for them to write down to do stuff, whether it is work-related or non-work stuff.
Employees Day Gift Ideas
19. Have A Pizza Party
Surprise your staff with a pizza lunch. Who doesn't like a surprise treat?
20. Hire an On-Site Massage Therapist or Manicurist
21. More Fun For the Breakroom
Get new board games, new music, new snacks, and etc.
22. Broadcast Your Appreciation
You can mention your staff on the company website. Give a shout out to everyone on your hardworking team.
23. Write A Thank You Note
Write them a card, say thanks for something specific would be really nice.
24. Gift Card
If you want to make things easier, it is always a good idea to get them a gift card.
25. More Food For The Pantry
Get a variety of cookies, snacks, and beverages for your staff.
26. Plan A Company Potluck
It is a fun break from the normal work routine.
27. Upgrade The Office
You can upgrade the office furniture like replacing the old chairs with a better ergonomic designed chair. You can also beautify their workspace with some pretty office decorations.
28. Let Their Voices be Heard
Set a suggestion box for your staff to voice out how they want to improve the office. This will make your staff feel heard.
29. Local Coffee Shop Gift Card
30. Plan For a Staff Appreciation Holiday
Build a stronger relationship through team activities. Bring them on a boat cruise, a barbeque by the lake or spend a day at a local state park.
31. Say It With Flowers
32. Take Your Employee Out to for an Appreciation Lunch
Last but not least, the easiest way to celebrate Employee Appreciation Day is to allow them a long lunch break. Take your staff out to lunch, whether in a large group or a small group. Ask them about how the job is going and what they wish to improve.
Follow us on Pinterest to check out more office gifts.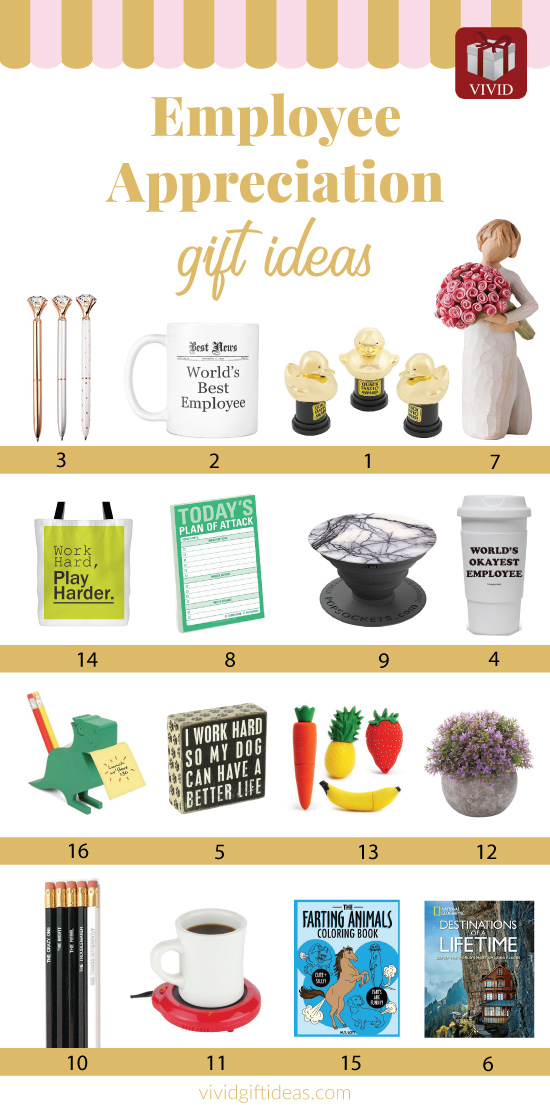 More Employee Appreciation Gift Ideas: