Make your co-worker smile with a simple and good gift this Christmas. Browse through our gift guide below to discover what you can buy for your coworkers under $30. Featuring more than forty fun and inexpensive gifts that your coworkers will actually appreciate. Whether it is for the close colleagues, team members, your boss, or work buddy, these thoughtful gifts are perfect for every type of coworker. Read now to find out these great little stuff to wow your co-workers.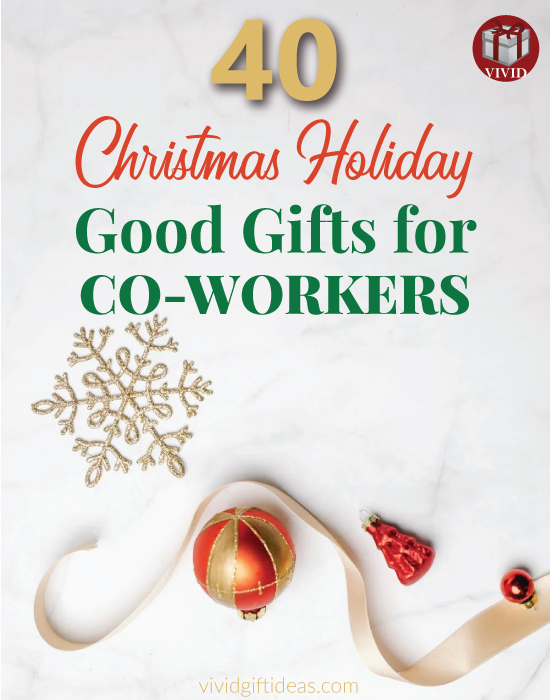 Good Christmas Gift Ideas For Coworkers (2023)
1. Natural Himalayan Salt Lamp
Room decorating stuff is appropriate for holiday office gift exchange. Get this moon-shaped glowing salt lamp for your coworker. It is a popular room decoration loved by men and women.
This lamp is handcrafted using natural pink Himalayan salt. Place it in any room to purify the air and create a calming ambience.
2. Instant Happy Notes Calendar
Be sure to get a special Christmas present that your co-workers will really love. This calendar will make them smile and shine all year long. It offers daily dose of instant joy packed with fun illustrations, motivational quotes, and mindful affirmations.
3. Things I Want To Say At Work But Can't: A Funny Swear Word Adult Coloring Book
Sometimes the sh*tty things that happened at work make us want to swear. But, swearing is not a nice thing to do at work. So get your colleague this sweary coloring book to vent out her steam. Each of the coloring pages is filled with witty quotes. It designed to provide relaxation and make you calm the f*ck down.
(If getting this coloring book is not enough for your colleague to release stress, try pick another one from our collection of 25 swear word gifts.)
A winter holiday theme waffle maker that your coworker will appreciate. It is small and lightweight suitable for any kitchen. Easy to use, quick heating. This waffle maker is perfect to make your breakfast at home or on the go.
5. Bosttor Bluetooth Beanie with Headlight
If you are looking for a Secret Santa gift idea for that coworker that you don't know well. Pick this beanie hat with a built-in headlight, speaker, and mic. It is suitable for both male and female coworkers.
The LED light has three brightness setting and it is rechargeable using USB. And, the stereo speaker has strong connection to allows you to enjoy music while running, hiking, skiing, and cycling.
An appropriate Christmas gifts for boss — add some peaceful Zen vibes to your boss's office. These Buddhas with the realistic-looking succulent plants will make people feel calm and relax. They are handcrafted using cement and they are quite heavy. They make a great decoration piece for office which can be doubled as bookends.
(If you are looking for peaceful decoration for office, don't miss these 23 Zen Office Decoration Ideas.)
When you need some inspirations on holiday office gifting, look for something entertaining like a card game. Bob Ross Bingo Party Game lets you enjoy hours of fun with your family.
Explore the phrases and images that represent the wonderful world of Bob Ross. This game set comes with 16 colorful bingo cards with each of them representing one of Bob Ross paintings. We also love the calling cards which are based on Bob Ross quotes.
This stylish marble-pattern desk mat is what your colleagues actually want. It offers a wide area for placing laptop, keyboard, mouse, and other desk accessories. It is spill-proof, heat-resistant, and non-skid. With this mat, you can freely move your mouse without having to continually adjust the mat.
(Read also: 14 Chic Marble Stationery Supplies)
9. Cheersville Pens With Motivational Quotes
Office supplies are cheap and functional, but you don't want to gift a plain, boring stationery. These colorful pens are great for office gift-giving during the holiday season. The colors are eye-catching and the quotes are motivating. And, most importantly, they write really smoothly.
10. Avocado Pop Fidget Toy Keychain
This little avocado offers quick stress relief. Hang it on the bag and pop the pit to fix uneasiness during those stressful times. It is a simple gift to make your coworkers smile.
A super cute Christmas gift for your female co-worker who is a cat lover. This heating plate will make sure her coffee is always warm and the pink mug will definitely make her goes aww.
This desk toy makes one of the best white elephant gifts. Everyone in the office will enjoy playing this awesome carnival game. Test your strength and have a good laugh.
Best for the coworkers who always bring their own lunch. This good-quality insulated food jar is what they will actually use. It is made of food grade stainless steel with double wall construction.
This food jar can keep your food cold or hot for more than six hours. It also comes with a foldable stainless steel spoon.
As a modern human being, we can't leave our phone unattended even during working hours. This chic marble phone stand is a great desk accessory to have for any office worker. It is sturdy and adjustable for 270 degree. The hook is also wide enough to fit a tablet and any phone with case.
For the coworkers who always misplace their reading glasses. Gift them with a proper resting place for their glasses. These whimsical eyeglasses holders are beautifully crafted into the king and queen chess pieces.
16. English Tea Shop Book Advent Calendar Chest
If you are looking for a cozy gift to make your tea-loving coworkers happy. This premium selection of organic teas will warm them this holiday season. It contains 25 pyramid tea bags with different delicious blends. Enjoy the traditional flavors of the festive season from floral tea, fruit tea, to intense chai, and more.
You can't miss gifting a cool kitchen gadget for the one who enjoys cooking. This rhino keeps dull knives at bay so that you can cut like a pro.
18. PacMan Ghost Light Table Lamp
If you have a coworker who loves retro home stuff. He will love this PacMan Ghost light. This classic gaming figure looks seriously cool in any room especially the gaming room. It features 16 different phasing colors. You can also switch on the party mode to make the light flashes rapidly to the beat of the music.
Another office themed gift that's simple and affordable. A must-have for your coworker adore pretty office supplies. These lovely file folders with motivational quotes will surely brighten up her work space.
20. Because Clients Stemless Wine Glass
Because clients make us "wine" and this wine glass is perfect for your work bestie to unwind after a whirlwind day.
21. Phone Wallet for Back of Phone
This is a good and inexpensive phone accessories that your office staff will appreciate. It can be stick on the phone back to keep cards, ID, and some cash.
22. Awesome Turtle Motivational Mug
Because your co-workers are turtley awesome, they deserve to get this mug.
23. Work Week Inspirational Pencils
Another budget-friendly idea that's simple, functional and fun. These pencils provide good vibes to push them through from Monday to Friday.
24. H2O Capsule INSPO Water Bottle with Time Marker
Give a healthy gift in the form of a motivational water bottle with time marker. We love its large capacity and attractive colors. This water bottle serves as a reminder for your coworker to drink more water.
Christmas is an expensive time and we know everyone needs some extra cash during this festive season. Need cash for Christmas? No problem. Give them a bag of Christmas money and show them how "rich" you are … in creativity.
This rainbow bag brings good vibes to your colleagues. It is made from durable cotton that can be wash and fold. Chuck one in your bag and no more using disposable plastic bag.
Other Good Christmas Gift Ideas for Coworkers:
27. Mini live plant for office
28. Anthon Berg Chocolates with Liquor inside
30. Coffee table book — Lonely Planet's Ultimate Travel List
31. Aromatherapy oil diffuser
32. Bath bombs
33. Portable charger
34. Mini Desktop Vacuum Cleaner
36. Digital photo frame
37. Orthopedic seat cushion
38. Scented candle
39. Hand sanitizer
40. Body lotion
41. Throw blanket
42. Ground coffee
43. Planner
44. Yoga mat
45. Massage foam roller
More Holiday Gift Guides for Co-workers:
19 Cheap and Appropriate Holiday Gift Ideas for Coworkers | 15 Inexpensive Gifts For Women Bosses Under $20 | Best Holiday Gifts for Coworkers Under $20 | 16 Really Fun Christmas Gifts for Coworkers | 65 Secret Santa Gifts that Your Coworker Actually Wants