Here's a list of cheap and super fun Valentine gifts to get for your friends.
Don't forget to get your BFF a special gift this Valentine's Day. It's the day to celebrate the people you love most, your gal pals who have been with you through thick and thin deserve to get your attention on this amorous holiday. Well, you might have thought through what to buy for your boyfriend this Valentine's Day, let's make sure to put in some efforts to pick a cute V-Day gift for your best friends.
To help you out, we have brought together a list of meaningful, unique, and really fun stuff to surprise your Galentine. Featuring 28 fun gifts that your girlfriends would really love.
Read on to discover our favorite Galentine's gifts to make your BFFs smile.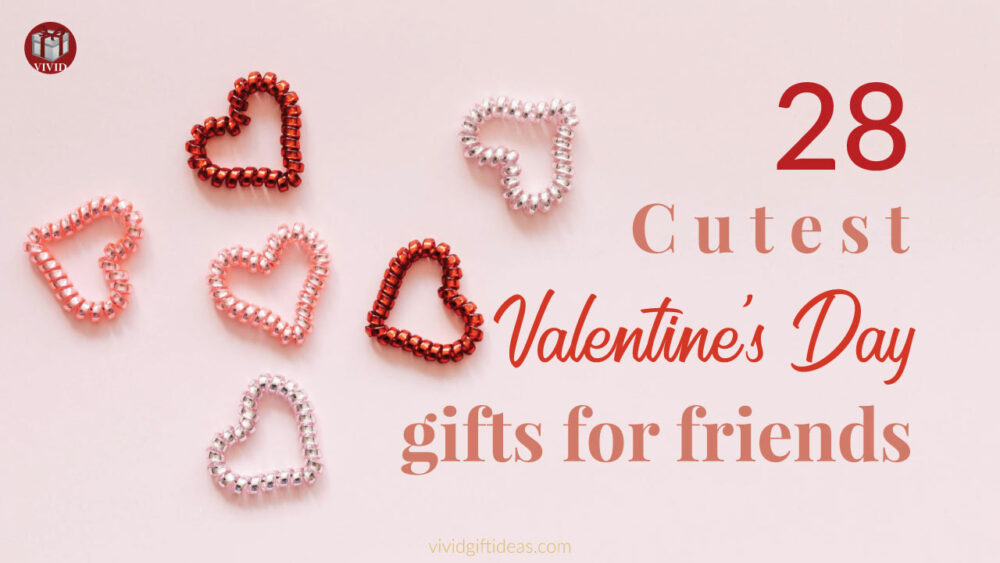 Fun Valentine's Day Gifts for Best Friends
1. Heart Lollipop Dangle Earrings
It's February 14th, heart-shaped everything is perfect. This pair of heart lollipop earrings look really fun and playful. It is one of the cutest Valentine's Day gifts you can get for your best friend under $10.
Be sure to give your BFF a special present for Valentine's Day. This mug is filled with hugs & kisses, and a lot of love. It will constantly remind your gal pal that she is loved.
3. Good Friends are Like Stars Box Wall Art Sign
When you are miles apart but your hearts are close to each other. Give a heartfelt gift for your Galentine. This beautiful box sign with friendship sayings is one of our favorite long-distance friendship gifts.
Remember to get some fun items to celebrate Valentine's Day with your best friend. How about this hand stamped teaspoon for your bestea?
5. Hey Friend, I Wrote a Book About You
Give your best friend a meaningful Valentine's Day gift. This book lets you write down all the things that make your friendship one of a kind.
This pajama set will become your gal's new favorite loungewear. The graphic illustrates your friendship; you are the perfect match for each other, just like a burger and fries.
Add some cuteness to your best friend's home office. Keep her coffee warm, help her stay focused to complete all the tasks.
8. Morse Code Bracelets for Women
This Valentine's Day, don't forget to get a thoughtful gift for your bestie. Let her know how much you cherish your friendship. Share a secret message with her with these dainty bracelets.
(Related: 14 Meaningful Matching Bracelets For Friends)
A sweet and fun Valentine gift approved by wine-loving friends. These pink socks are incredibly soft and warm.
It's the day to celebrate love, you can't go wrong with this heart pillow. It is in sweet pink color, super soft, and cuddly. What else do you need for the perfect Valentine's gift?
11. Hair Scrunchies
Bold and colorful scrunchies made a big come back. What makes these scrunchies extra special is the hidden zipper pocket where you can keep money, lipstick, key, and other small items you like.
(Related: 20 Best Gifts for VSCO Girls)
12. Gold Sweet Heart Washi Tape Set
Add some ❤️❤️❤️ to your girlfriend's scrapbook, bullet journal, and art projects. These washi tapes will become her new favorite.
13. Tervis Pink Hearts All Over Tumbler 
An insulated tumbler to remind your BFF how much you love her while she sips her drinks.
You can also give your best friend a personalized Valentine's Day gift in the form of a dainty necklace with her name and birth flower.
15. Heart Faux Fur Pom Pom Key Chains
A small gift to make your girlfriend smile — a lovely fuzzy heart keychain to accessorize her purse.
16. Harney & Sons Valentine's Day Tea
When you can't have brunch together because of your busy schedule. Send this delicious tea to your girlfriend and have a virtual Galentine's Day celebration. It's a special brew perfect for your long-distance best friend.
17. Lucky Fortune Blind Collectible Bracelets
Talk about a uniquely fun gift for girl pals. These fortune cookies gift set will surprise her with the BFF bracelets and paper fortune inside. Crack open the cookies and find out whether you will get a set of matching bracelets or complementary bracelets.
18. Steal My Heart Collection Ballpoint Pens
For the stationery lovers in your life. These pretty pens will totally steal her heart. Each pen has a punchy phrase and tiny gold hearts.
(Related:16 Cute Kawaii Japanese Style School Supplies )
19. Chaos Coordinator Bracelet Wallet
The ever-busy friend in your life needs this versatile cardholder wristlet. It can hold keys and keep your cards organized. Just grab and go without carrying a bulky purse when you are running errands.
This powder blush will make her cheeks glow like roses in spring.
21. Friendship Sayings Trinket Dish
This chic jewelry dish makes a nice sentimental gift to express your love to your BFF.
22. Funny Cat To Do List Sticky Notes
This notepad will help you to prioritize your tasks and satisfy your cat's needs. When your BFF is a cat mom, she will surely appreciate this.
Every awesome friend deserves this stick-on-phone card holder. It is stylish, functional, and really shiny!
Because why the shell not get an additional T-shirt for her? No matter if she's a turtle lover or not, she will enjoy having this cute shirt.
25. Daisy Flower Refrigerator Magnets
Colorful daisies for your favorite friends, because flowers make us happy.
26. Love is All Heart Pattern Tote Bag
Because it is February 14 and love is all.
27. Heart Sunglasses
Heart-shaped sunglasses are exactly what she needs for Valentine's Day.
28. Hair Mask
Even at home, she can get a luxurious hair spa. This hair mask is crafted with deep conditioning ingredient of seaberry oil that nourishes the scalp, provides intensified shine to hair, protects chemically treated hair, and allowing strong hair to grow.
That concludes our list of Fun Valentine's Day Gifts For Friends. Thanks for reading.
More Fun Valentine's Gifts For Friends:
Valentine's Day Gifts For Her: