Celebrate your 1st Valentine's Day by surprising your girlfriend with a gift that she really love. If you are wondering what to get your girlfriend for the first Valentine's Day, browse through our gift guide below to get some inspo. Featuring more than twenty romantic gifts that women actually want. From small and simple gifts, to something sweet and romantic, or some luxury items to pamper her, these gifts are perfect for new girlfriend, partner in new relationship, or couples who have just started dating.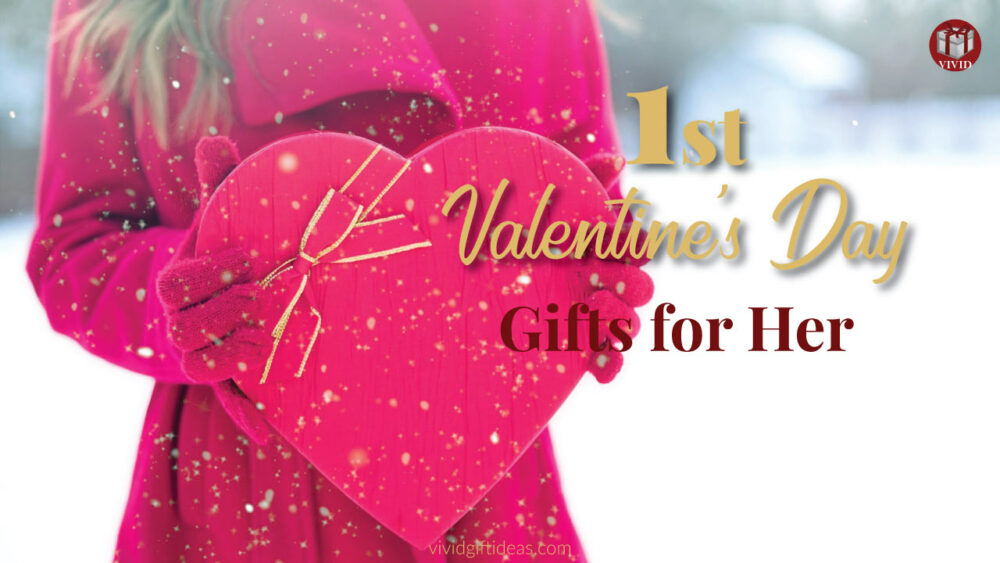 First Valentine's Day Gift Ideas for Girlfriend
Feel no pressure when it comes to celebrating your first Valentine's Day as a couple. Get her a thoughtful gift that she will cherish. Show that you care, look through your photo gallery and print out your favorite photo from a memorable day. Insert it in this wooden picture frame and make it a meaningful decoration for her room.
2. Handmade Beaded Heart Earrings
❤️ is the theme of Valentine's Day. You won't go wrong by getting your girlfriend a pair of pretty heart-shaped earrings to celebrate your 1st Valentine's Day.
3. Heart Print Satin Pajama Set
Gift with a dash of romance will make your girlfriend smile. She will love this lovely pink sleepwear that feel silky soft on the skin. And, the cute little hearts will wrap her in love for many more nights to come.
What about a sushi night to celebrate the holiday? Make it an experience that both of you can enjoy. Sushi making is definitely a fun activity to do when you just started dating.
Give your significant other a personalized Valentine's Day gift in the form of a beautiful mug with her star sign. She can now show off the good qualities of her sign.
6. Date Deck
Be sure to get a romantic gift to celebrate your 1st Valentine's Day. Date Deck cards are perfect for couples in new relationship. Turn date night into a game, play the question prompt cards, and have fun discovering your other half. This card pack is travel-sized. You can bring it anywhere to level up your conversations to have deeper connection.
It is the first time you are spending Valentine's Day together, get something sentimental to express how much you care. The romantic message engraved on this 3D moon lamp will surely touch her heart. It's a nice lamp to create a romantic atmosphere in her room.
8. Himalayan Glow Heart Salt Lamp
More ❤️ to celebrate Valentine's Day for the first time together as a couple. This natural Himalayan rock salt lamp emits relaxing amber glow. It will fill your partner's room with extra warmth and love.
9. Jadyn Luna Travel Duffel Bag
Travelling with your partner has positive impacts on your relationship. It helps you tp open up to new experiences, spend quality time together, and build deeper connection to each other. So, why not get a stylish weekender bag to encourage her to join you for a fancy vacation?
10. Fujifilm Instax Mini 11 Instant Camera
No matter how long, or should we say how new you are in this relationship, we are sure you want to spend more time with your SO. Don't hold back, ask her out, and create more beautiful moments. She will have fun capturing down your new adventure with this easy-to-use instant camera. Just snap, shoot, and instantly print out photos to keep the moments alive.
11. Our Adventure Book Scrapbook Photo Album
This is the first Valentine's Day you are celebrating with your new girlfriend. Get this memory book to record the special moments. And, there are more holidays you are going to celebrate with her, so this book will be really useful to write down all your adventures together.
12. Love You Most The End I Win Travel Mug Tumbler
She could use this tumbler to drink her favorite coffee every morning. It will keep her reminded of your love.
12. Kendra Scott Ari Heart Bracelet
For the first Valentine's Day, you can also get this sweet heart bracelet by Kendra Scott. We love its dainty style, asymmetrical heart design, and lovely pink color.
13. The Couples Bucket List Book
With this book, you can up your date games and never run out of date plans again. It is filled with more than a hundred of date night ideas and activities to take your relationship a step further.
14. Couples Gifts Cute Keychain
When it comes to gifting in a new relationship, it's best to stick to something sweet without being too extravagant. This inexpensive and cute matching keychain set is great for new couples celebrating their first Valentine's Day.
15. Big Heart Pullover Sweater
When you are thinking what to get for girlfriend this Valentine's Day. Add a big ❤️to her wardrobe, this knit sweater will be her new favorite.
16. Birth Flower Tote Bag
17. All My Love for You Couple Glass Set
Make your first Valentine's Day an extra special day even when you are far apart. This set of couple drinking glasses is a perfect gift for long distance girlfriend. One for her and one for yourself. With every sip, you'll be reminded of each other's love.
18. Personalized Name Logo Necklace
Be sure to get something special to celebrate your 1st Valentine's Day. This handmade necklace will definitely impress her. It is crafted in minimalist style for women to rock their name in style. Each of the necklaces are designed to reflect the wearer's individuality and it resonates with personal meaning.
19. Nodpod Gentle Pressure Sleep Mask
Help her to unwind after a long day. Self-care items are must-haves for women. This eye pillow contours to your face. It applies gentle pressure to calms overactive minds, soothe headaches, and help you fall asleep faster.
20. Stress & Anxiety Relief Intention Candle
Give her room a calming scent with the help of this candle. It is made with metaphysical crystals, herbs, and aromas to bring Zen feeling.
21. Flower Bouquet Building Sets
Flowers represent love and compassion. It is a traditional Valentine's Day gift for the person that you love. DIY your own flower bouquet this holiday. These building block flowers never fade and they can serve as a symbol of your love long after Valentine's Day.
More Valentine's Day Gift Guides:
For Girlfriend | First Valentine's Day Gifts for Boyfriend | Guys Who Have Everything | Galentine's Day Ideas for Friends | Best Friends | Girlfriends | Teen Boyfriend